On February 18, 2022, I retired from my job at the Stratford Library. The Library Director delared that day to be Martha Simpson Day, and everyone was invited to the party. I was wonderful to see so many colleagues and patrons, past and present, come by to wish me farewell. I will always look back on my 28 years there fondly.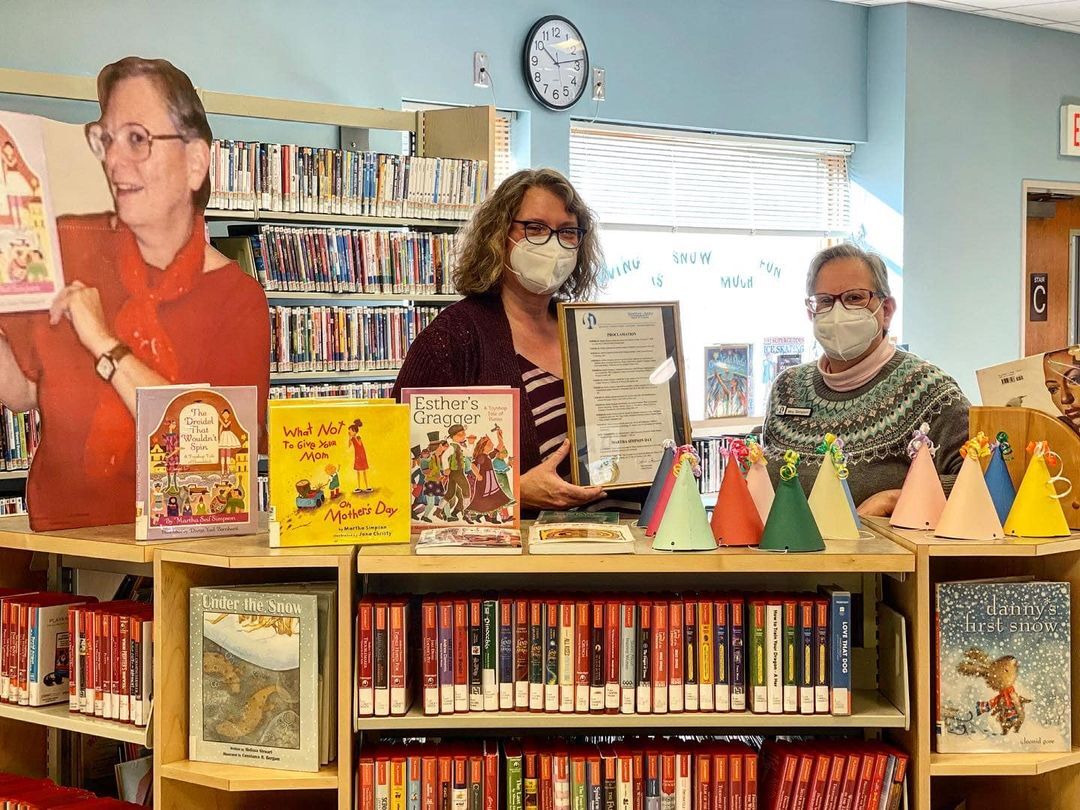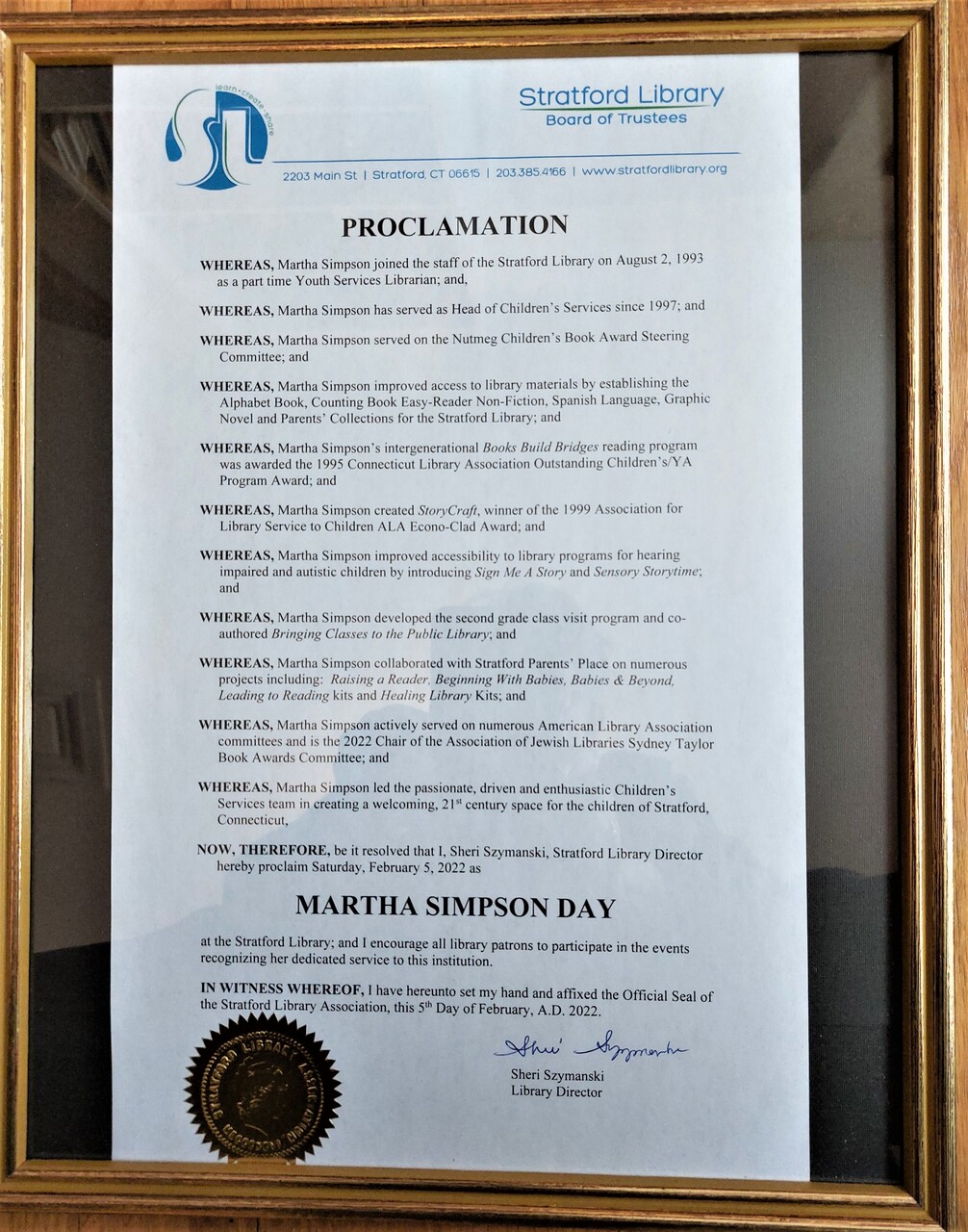 I started working at the Stratford Library in Stratford, CT in 1993 and have been Head of Children's Services since 1996. I enjoy introducing children to the books and media in our collection. We also have a lot of fun with our many programs. The best part about being a children's librarian is that you don't have to grow up!

And, of course we are very proud of our class visits ~ I even co-authored a book about them - Bringing Classes into the Public Library - which you can find on this site.

I am also very active in the American Library Association (ALA), especially in the division called The Association for Library Service to children (ALSC). I have been a member of several ALSC committees.

I served on the 2016 Laura Ingalls Wilder Award committee (now called the Children's Literature Legacy Award), which recognizes an author or illustrator whose books have made a lasting contribution to children's literature. At the 2016 ALA MidWinter meeting held this January, we selected JERRY PINKNEY. We are very proud of our opportunity to honor this talented and beloved author/illustrator!
From 2011-2012, I was honored to chair the Carnegie/Notable Children's Videos Committee. We awarded the 2012 Carnegie Medal to Weston Woods for their animated film, Children Make Terrible Pets.

From 2005-2009, I was on the ALSC Library Service to Special Population Children and their Caregivers Committee. During my time as committee chair, we were asked by Candlewick Press to develop a grant in honor of Newbery Medalist Kate DiCamillo and the themes represented in her books. The award would consist of a monetary grant to assist a library in conducting exemplary outreach to underserved populations through a new program or an expansion of work already being done. Our committee named it The ALSC/Candlewick Press "Light the Way: Outreach to the Underserved" Grant. We also wrote the award criteria and judged the submissions for its first year. I was proud to be part of this wonderful group of dedicated librarians who could really help make a difference in the lives of young people and their families.

Many children's librarians dream of being on the Newbery Medal Committee, the select group of 15 people who choose the best children's book of the year. I served on that esteemed committee in 2003-2004. Serving on the Newbery Committee is not a job one takes lightly. It is serious work. We read and considered hundreds of books, debating their merits until we finally determined the winner and honor books at the 2004 ALA Midwinter Conference. We awarded the Newbery to The Tale of Despereaux: Being the Story of a Mouse, a Princess, Some Soup, and a Spool of Thread written by Kate DiCamillo and illustrated by Timothy Basil Ering (Candlewick Press). We also chose two Honor books: Olive's Ocean by Kevin Henkes (Greenwillow Books) and An American Plague: The True and Terrifying Story of the Yellow Fever Epidemic of 1793 by Jim Murphy. (Clarion Books).

I am also proud to say that I have won ALA awards for some of my initiatives at the Stratford Library. One was the Econo-Clad Literature program Award in 1999 for StoryCraft, a program for children in grades 2-4 that combined storytelling, activities, crafts, and music. Fellow librarian Lynne Perrigo and I wrote a book about some of our ideas. You can find it with the Library and Teacher Resource Books.

In 2021, I was awarded the Faith Hektoen Award (see the sidebar to the left) from the Connecticut Library Association.
I chaired the 2022 and 2023 Sydney Taylor Book Award Committees for the Association of Jewish Libraries. Now I'm the committee advisor. Check my February newsletters for announcements of the winners and book summaries.