May 1, 2022

Happy May!

Welcome to the nineteenth issue of The Simpsonian Muse. I am your scribe, Martha Seif Simpson, Author and retired Children's Librarian. As the header says, this monthly newsletter will feature:
News – Mine as well as other interesting tidbits

Views – A few photos from my world travels

Stuff You Can Use – A mish-mash of activities, crafts, recipes, or whatever I am excited about sharing
If you missed the previous newsletters, you can click the button on the left sidebar on my website to catch up or click here: https://www.martha-seif-simpson.com/newsletter.htm
Thanks for joining me on this adventure. I hope you will find something to inform and entertain you.
~ NEWS ~
With Mother's Day coming this month, here's my reminder that What Not to Give Your Mom on Mother's Day is a great read-aloud for little kids. It's available as a hardcover book and on Amazon Kindle.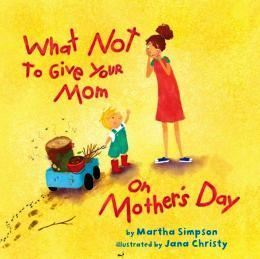 Check here to find a printable bookmark, Mother's Day card, and Matching Game based on my book, as well as discussion questions. What Not to Give Your Mom on Mother's Day activities
But wait! There's more…

I recently started a Goodreads account. The first thing I did was to add all the Sydney Taylor Book Award titles from the last two years. It's going to take me a while to add all the books I love, especially after reading so many as a librarian for 30 years, and even longer as a mom! I hope to add a few more every month.
Speaking of which, if you have a Goodreads account, I'd really appreciate it if you could review my books. Thanks!
BOOK SHARE
May is Jewish American Heritage Month. To celebrate, I'm going to share some novels I enjoyed, even though they weren't recognized for the Sydney Taylor Book Award.

The Runaway by Yehuda Cahn
In June, 1925, two Jewish brothers living on New York's Lower East Side meet 14-year-old Danny, who is friendly but a bit of a con man. He needs a place to stay, and the Bergson brothers take him to their crowded apartment, even though their father doesn't have a job because he won't work on Shabbos. The brothers earn money by selling newspapers, and Danny figures out ways to help them sell more. Even though times are hard, Danny always seems to have money. When a special coin goes missing from the rabbi's home, Danny is the prime suspect. Is he really a thief?

Fish Out of Water by Joanne Levy
Fishel needs to decide on a charity project for his bar mitzvah. He wants to learn how to knit socks so he can donate them to kids in homeless shelters, but his Bubby won't teach him. When he joins a knitting club at school, his best friend mocks him. Fish thinks knitting shouldn't be just for girls, and finds a way to make his project a success. A great book about an engaging boy who combats gender stereotypes.

Noah Green Saves the World by Laura Toffler-Corrie
Noah wants to go to film camp for the summer. Instead, his parents send him to Camp Challah, hoping that he will make friends there. Noah is surprised when his grandfather shows up. Pops has always claimed that he was a secret agent in World War II and the family never believed him. Pops asks Noah and his bunk mates to help him with a special mission at camp - and the fate of the world is at stake! Is Pops telling the truth, and if so, how can Noah possibly save the world?

Going Rogue (At Hebrew School) by Casey Breton
Avery Green has always hated going to Hebrew School, which has nothing to do with his three most favorite things in the world – Star Wars, science, and football. But everything changes when he begins to suspect that the new rabbi may be a Jedi master. This book has an outrageous cast of characters and a humorous plot that will keep readers engaged.

Yes, No, Maybe So by Becky Albertalli & Aisha Saeed
Jaime - a Jewish boy, and Maya - a Muslim girl, spend the summer before their senior year of high school canvassing for a liberal Jewish man who is running for state senator in Republican-dominated Georgia. Jamie struggles with shyness and the drama of his sister's upcoming bat mitzvah. Maya has to deal with her parents' sudden separation and losing her best friend. In addition, they face antisemitism, prejudice against Muslims, and their growing feelings for each other. Based on real events, this is a timely book mixing social issues and YA romance.
CALENDAR TRIVIA
Did you know that May is also National Bike Month?

According to the Every Day's a Holiday Calendar, other noteworthy May dates include:

May 2 – Brothers and Sisters Day

May 3 – Garden Meditation Day

May 7 – International Astronomy Day

May 11 – Eat What You Want Day

May 14 – Dance Like a Chicken Day

May 17 – International Day Against Homophobia, Transphobia, and Biphobia

May 18 – No Dirty Dishes Day

May 20 – Pick Strawberries Day

May 22 – Sherlock Holmes Day

May 25 – Tap Dance Day

May 26 – World Dracula Day

May 31 – World No Tobacco Day
Celebrate Appropriately!
~ VIEWS ~
I wanted to post some travel photos for this month's Simpsonian Muse, but unfortunately, (as you may be able to tell) my website server is experiencing technical difficulties and the photos are not showing up. Hopefully, they will magically appear soon!
Meanwhile, I looked for something fun online to share and found some cool wildlife livecams. Here are a few:
Explore Livecams has dozens of cameras showing including kittens, coral reefs, jellyfish, sloths, eagle nests, polar bears, and lots more. Explore Livecams
The Smithsonian National Zoo features webcams of their giant pandas, lions, cheetahs, elephants, and naked mole rats. The Smithsonian Zoo Webcams
The San Diego Zoo shows koalas, baboons, penguins, hippos, apes, platypuses, and more. San Diego Zoo Livecams
Happy viewing!
~ STUFF YOU CAN USE ~
If you are on Facebook, here are a few groups that I belong to, that you may want to like or join. First, if you haven't yet friended my Martha KidLit Author page, please send me a request.

Looking for some good multicultural children's books? Take a look at:
We Need Diverse Books

Diverse Books for Diverse Kids

Missing Voice Picture Book Discussion Group

USBBY – United States Board on Books for Young People

The Brown Bookshelf

Jewish Kidlit Mavens

The Eric Carle Museum of Picture Book Art
There are many other fun and informative book-related FB groups. What are your favorites?

Finally, this is a wonderful group to join if you want to see lots of beautiful nature pictures. People from all over the world post incredible photos of real woodland scenes on Ancient Forests. Looking at these peaceful photos is a great way to relieve stress.

That'll do it for this month. Hopefully, the photos will magically appear soon.

Until next time, remember to amuse your muse!
~ Martha