November 1, 2021
November 2021 Issue #13
Happy November!
Welcome to the thirteenth issue of The Simpsonian Muse. I am your scribe, Martha Seif Simpson, Author and Children's Librarian. As the header says, this monthly newsletter will feature:
News – Mine as well as other interesting tidbits

Views – A few photos from my world travels

Stuff You Can Use – A mish-mash of activities, crafts, recipes, or whatever I am excited about sharing
If you missed the previous newsletters, you can click the button on the left sidebar on my website to catch up or click here: https://www.martha-seif-simpson.com/newsletter.htm
Thanks for joining me on this adventure. I hope you will find something to inform and entertain you.
~ NEWS ~
All this month, my book – Esther's Gragger: A Toyshop Tale of Purim – will be featured on the Society of Children's Book Writers and Illustrators (SCBWI) BookStop promotion. The direct link to my book is: https://www.scbwi.org/scbwibookstop-display/?id=798954&p=t
You can go to the SCBWI website to view all the wonderful books for kids of all ages. There will be a big promotion on Facebook and other social media, as well.
And since Hanukkah starts November 28th, here's another reminder that I also have a book for this holiday - The Dreidel That Wouldn't Spin: A Toyshop Tale of Hanukkah. Books are perfect holiday gifts! Check my website for reviews, printable activities, and ordering information: https://www.martha-seif-simpson.com/works.htm
BOOK SHARE
November is Native American Heritage Month. Here are some wonderful books to share with your family.
Crazy Horse's Vision by Joseph Bruchac
The true story of the great Sioux warrior who, as a young boy, defies tradition and seeks a vision on his own in hopes of saving his people.
Giving Thanks: A Native American Good Morning Message by Chief Jake Swamp
A special children's version of the Thanksgiving Address, a message of gratitude that originated with the Native people of upstate New York and Canada and that is still spoken at ceremonial gatherings held by the Iroquois, or Six Nations.
Keepers of the Earth: Native American Stories and Environmental Activities for Children by Joseph Bruchac and Michael Caduto
A selection of traditional tales from various Native American peoples, each accompanied by instructions for related activities dealing with aspects of the environment.
We Are Grateful: Otsaliheliga by Traci Sorell
The word "otsaliheliga" (oh-jah-LEE-hay-lee-gah) is used by members of the Cherokee Nation to express gratitude. This picture book chronicles a full year of Cherokee celebrations and experiences.
We Are Still Here! Native American Truths Everyone Should Know by Traci Sorell
A group of Native American kids from different tribes presents twelve historical and contemporary time periods, struggles, and victories to their classmates, each ending with a powerful refrain: we are still here.
We Are Water Protectors by Carole Lindstrom
When a black snake threatens to destroy the Earth and poison her people's water, one girl takes a stand to defend Earth's most sacred resource. Inspired by the many indigenous-led movements across North America, this bold and lyrical picture book issues an urgent rallying cry to safeguard the Earth's water from harm and corruption. This book won the 2021 Caldecott Award.
CALENDAR TRIVIA
Did you know that November is also Historic Bridge Awareness Month?
According to the Every Day's a Holiday Calendar, other noteworthy October dates include:
November 2 – Deviled Egg Day

November 4 – Use Your Common Sense Day

November 8 – X-ray Day

November 11 – Origami Day

November 13 – World Kindness Day

November 15 – Clean Out Your Fridge Day

November 16 – Button Day

November 21 – World Hello Day

November 23 – Tardis Day

November 24 – Celebrate Your Unique Talent Day

November 30 – Stay Home Because You're Well Day
Celebrate Appropriately!
~ VIEWS ~
In September of 2015, John and I took a cruise that brought us to a number of interesting ports, including one that is known for this picturesque mountain.
Yes, we visited the famous Rock of Gibraltar. We got on a bus tour that would take us around the area.
We stopped at Europa Point, the southernmost point of Gibraltar. On a clear day, views of North Africa can be seen across the Strait of Gibraltar, as well as the bay and the Spanish towns along its shores.
This is a view of the mountain peak from Europa Point. The white building behind me is a mosque.
Next, the bus stopped so we could tour the Great Siege Tunnels.
From there, we could see the airplane landing strip, with Spain beyond. Gibraltar is proudly British, in spite of its proximity to Spain.
The tour bus stopped near the entrance to the cable car which would take us to the mountaintop. We were greeted by some Barbary Apes.
This youngster was fascinated by his reflection in the rear-view mirror.
Lots of scenic views from our cable car on the way up.
Here is a view of the famous point from our mountaintop. You can see the airplane landing strip and Spain in the distance.
John at one of the observation decks. We were fairly close to the peak, as you can see.
Another view from the mountaintop.
The Barbary apes were everywhere.
We were warned many times not to get too close to them, since they were likely to steal your belongings and run off with them.
But of course, some fools ignored the signs anyway.
After we came down from the mountain, we had time to shop and get something to eat before heading back to the cruise ship.
Another memorable trip, capped by a beautiful sunset as the ship left the harbor.
~ STUFF YOU CAN USE ~
At my library, we are making Hanging Paper Plate Menorahs to celebrate Hanukkah.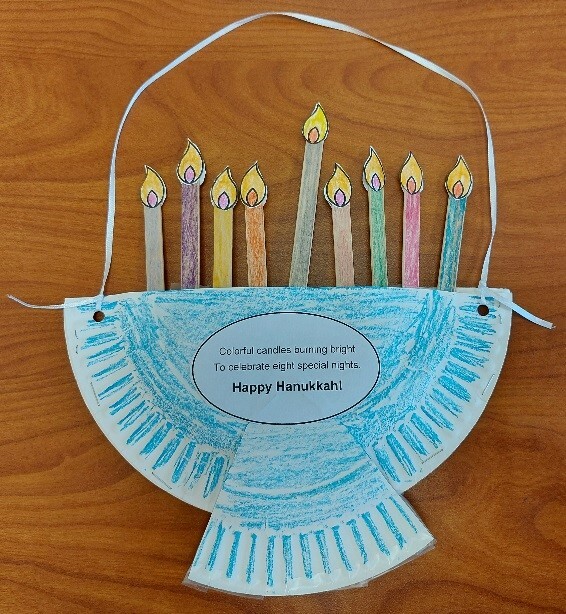 This is what you need to make one at home:

2 standard size paper plate halves


2 triangular (1/6th) pieces of a paper plate

9 craft (Popsicle) sticks

24 inch length of ribbon

Magic markers or crayons

Scissors

Glue stick or liquid glue

Clear tape

Stapler

Hole Punch

Extra paper cut into ovals for front and back of menorah

18 paper flames (9 front and 9 back)

What to Do:
Decorate the bottom sides of both paper plate halves and smaller pieces any way you like. You can make them a solid color or create your own design.

Color the craft sticks on both sides to look like candles. You can mix up the colors or make them all the same.

Make 18 flames, using the patterns below. Color them orange inside yellow, as shown in the picture. Carefully cut them out. Glue the flames to the tips of the candles, front and back.

Tape or staple the 2 paper plate halves together on the curved edges, so your design shows on the outside. Leave the flat top open so it forms a pocket. Punch a hole on each side as shown in the picture.


Glue, tape, or staple the triangular paper plate pieces to the front and back of the plate halves to look like a menorah stand, as shown in the picture.

Cut out two ovals. You can add the Hanukkah poem shown below or write your own message. Glue them to the center of the paper plate halves, covering the points of the triangular pieces.

Place one candle inside the pocket. Tape it to one of the halves so it stands in the center of the paper plate menorah. This is the shamesh – the helper candle that is used to light the other 8 candles.

You can put all the candles on your menorah now, or add them one at a time to mark the 8 nights of Hanukkah. When you add these candles, place them so they are shorter than the shamesh candle.
Note: If you add one candle each day, start with the first candle on the far right, and add each new candle to the left. (Yes, this is backwards to what you are used to doing! Hebrew is read from right to left, instead of from left the right, like English.)

Thread the ribbon through the holes on the left and right of the paper plates and double knot them so the menorah can hang. Trim the extra ribbon, if you want.

Hang up your menorah on a door, window, or fire place mantel.
Poem to write in the ovals:
Colorful candles burning bright
To celebrate eight special nights.
Happy Hanukkah!
Make 9 flames for front and back of candles
In 2021, Hanukkah begins on the evening of Sunday November 28. Happy Hanukkah!
That'll do it for this month.
Until next time, don't forget to amuse your muse!
~ Martha