August 1, 2023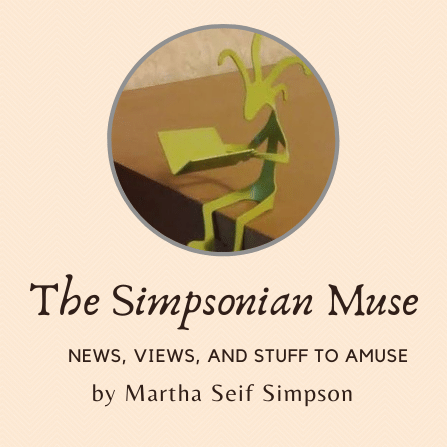 Happy August!
Welcome to issue #30 of The Simpsonian Muse. I am your scribe, Martha Seif Simpson, Author and retired Children's Librarian. As the header says, this monthly newsletter will feature:
News – Mine as well as other interesting tidbits

Views – A few photos from my world travels

Stuff to Amuse – A mish-mash of activities, crafts, recipes, videos or whatever I am excited about sharing.
If you missed the previous newsletters, you can click the button on the left sidebar on my website to catch up or click here: Simpsonian Muse

Thanks for joining me on this adventure. I hope you will find something to inform and entertain you.
~ NEWS ~
On Sunday, August 13, I will again have a table at the Shoreline Jewish Festival on the town green in Guilford, CT. Like last year, I will be selling my 3 picture books, Esther's Gragger, The Dreidel That Wouldn't Spin, and What Not to Give Your Mom on Mother's Day. I will have bookmarks and coloring pages to hand out. And I'll also be bringing over 100 kids and teens books to give away. These were books I received while serving on the Sydney Taylor Book Award committee.
Aside from my table, there will be food and crafts for sale, and lively music. If you are in the area, come on down! Here is the information:
2023 Shoreline Jewish Festival
And a video from their Facebook page:
Shoreline Jewish Festival video
But wait, there's more!
I will be participating in Multicultural Children's Book Day – January 25, 2024. Look for more information and social media in October!
BOOK SHARE
This year, all my Calendar Trivia events are food-based. Here are some books with plots involving food. Bon Appetit!
A Donut in Time by Elana Rubinstein
Saralee Siegel's super-smelling nose takes her back in time to meet the great-grandmother whose donut recipes put her on track to create the family restaurant. A perfect Hanukkah story for beginning chapter book readers. Read the other Saralee Siegel books, too!
A Place at the Table by Saadia Faruqi and Laura Shovan
Saer, who is Muslim, feels alone because she is going to a new public school. She and Elizabeth, who is Jewish, end up as partners in the after-school cooking class taught by Sara's mother. The girls and their families eventually bond over food and common experiences. (STBA 2020 MG Notable book)
Lessons in Fusion by Primrose Madayag Knazan
This book takes place during the Covid pandemic when there is no school or live TV. Jewish/Filipino Sarah likes to cook and has lots of blog viewers. She is one of six teens on a streaming cooking competition. Most of her recipes are Jewish, so she asks her aunt to teach her how to cook Filipino dishes to satisfy the show's director. There are lots of recipes throughout the book which should interest YA readers who like gourmet food.
My Fine Fellow: A Delicious Entanglement by Jennieke Cohen
In 19th century England, 17 year-old orphan Elijah Little sells his empanadas to two culinary students. Helena Higgins tells her friend Penelope Pickering that she can turn him into a gentleman chef as her final project in this gender-switching version of My Fair Lady. (STBA 2023 YA Honor book)
Recipe for Disaster by Aimee Lucido
Everyone in Hannah's family loves to cook using Grandma Mimi's special cookbook, but they disagree on everything else. When Mimi dies unexpectedly, Hannah hopes a bat mitzvah dinner memorial for Mimi will bring them together.
The $150,000 Rugelach by Allison & Wayne Marks
Classmates Jack (who wants to be a famous pastry chef) and Jillian (who learned to bake from her recently-deceased mom) are paired together to compete against two other schools in a big-time contest sponsored by a local bakeware manufacturer.
Wishing on Matzo Ball Soup by Lisa Greenwald
Ellie and her friend Ava come up with lots of plans to save the family deli. Each chapter includes a recipe for a traditional Jewish food. Yummy!
CALENDAR TRIVIA
Did you know that August is Family Meal Month?
According to the Every Day's a Holiday Calendar, other noteworthy foodie dates include:
August 2 - Ice Cream Sandwich Day

August 3 - Watermelon Day

August 8 - Zucchini Day

August 9 - Rice Pudding Day

August 13 – Filet Mignon Day

August 14 – Creamsicle Day

August 15 – Lemon Meringue Day

August 20 – Chocolate Pecan Pie Day

August 22 – Eat a Peach Day

August 23 – Cuban Sandwich Day

August 25 – Banana Split Day

August 27 – Banana Lovers Day

August 29 – Chop Suey Day

August 30 – Toasted Marshmallow Day

August 31 – Trail Mix Day
Celebrate Appropriately!
~ VIEWS ~
Here is my fifth installment of photos from our Holland America cruise to New Zealand and Australia.
On March 4, we left the South Island of New Zealand and cruised through Fiordland. We were fortunate to have a stateroom at the rear starboard corner of the ship, so our balcony had a wonderful panoramic view on three sides.
I took tons of photos, but here are some of my favorites. As you will see, some photos were dark or hazy and others had more light, depending on the weather and which side of the mountains were facing the sun.
There are 3 parts to the Fiordland waterways. We sailed through Dusky Sound in the morning when it was raining on and off.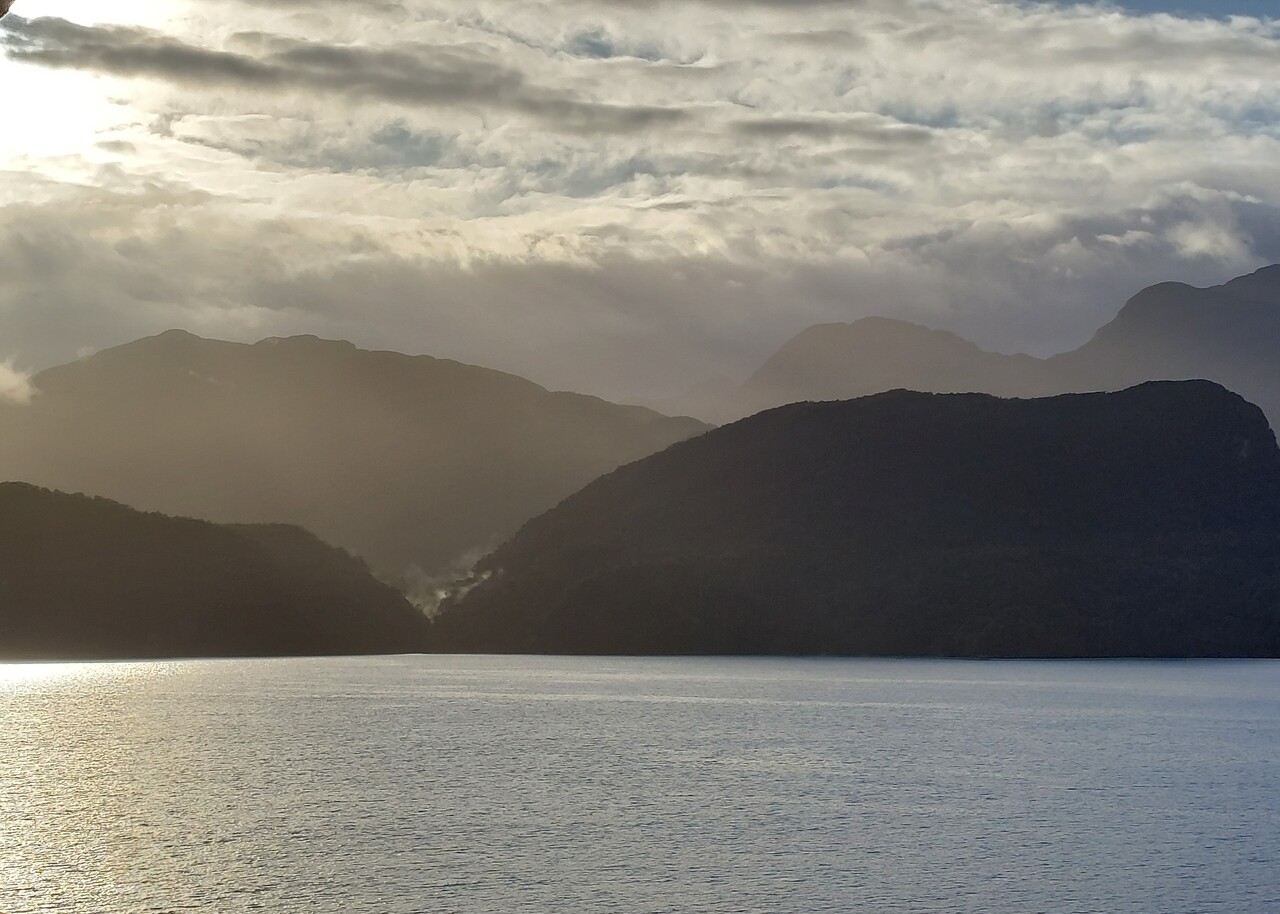 The sun rose as we sailed through the sound.
It was still chilly, so John wore his jacket on deck.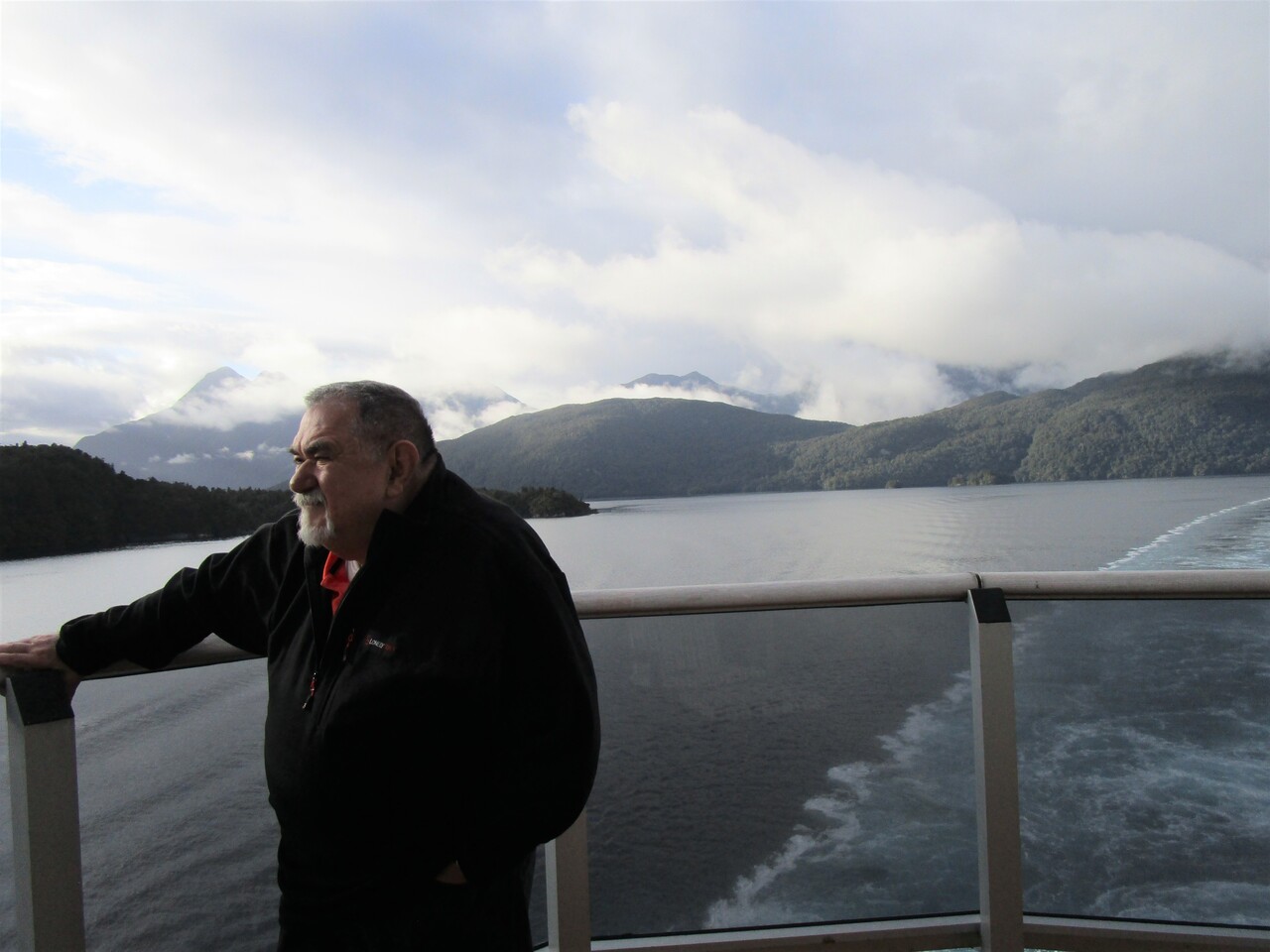 Some birds were sunning themselves on a rock.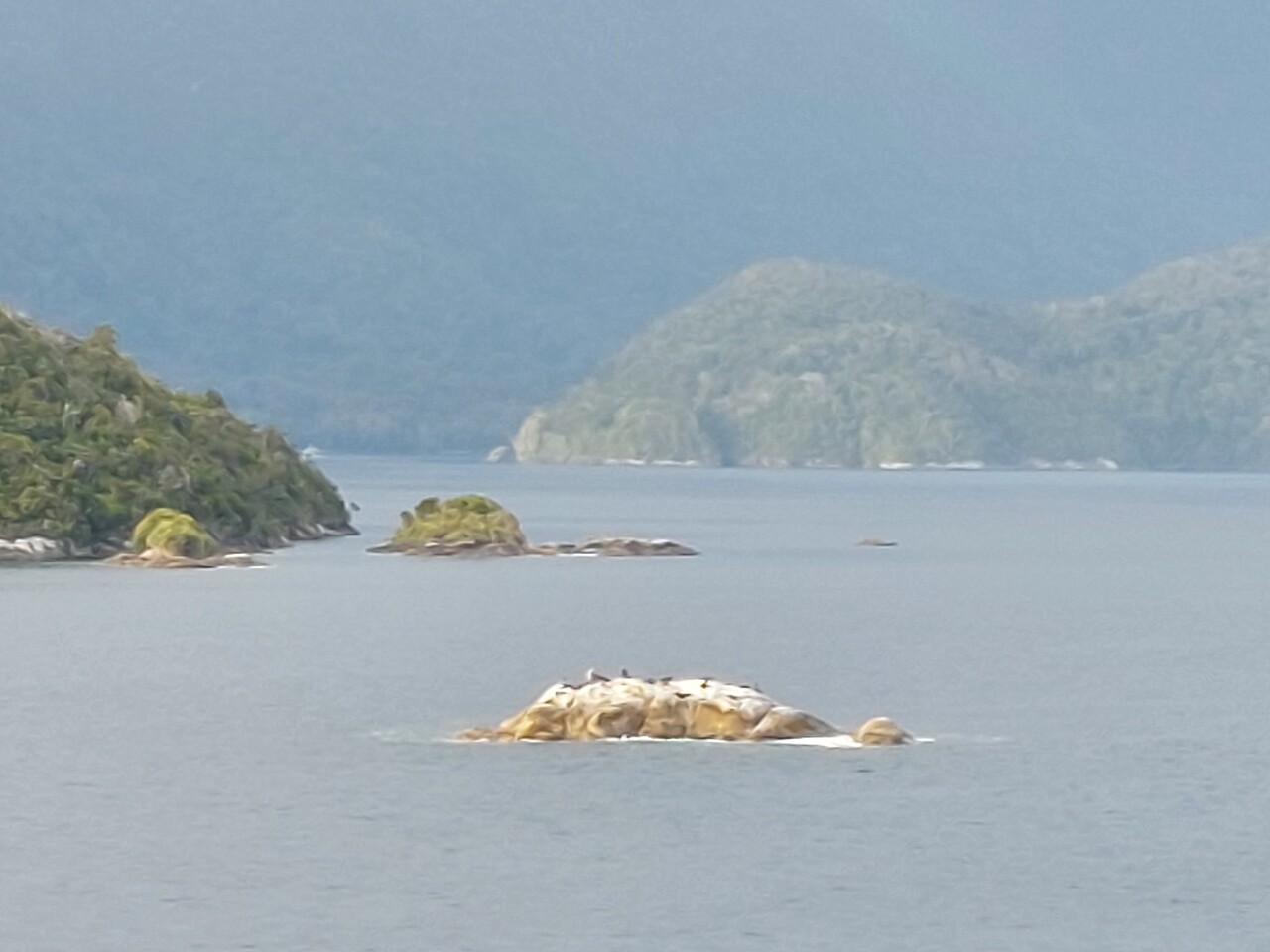 The clouds started to clear as we left Dusky Sound.
Next, we sailed through Doubtful Sound.
After the rain, the clouds lifted and we saw a rainbow on the lower part of this mountain. It was only visible to us lucky people at the rear of the ship!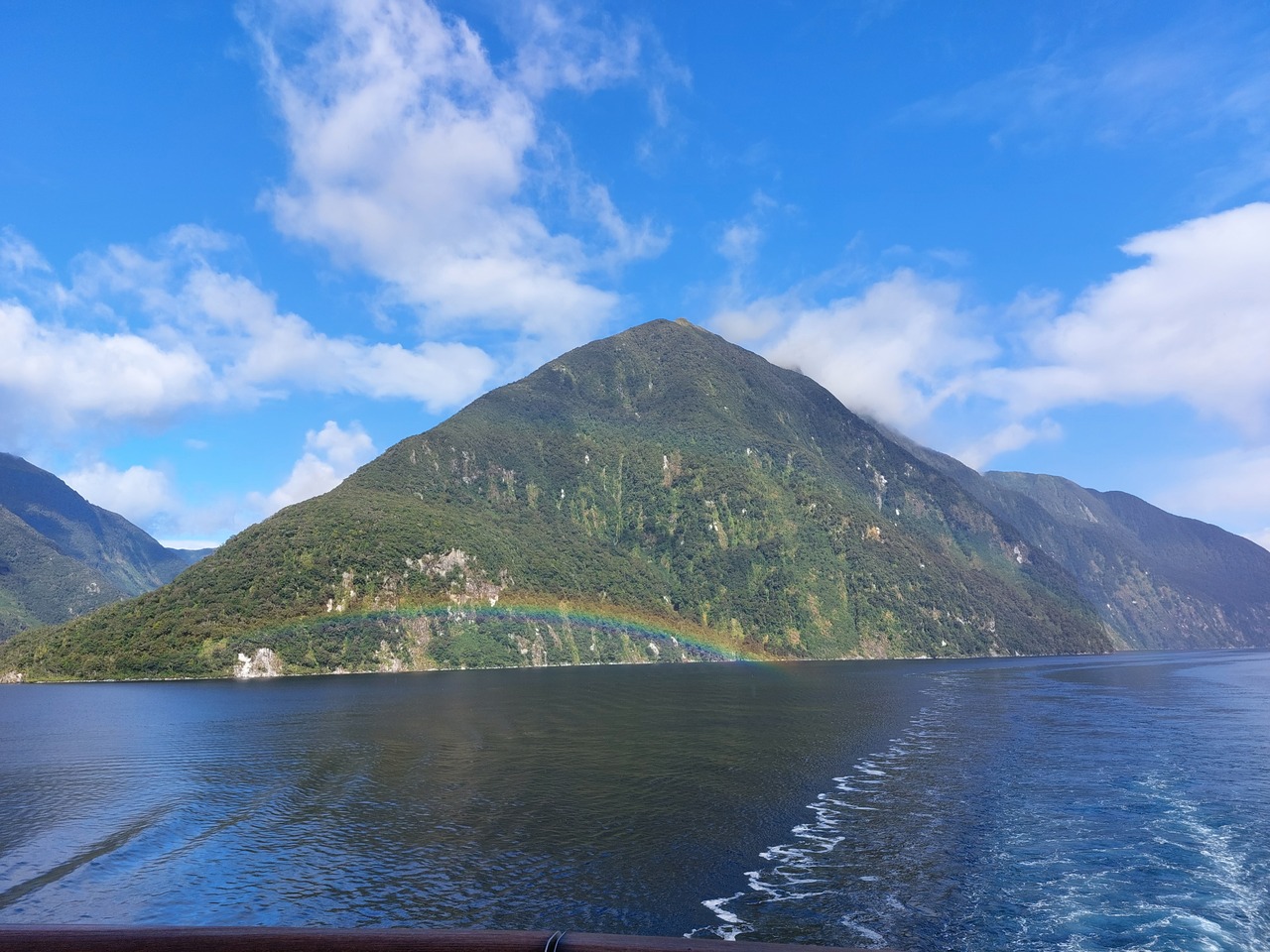 Many of these mountains had crevices, caves, and waterfalls.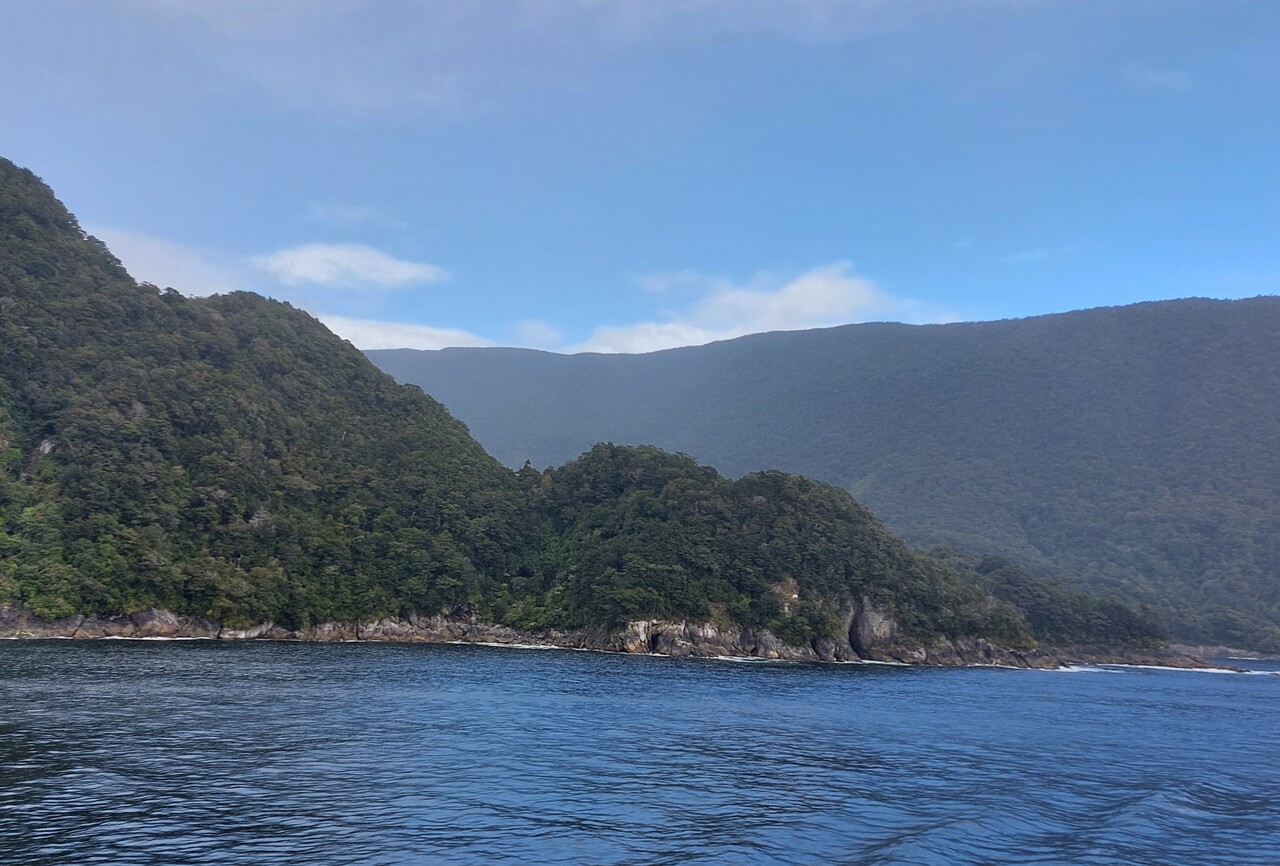 Here's a closer look at the above scene. Hobbit holes, maybe?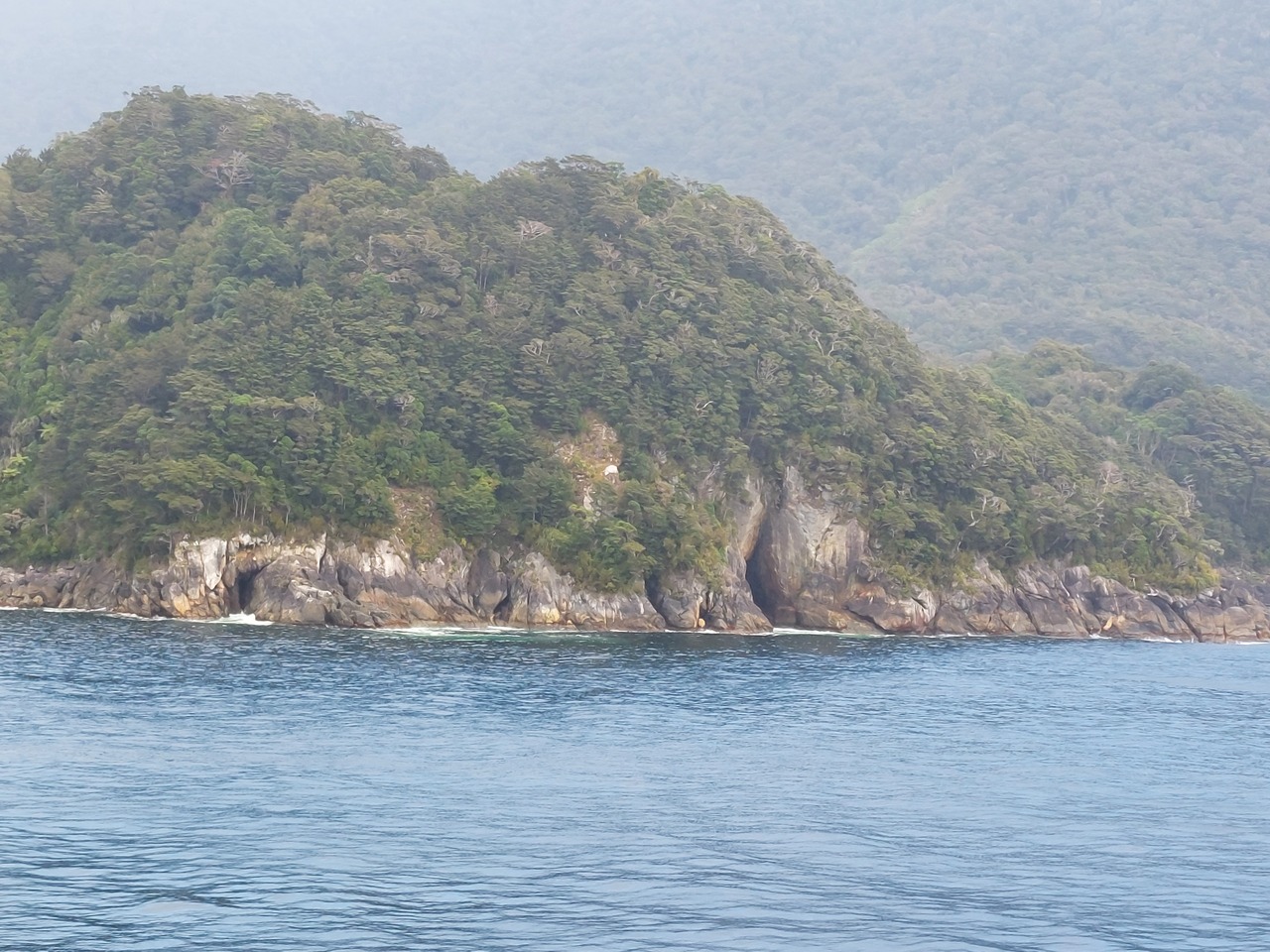 Here's a waterfall.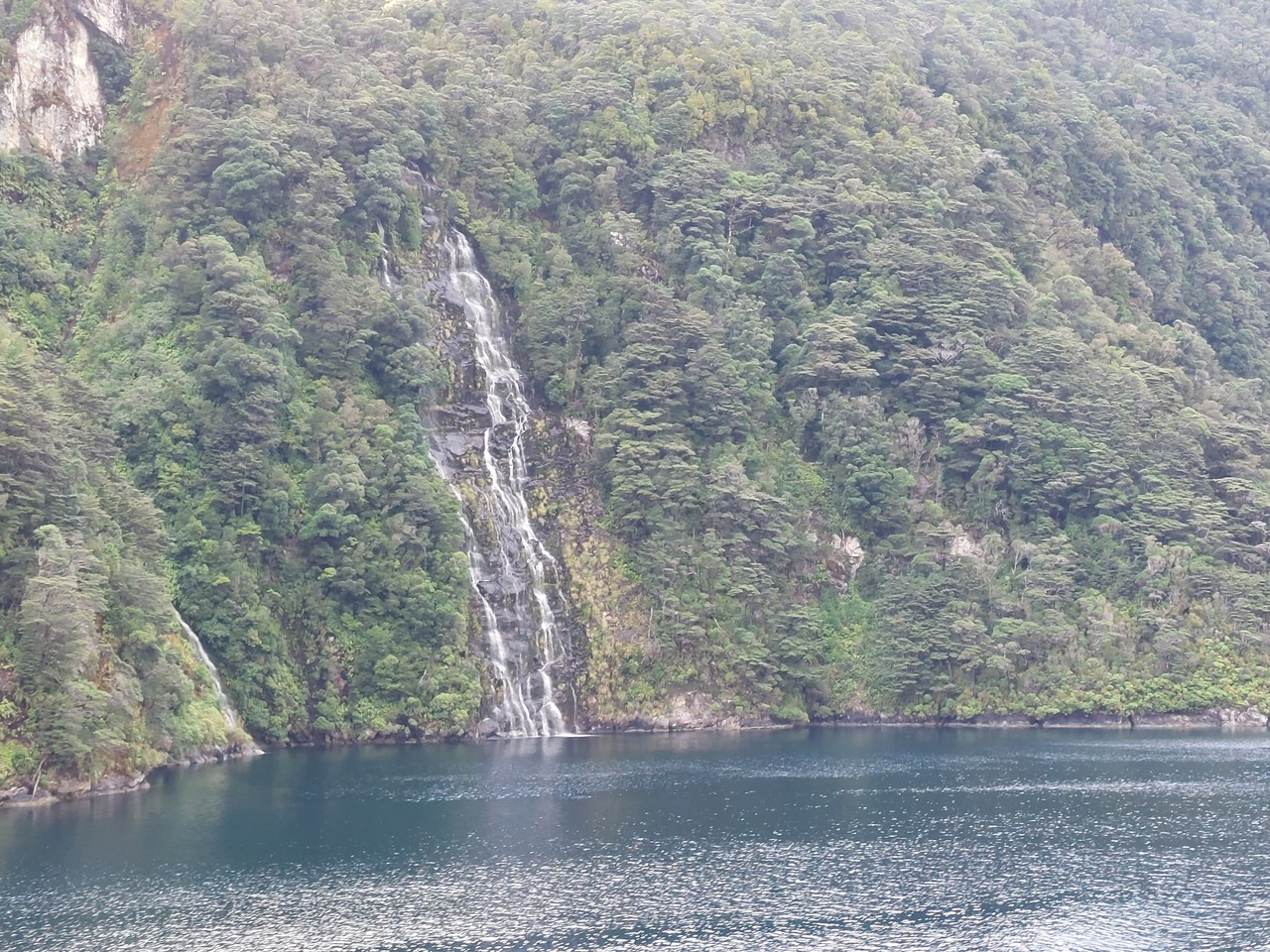 John enjoyed the view as the day brightened up.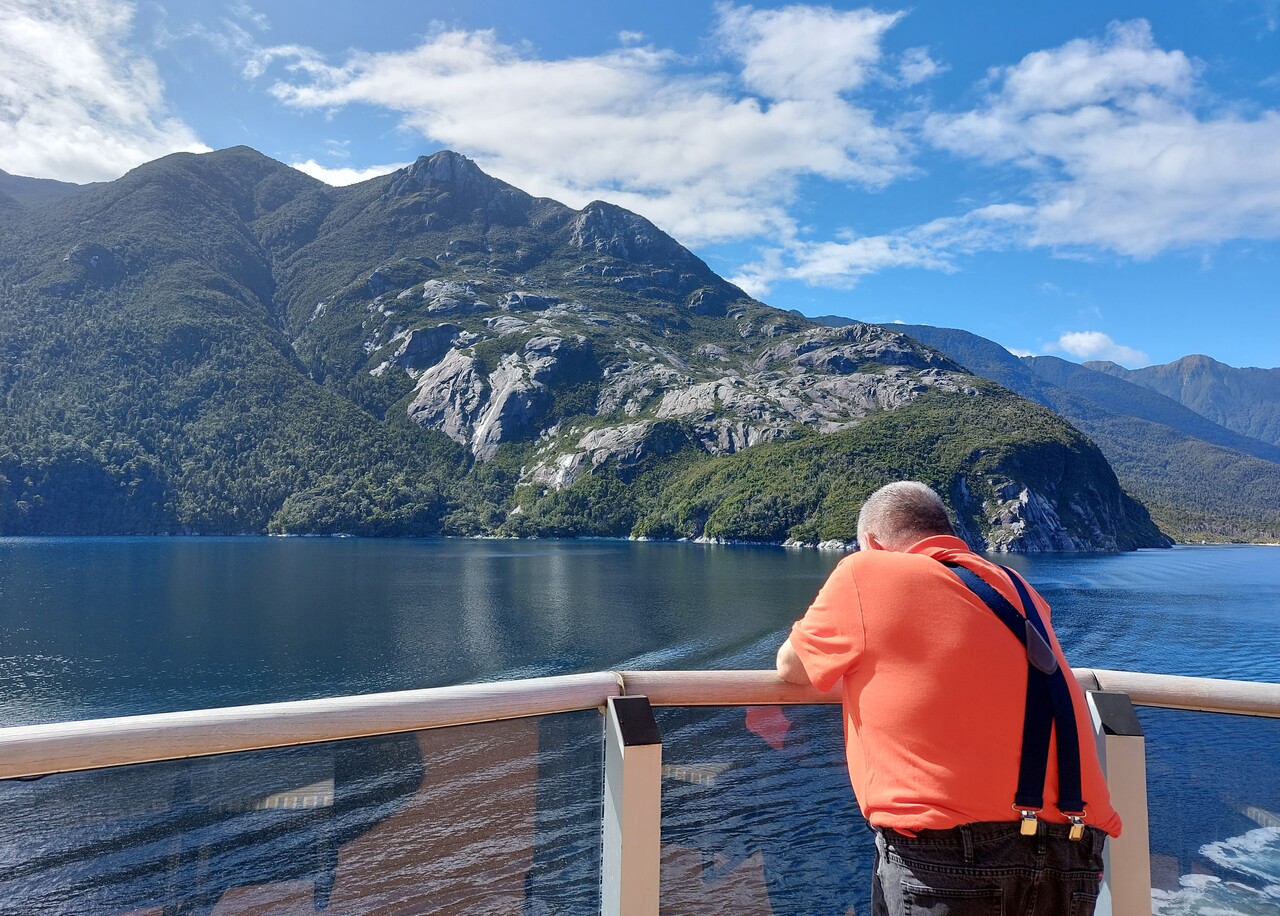 So did I.
Then, onward to Milford Sound!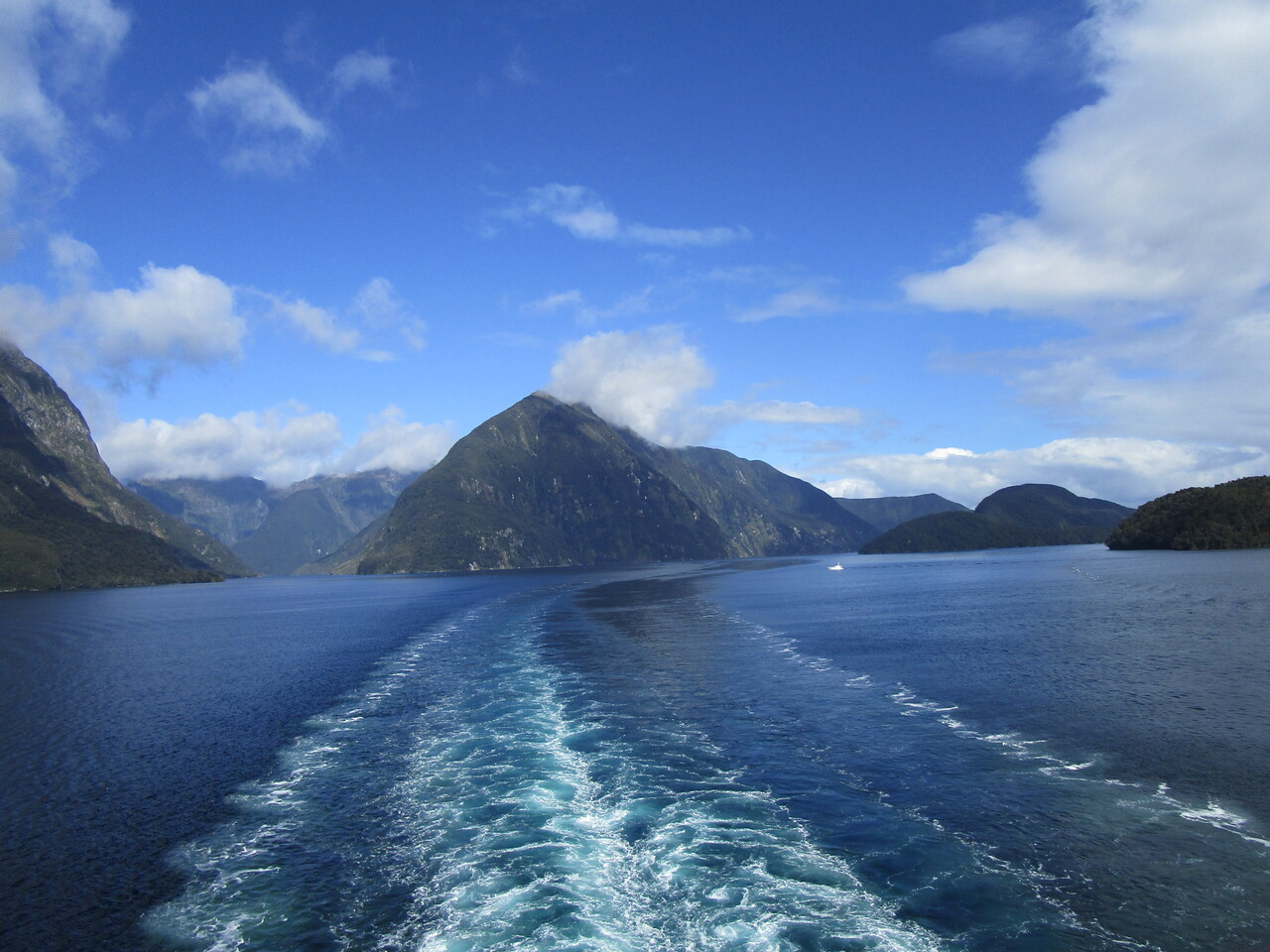 Milford Sound has the tallest and most majestic-looking mountains. I like the craggy shapes best.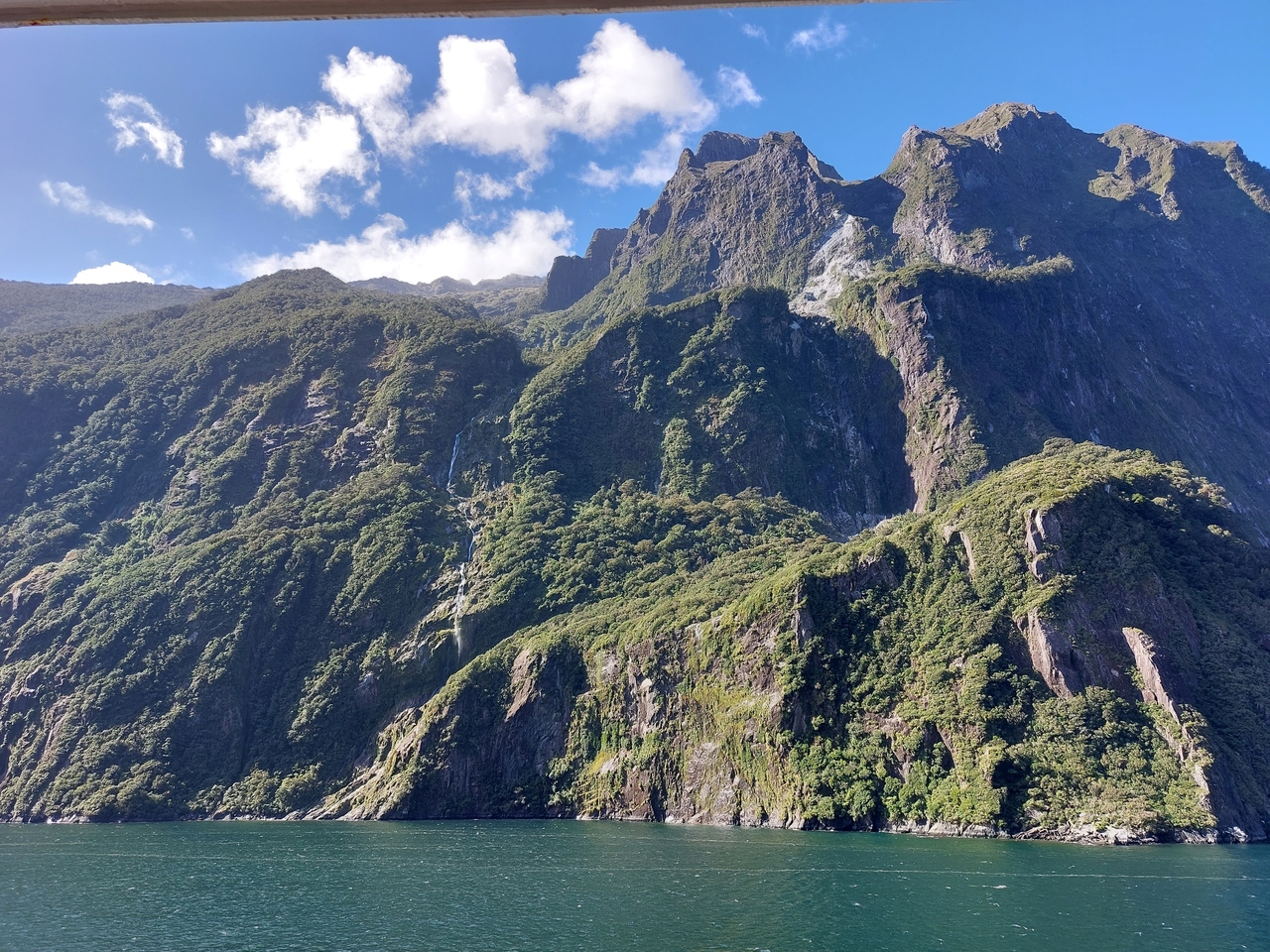 I think the mountains on the right look like a giant's toes.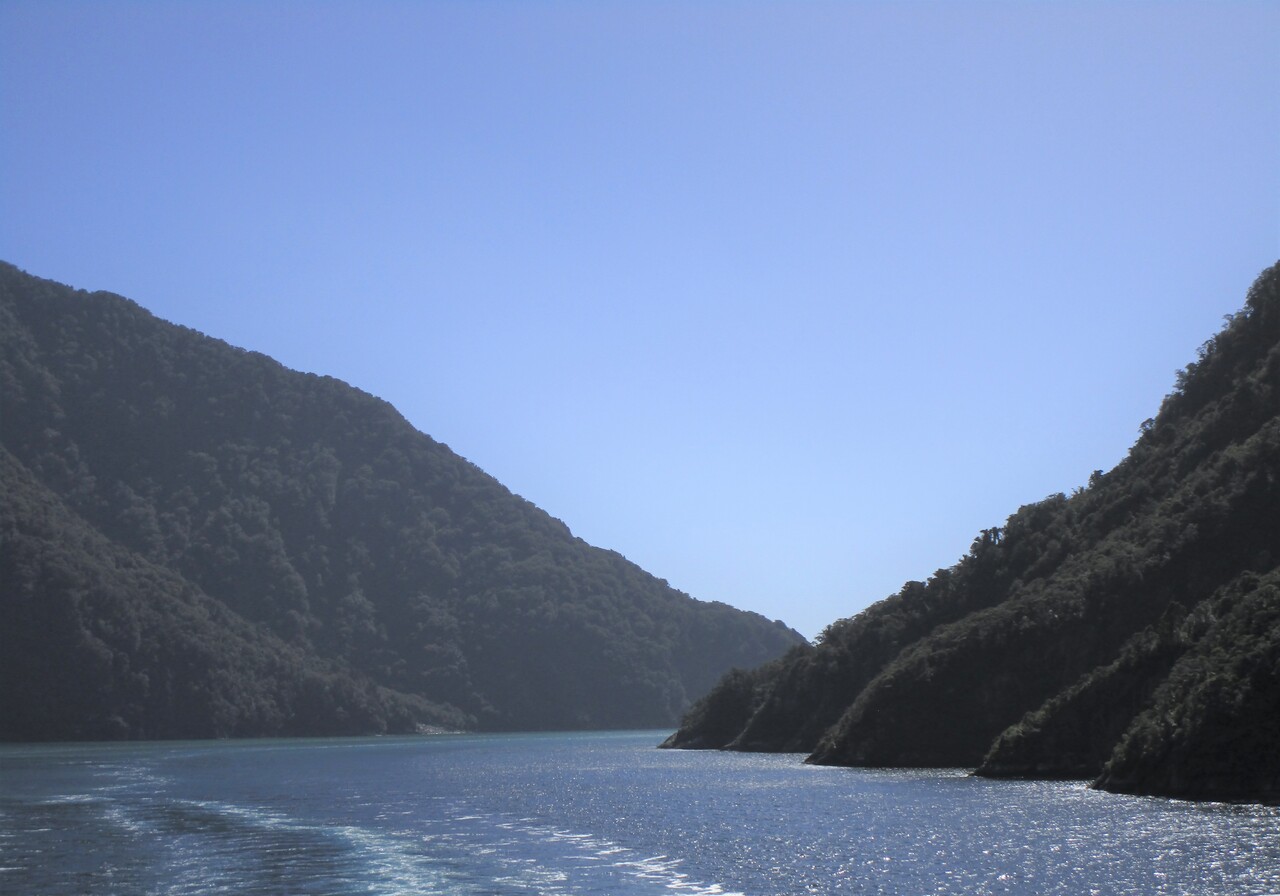 Here they are up close, in the sunlight.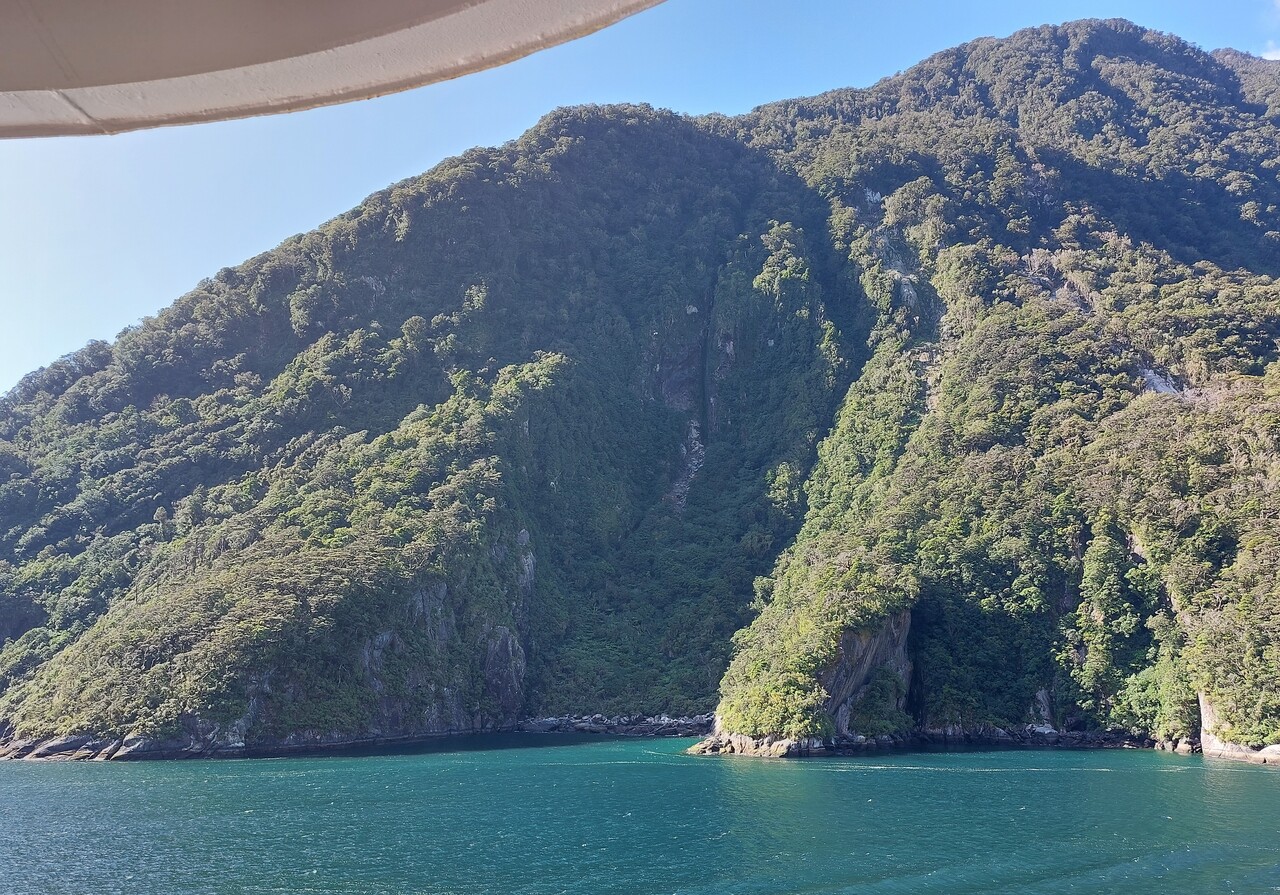 Lots of seagulls followed the ship to catch fish that were churned up in the ship's wake. They show up as white specs in the photo. It's hard to see, but there were dolphins, too.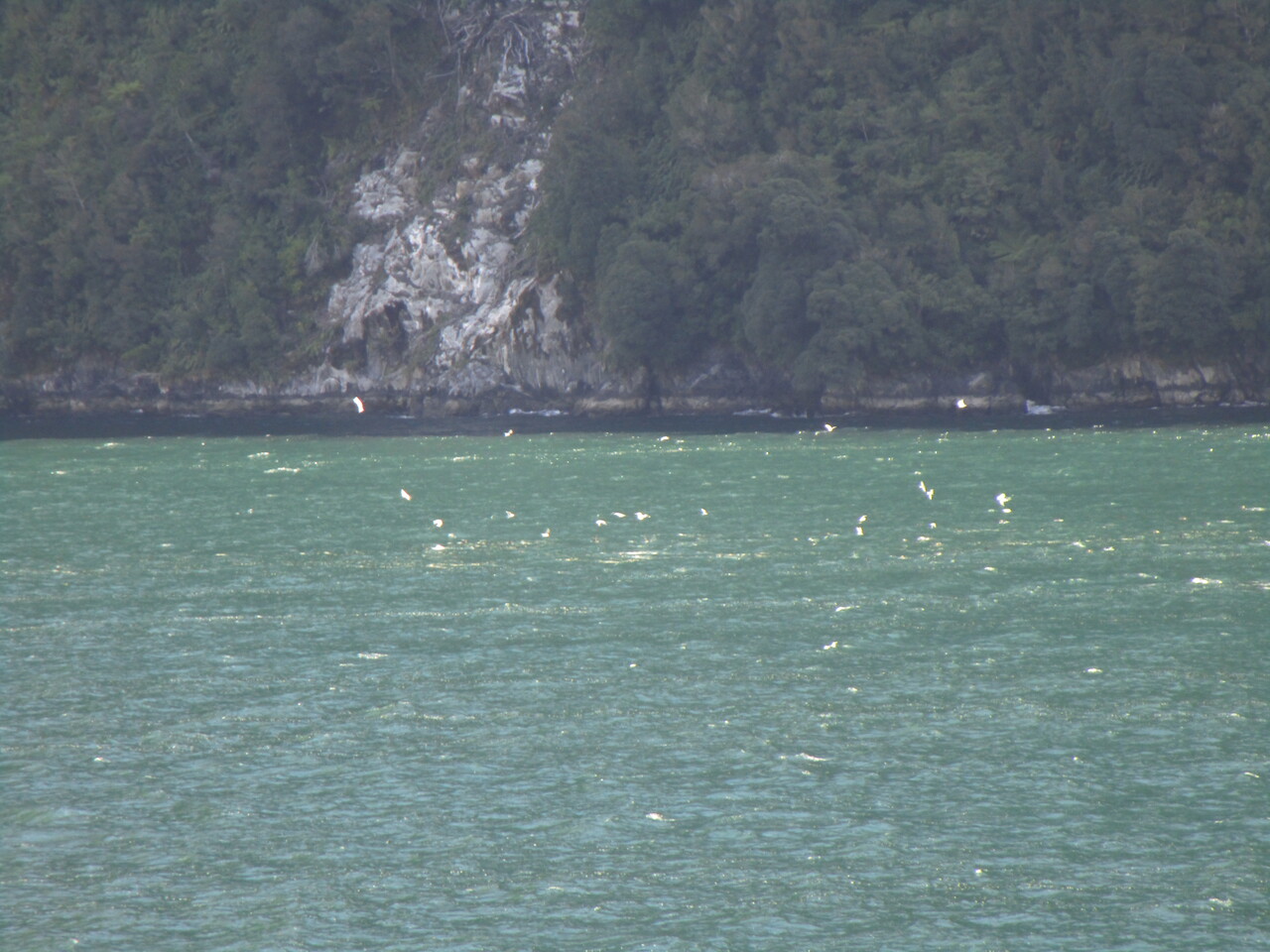 We saw more waterfalls.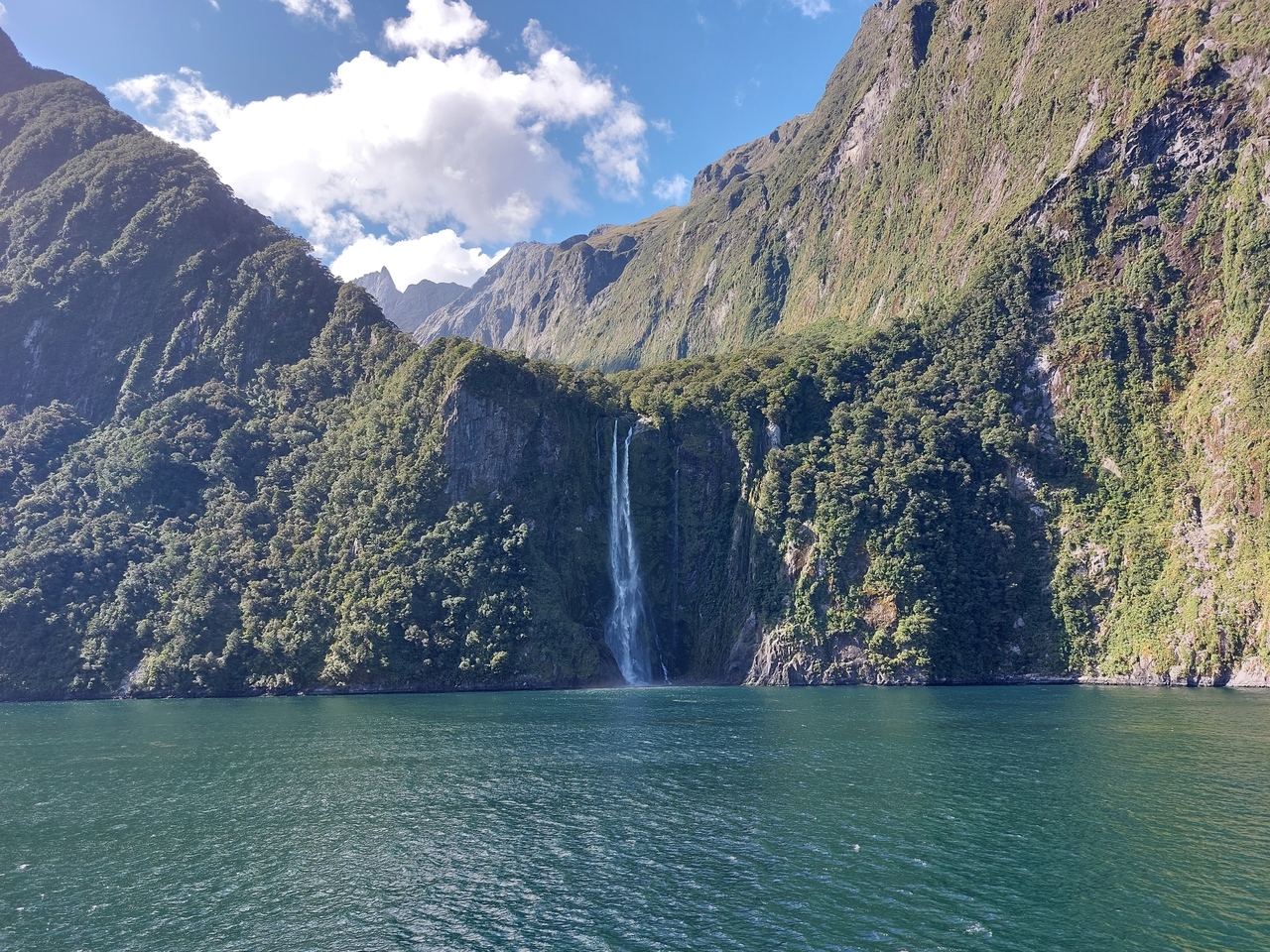 The ship sailed into a cove. At the center of the photo, where the sea meets the land, that white line is a string of tourist resorts. At the left is another waterfall.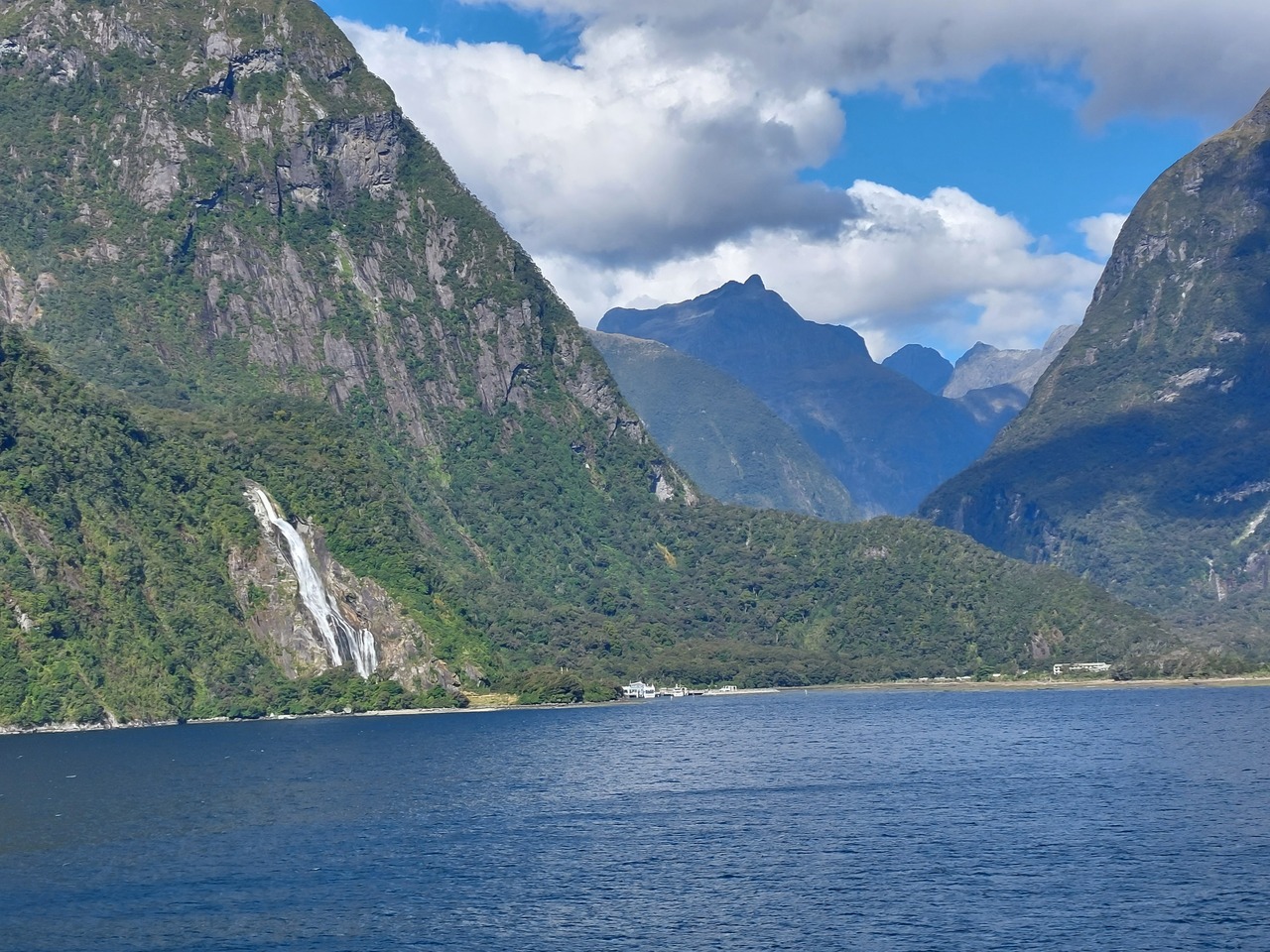 We saw some ferries and sailboats in the sound that were small enough to venture in between the mountains. I'm sure those views were even more spectacular than ours. This ferry is heading toward the giant's toes.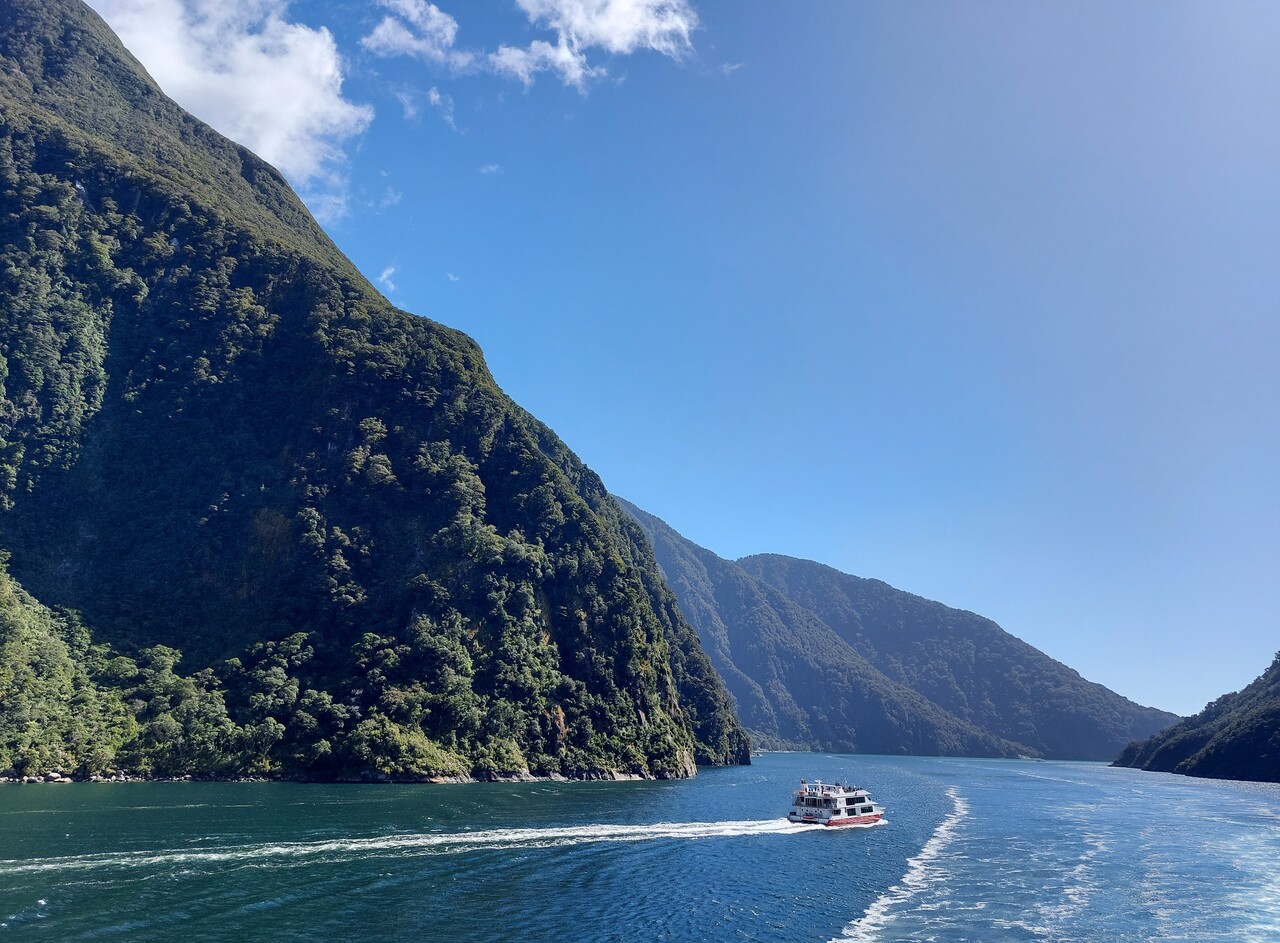 Here we are enjoying the scenery.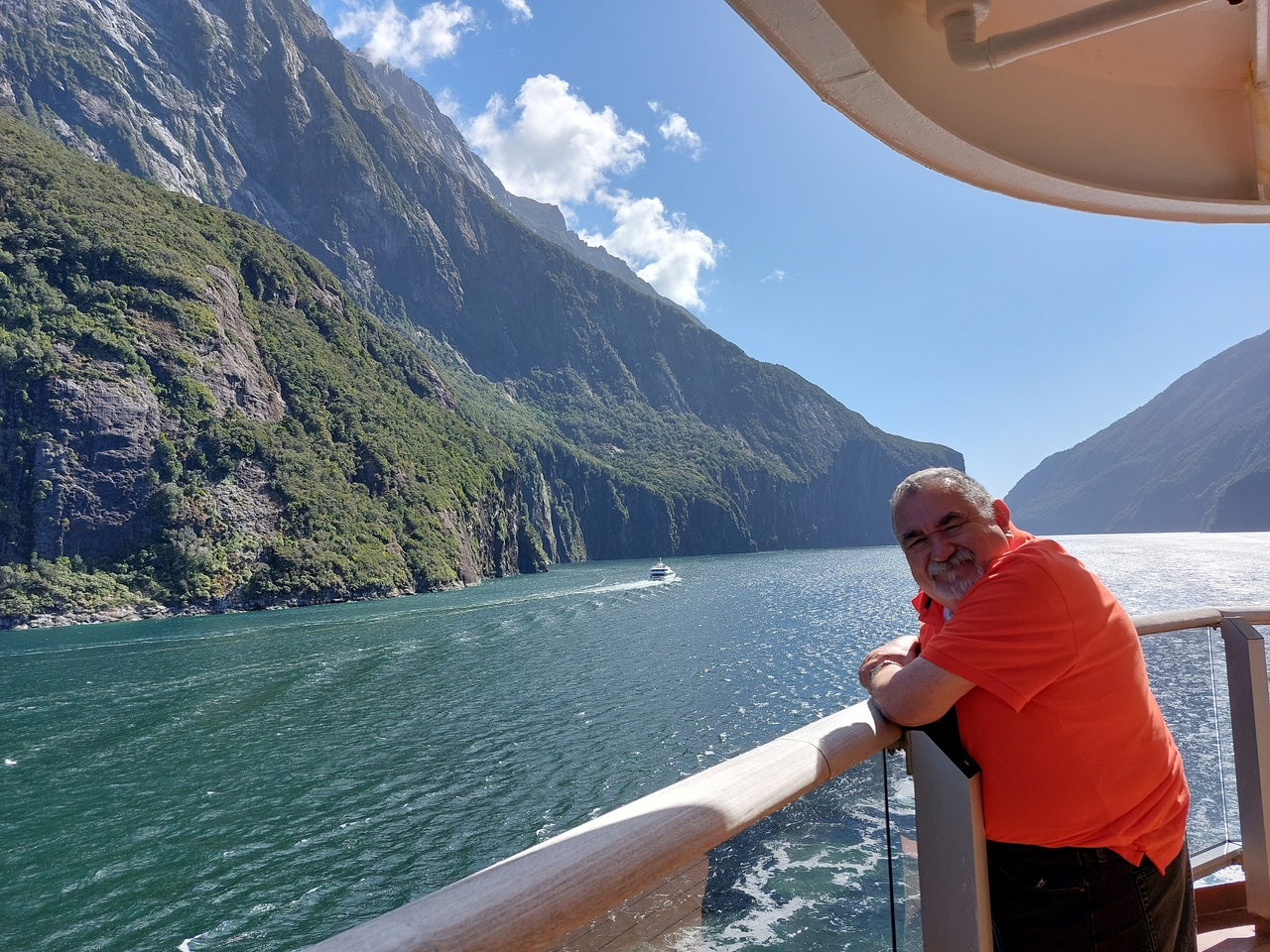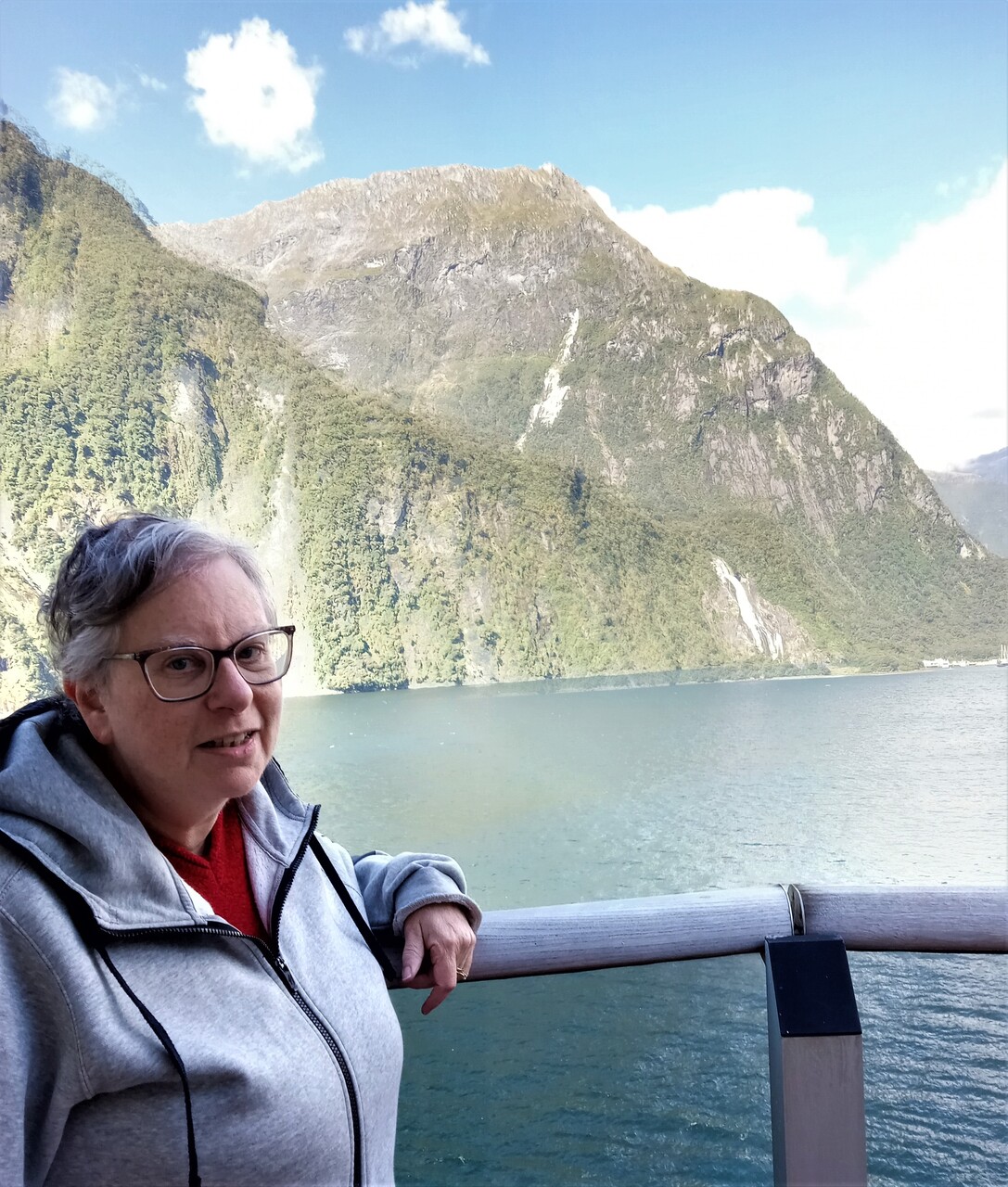 Our cruise ship turned around in the cove and headed back out to sea.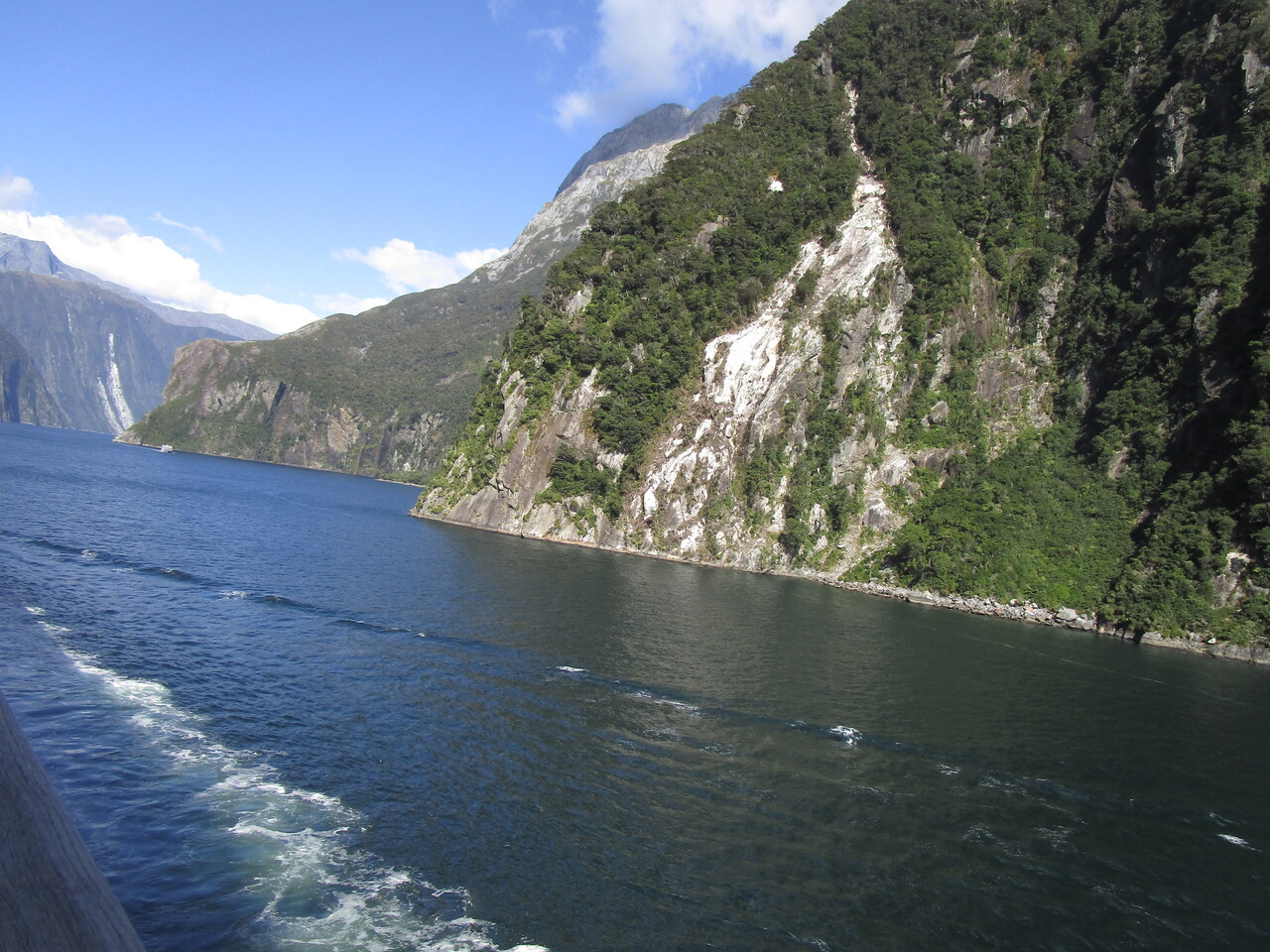 For more information about Fiordland National Park, including hiking through the mountains, look here: Fiordland Information

This video of Doubtful Sound includes views from a smaller ship that went into the smaller waterways. Doubtful Sound video

If you like waterfalls, this video of Milford Sound has too many to count! Milford Sound Waterfalls video

Both videos are by Amazing Places on Our Planet, and you can find many more online.
Next stop – Tasmania!
~ STUFF TO AMUSE ~
At the Stratford Library, where I used to work, the Children's Department held a Stuffed Animal Sleepover for several (non-Covid) years. This year, the Children's Department Head, Caitlin, invited Miss Tess (who retired in April), and me to participate in the event. This year's theme was going on a cruise. Kids dropped off their stuffies and teen volunteers photographed them doing various fun things. Since I've been on multiple cruises, Caitlin asked me to be the ship's captain giving the safety speech. I also got to be Elvis singing the alphabet. (Note – I did not use my real voice in either skit!) It was fun getting the chance to be silly again. The video is posted on the Stratford Library Facebook page. Here is the link. 2023 Stratford Library Stuffed Animal Sleepover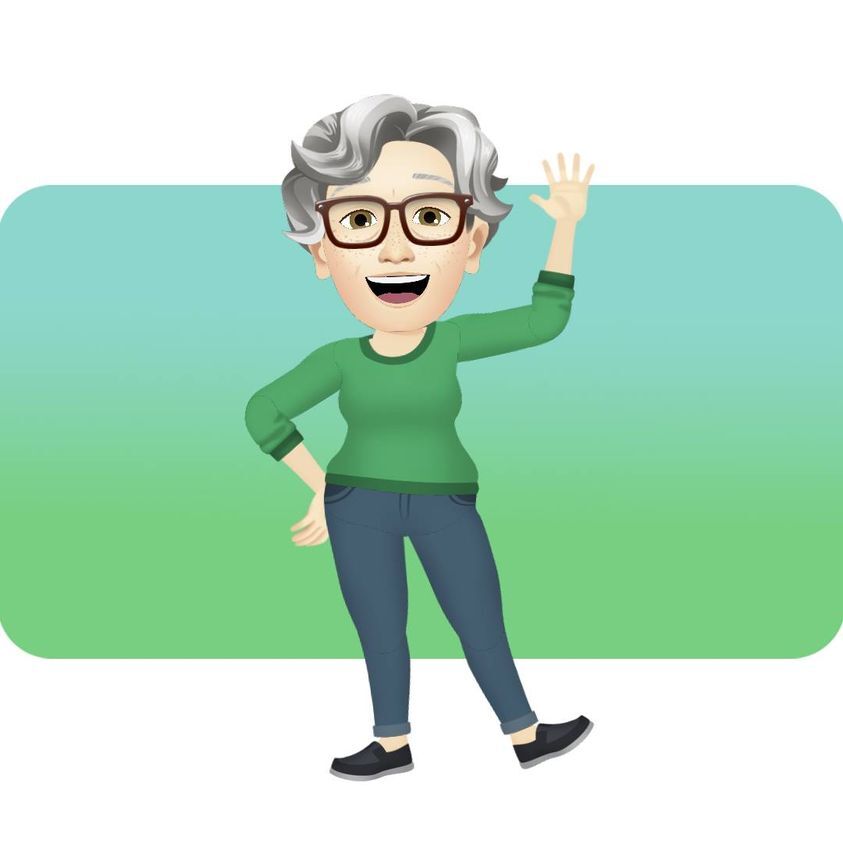 That'll do it for this month.
Until next time, remember to enthuse your muse!
~ Martha