September 2, 2021
Happy September!
Welcome to the eleventh issue of The Simpsonian Muse. I am your scribe, Martha Seif Simpson, Author and Children's Librarian. As the header says, this monthly newsletter will feature:
News – Mine as well as other interesting tidbits

Views – A few photos from my world travels

Stuff You Can Use – A mish-mash of activities, crafts, recipes, or whatever I am excited about sharing
If you missed the previous newsletters, you can click the button on the left sidebar on my website to catch up or click Simpsonian Muse
Thanks for joining me on this adventure. I hope you will find something to inform and entertain you.
~ NEWS ~
Last month, I said I had 2 author events in August. Here are photos of my book displays.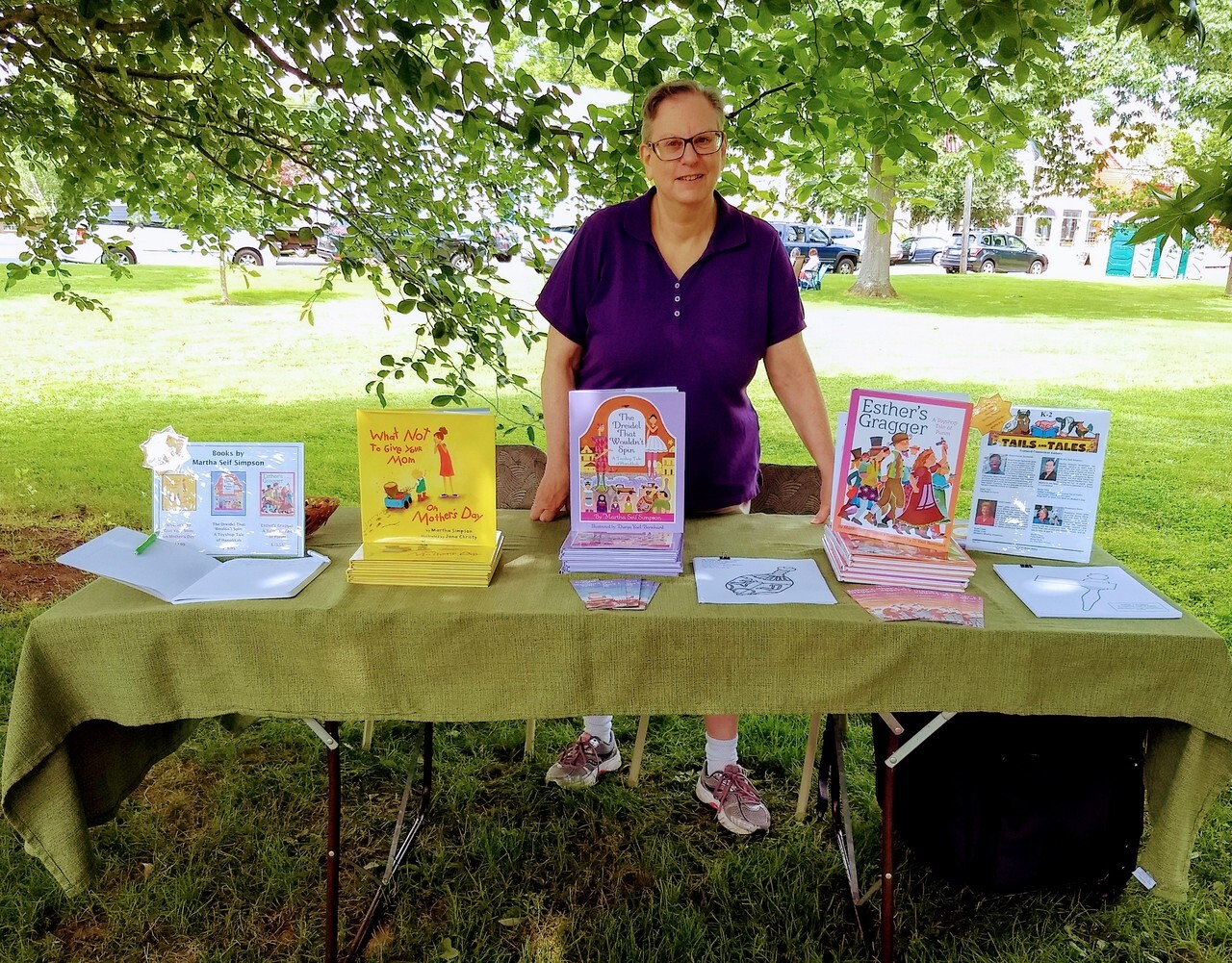 Here I am at the Shoreline Jewish Festival in Guilford, CT on August 1st. It was a beautiful day, and I met lots of families who came to enjoy the festivities. I even signed a copy of Esther's Gragger for a girl named Esther, which made her very happy!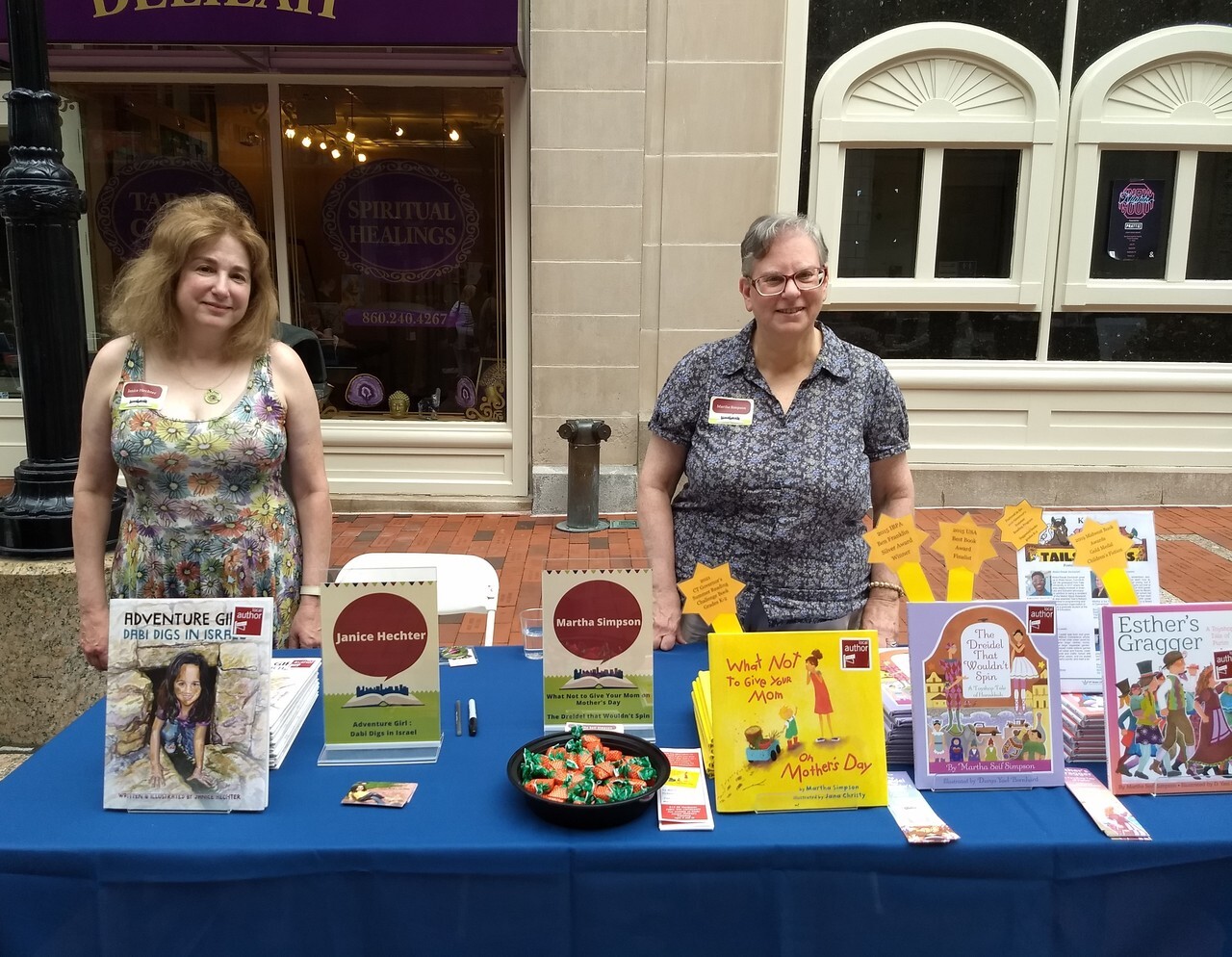 On August 7th, I shared a table with author/illustrator Janice Hechter at Books on Pratt, held on Pratt Street in Hartford, CT. Another wonderful day, meeting other local authors and illustrators and selling books.
But wait, there's more!
The Stratford Library Children's Department had a very successful Summer Reading Program, in spite of all the Covid-19 restrictions. We were able to host an outdoor celebration with Stratford Mayor Laura Hoydick. The clouds were threatening all day but we didn't have any rain. Kids who participated in the program received Reading Champion certificates, goodie bags, a free book, ice cream, and a balloon animal. The local press came by and wrote this article: Stratford Celebrates Summer Reading
Here's a photo of the grounds. I am in the Stratford Library tent helping kids choose their free book. You can also see Dolly Parton. It's a cardboard cut-out to promote the Imagination Library, which is Dolly's program that gives away books to kids under age 5. This was a terrific day for kids who love books!
BOOK SHARE
Now that September is here, kids are heading back to school. Here are some recent books that take place in a school setting.
Black Brother Black Brother by Jewell Parker Rhodes
Donte is one of the few Black boys at an elite prep school. When he is unjustly suspended, he studies fencing at a local youth center and learns to fight for justice against racism.
The Boy at the Back of the Class by Onjali Q. Raúf
Everyone in Mrs. Khan's class is curious about the newcomer, a Syrian refugee named Ahmet, who never smiles and doesn't talk much.
Class Act by Jerry Craft
A companion book to the award-winning New Kid. 8th grader Drew works hard to feel accepted at Riverdale Academy Day School. Graphic Novel.
Farah Rocks Fifth Grade by Susan Muaddi Darraj
When a new girl starts tormenting Farah and her younger brother, Samir, she decides she cannot leave Samir to face the bully alone.
Itch by Polly Farquhar
Sixth-grader Isaac "Itch" Fitch strives to fit in, but everything seems to be going wrong, even before a school lunch trade sends his best friend, Sydney, to the hospital.
Operation: Hat Heist! (Middle School Misadventures) by Jason Platt
When Newell's very special hat is taken away at school, he and his most talented friends concoct the perfect plan to get it back. Graphic Novel.
Middle School Queen Martin McLean by Alyssa Zaczek
Martin McLean struggles to find his voice—and his inner diva—as he navigates friendship, family, first crushes, and a whole lot of glitter.
Rule the School (Mr. Bambuckle) by Tim Harris
The students of Blue Valley School are delighted by the new teacher, who's a little wacky and knows how to make learning fun. But not everybody agrees with his unique teaching methods.
CALENDAR TRIVIA
Did you know September is Library Card Sign-Up Month?
According to the Every Day's a Holiday Calendar, other noteworthy dates in September include:

September 1 – National No Rhyme or Reason Day

September 5 – Be Late for Something Day

September 8 – Star Trek Day

September 9 – Wonderful Weirdos Day

September 14 – Gobstopper Day

September 16 – National Collect Rocks Day

September 19 – Talk Like a Pirate Day

September 21 – Miniature Golf Day

September 25 – One-Hit Wonder Day

September 30 – Chewing Gum Day
Celebrate Appropriately!
~ VIEWS ~
In October of 2006, my family was at the Tampa Airport returning from a visit with our Florida relatives. There happened to be an exhibit of manatee statues that people had decorated in very creative and colorful ways. Just for fun, I want to share some of these with you.
Which one is your favorite?
~ STUFF YOU CAN USE ~
In honor of Library Card Sign-up Month, I would like to share a song I wrote about how to care for library books. Normally, my co-workers and I would sing it with the second graders who come into our library for class visits. But since we were not able to have in-person visits last year, we made it into a short video. My talented daughter, Shayna, who is a Children's Librarian for the Los Angeles County Library System, sang the tune along to her ukulele.
The video includes information about the Stratford Library, but feel free to adapt the song for your needs.
The Stratford Library Book Care Song
That will do it for this month.
Until next time, amuse your muse!
~ Martha