December 1, 2022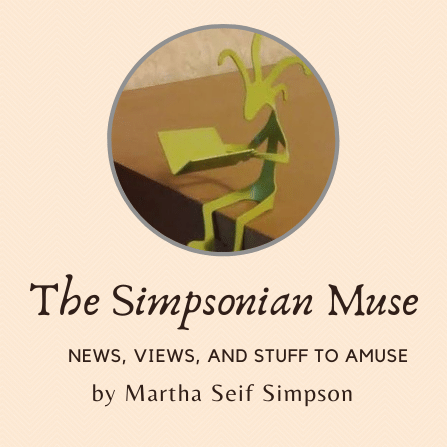 Happy December!
Welcome to issue #22 of The Simpsonian Muse. I am your scribe, Martha Seif Simpson, Author and retired Children's Librarian. As the header says, this monthly newsletter will feature:
News – Mine as well as other interesting tidbits

Views – A few photos from my world travels

Stuff to Amuse – A mish-mash of activities, crafts, recipes, or whatever I am excited about sharing
If you missed the previous newsletters, you can click the button on the left sidebar on my website to catch up or click here: Simpsonian Muse
Thanks for joining me on this adventure. I hope you will find something to inform and entertain you.
~ NEWS ~
December is an exciting month for the members of the Sydney Taylor Book Award committee because that's when we meet via Zoom to discuss the books we've been reading all year and determine the Winner, Honor, and Notable books. This year, we read about 170 picture books, middle grade, and young adult books with a wide variety of Jewish subjects and plots. Narrowing them down to a select few is quite a challenge, as you can imagine. But my terrific committee members are up to the task!
If you love Jewish-themed books for children and teens and can handle reading 170-or-so books between March and November, this is your opportunity to apply for the 2023-2025 Sydney Taylor Book Award committee. Details about the award and the committee application are on the Association of Jewish Libraries website. The deadline to apply is December 12, 2022. Sydney Taylor Book Award application
But wait, there's more!
I had a pleasant surprise when my book, The Dreidel That Wouldn't Spin: A Toyshop Tale of Hanukkah was included in this list of 10 Children's Books About Hanukkah to Celebrate the Festival of Lights compiled by Emma Singer for online magazine PureWow. Here is Emma's description of my book: Award-winning author Martha Simpson pens a touching and imaginative story about a dreidel that won't spin and the child who harnesses the true spirit of Hanukkah to fix the problem. Let the games begin! Here's the link.

Also - The Dreidel That Wouldn't Spin is featured in the Society of Children's Book Writers and Illustrators December Recommended Reading List, "Celebrating Holidays Around the World." Check it out here.
And even more…
I will be participating in Multicultural Children's Book Day on January 26, 2023. Here's the announcement in Twitter:
Multicultural Children's Book Day
Click here to see all of the participating authors and their books.
My book is near the bottom of the list. I'm honored to have the opportunity to join these other talented creators in promoting diversity in children's literature.
BOOK SHARE
In addition to the Hanukkah books spotlighted by PureWow, here are a few others I like.
The Christmas Mitzvah by Jeff Gottesfeld, illustrated by Michelle Laurentia Agatha (picture book)
For 36 years, Al Rosen did jobs for the people in town on Christmas so they could enjoy their holiday. He inspired people in his family and town to also do mitzvahs (good deeds). This book shows how one person's actions can make a difference and bring a community together. A 2022 Sydney Taylor Book Award Honor book.
Red and Green and Blue and White by Lee Wind, illustrated by Paul O. Zelinsky (picture book)
In Billings. MO, everyone decorates their house in red and green for Christmas, except for Isaacs's family, who decorate in blue & white for Hanukkah. After someone throws a stone through their window, the family continues to light their menorah and is gratified to see that other people in town show their support by putting up pictures of menorahs in their windows. Based on a true story. A 2022 Sydney Taylor Book Award Notable book.

A Donut in Time: A Hanukkah Story by Elana Rubinstein (chapter book)
Saralee Siegel's super-smelling nose takes her back in time to meet her great-grandmother, whose Hanukkah donut recipes put her on track to create the family restaurant.
Light the Menorah: A Hanukkah Handbook by Jacqueline Jules & Kristina Swarner (middle grade)
This beautifully illustrated handbook includes songs, activities, rituals, and reflections to help enhance Hanukkah for all families.
Recommended for You by Laura Silverman (young adult)
Shoshanna loves her job at a mall bookstore and is great at recommending books to customers. When Jake is hired, she is immediately infatuated with his good looks but not his rude temperament. They compete in the store's contest to drum up business in the days leading up to Hanukkah and Christmas. A fun holiday rom-com.
Eight Nights of Flirting by Hannah Reynolds (young adult)
With her extended family spending the Hannukah-New Year holidays at the ancestral home in Nantucket, Shira asks her past heartthrob Tyler to help her learn how to flirt so she can attract Isaac, an intern at her uncle's firm. Another fun rom-com that includes an untraditional Hanukkah play.
CALENDAR TRIVIA
Did you know that December is Human Rights Month?
According to the Every Day's a Holiday Calendar, other noteworthy December dates include:

December 2 – National Mutt Day

December 5 – Bathtub Party Day

December 8 – Pretend to Be a Time Traveler Day

December 11 – Holiday Food Drive for Needy Animals Day

December 15 – Cat Herders Day

December 16 – National Chocolate-Covered Anything Day

December 21 – Look on the Bright Side Day

December 23 – Festivus

December 27 – Make Cut-Out Snowflakes Day

December 28 – Call a Friend Day
Celebrate Appropriately!
~ VIEWS ~
In May of this year, John and I took a cruise on the MSC Virtuso which stopped at three of the Canary Islands. Located off the coast of Morocco, Africa, the archipelago is part of Spain. Contrary to what you may think, the islands are not named after the canary bird. Rather, the name Islas Canarias likely comes from the Latin name Canariae Insulae, which means "Islands of the Dogs. Supposedly, the island of Gran Canaria had "vast multitudes of dogs of very large size," according to the Ancient Roman historian Pliny the Elder. We didn't see many dogs or canaries on our visit, but we did see some beautiful and unusual landforms.
Our first stop was at Las Palmas, the largest city located on the second biggest island, Gran Canaria. We took a tour bus to Maspalomas, which is known for its sand dunes and beaches.
Then the bus drove across the island to the beach resort at Mogan.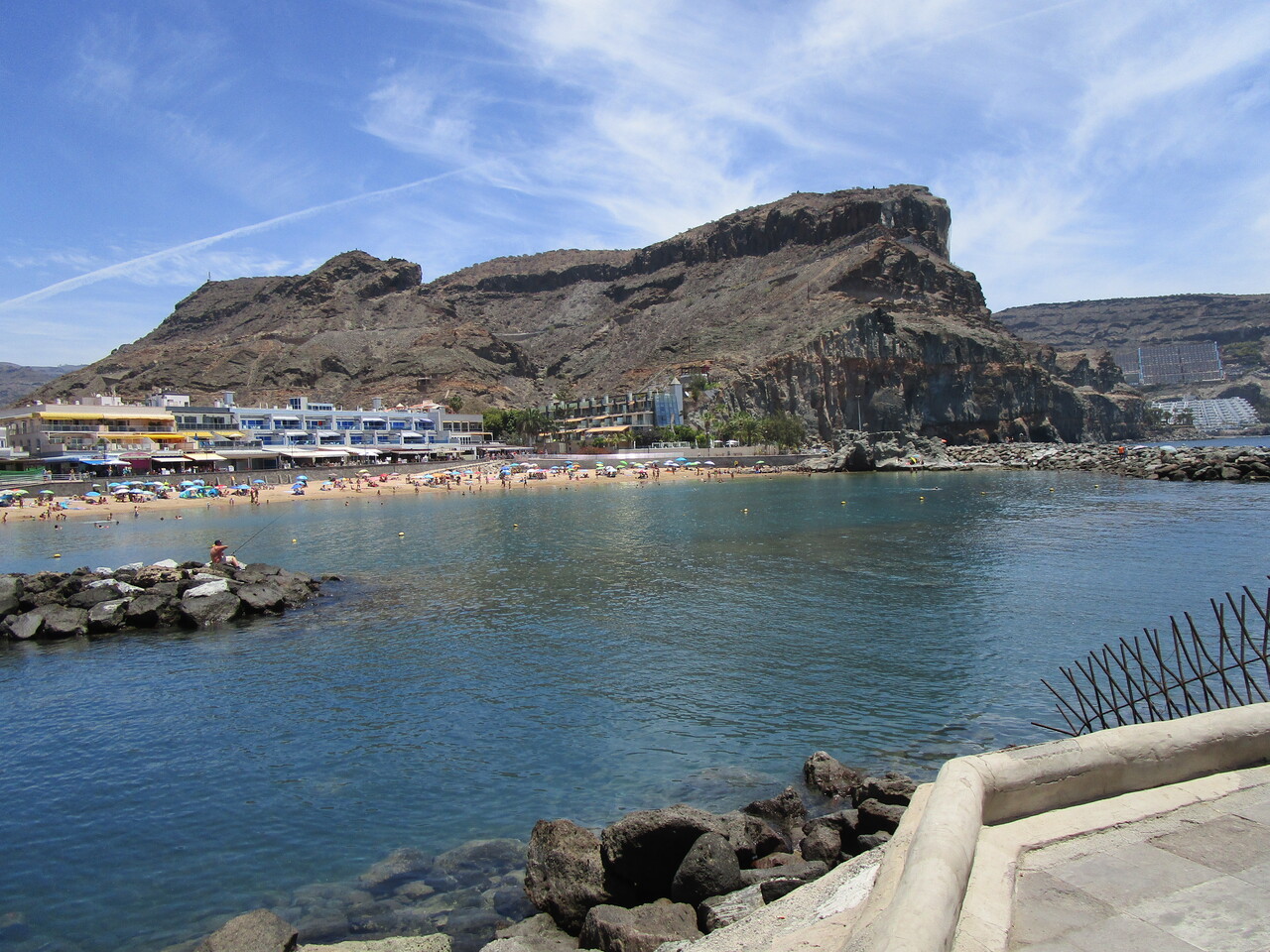 The streets were lined with window boxes displaying beautiful flowers.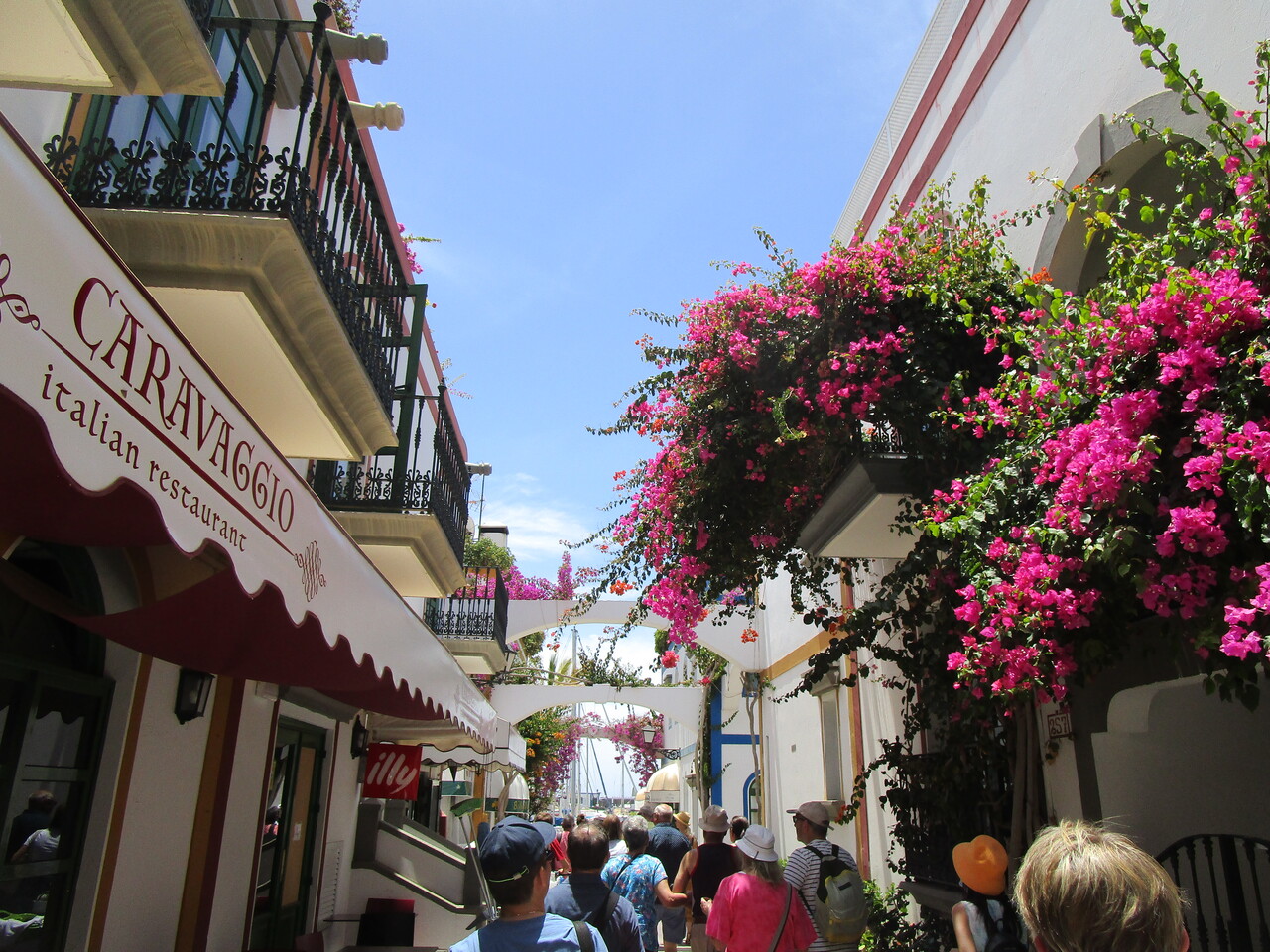 We had a wonderful lunch at a seaside café called Sol & Luna before heading back to the ship.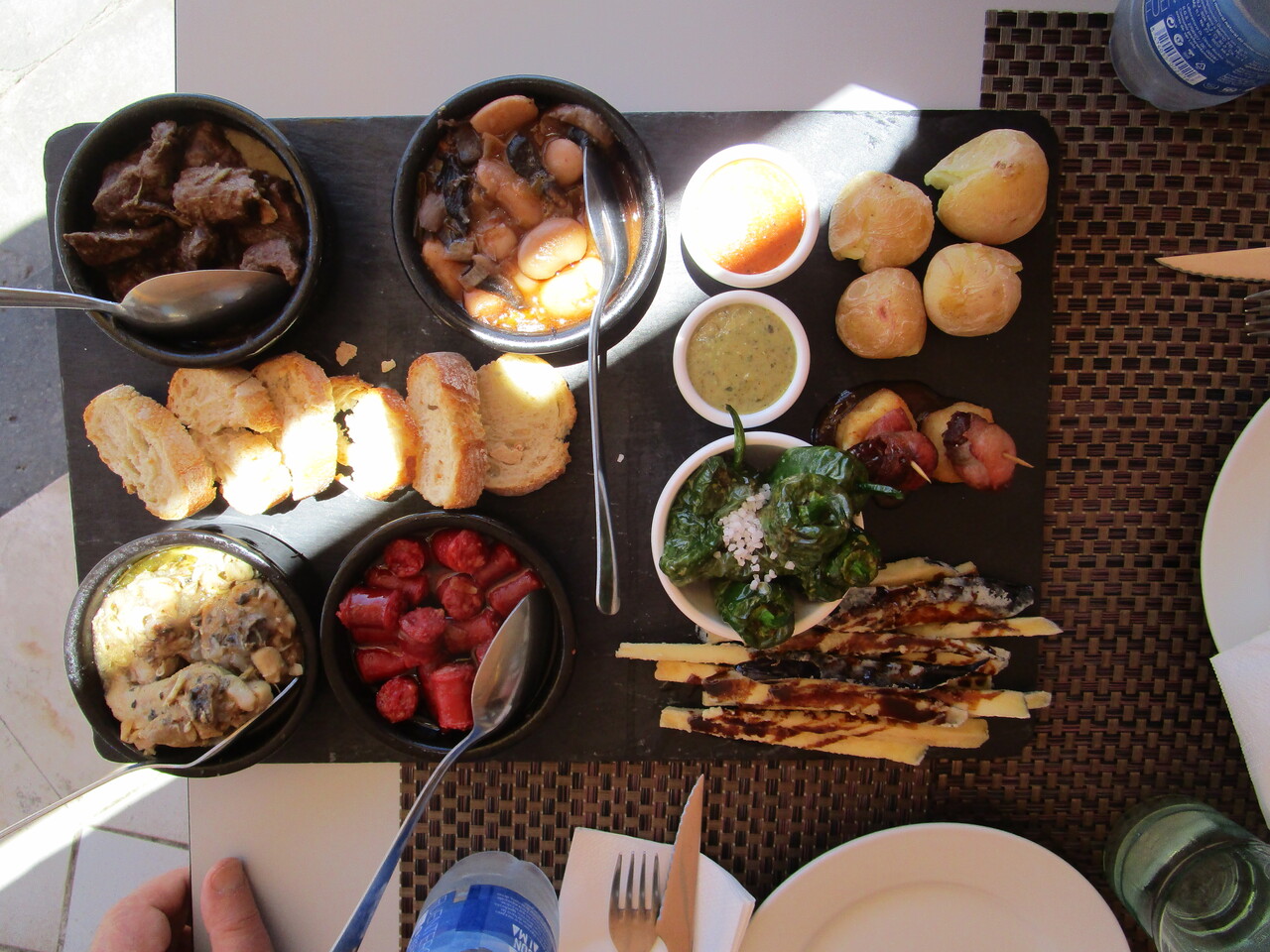 The next day, we docked at Santa Cruz, on the largest island, Tenerife. I took a bus tour that went to the Anaga Mountains, a rainforest at the center of the island. We stopped at several points to take photos. Here's one taken from Mirador de Jardina.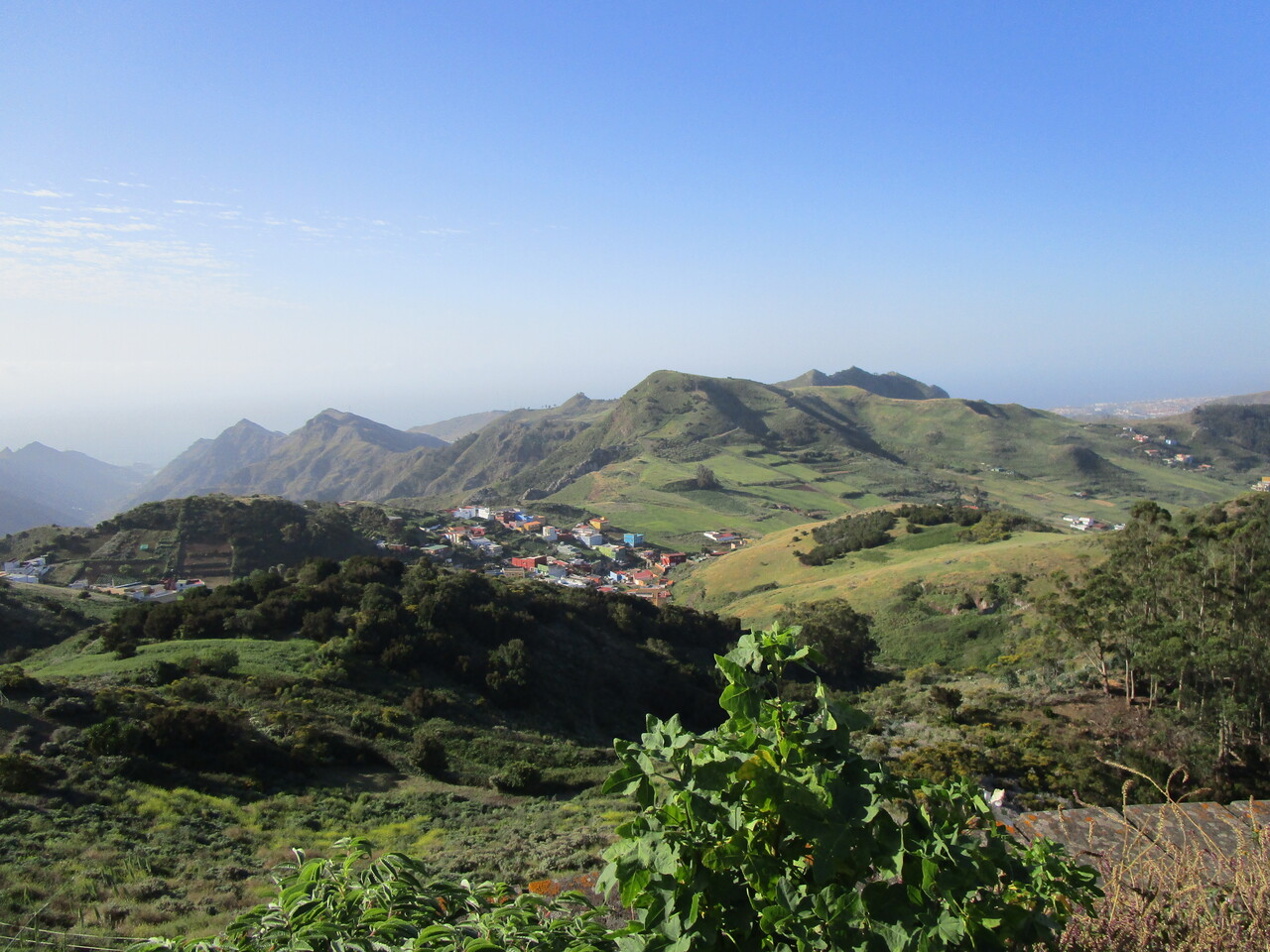 Here's a close-up of one of the moss-covered trees.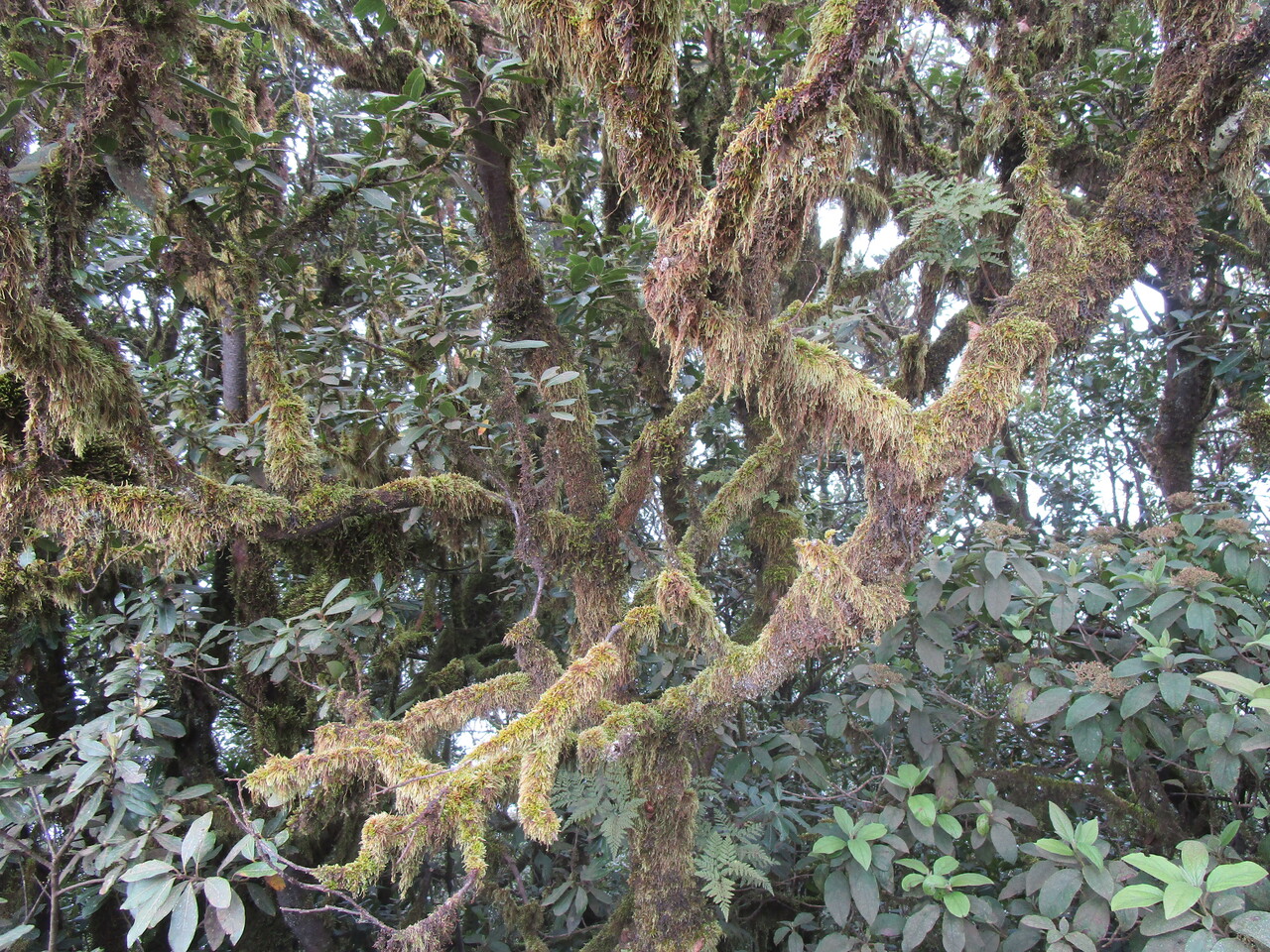 Going up the mountain, we passed through a rain cloud and stopped at a trail called Cruz Del Carmen.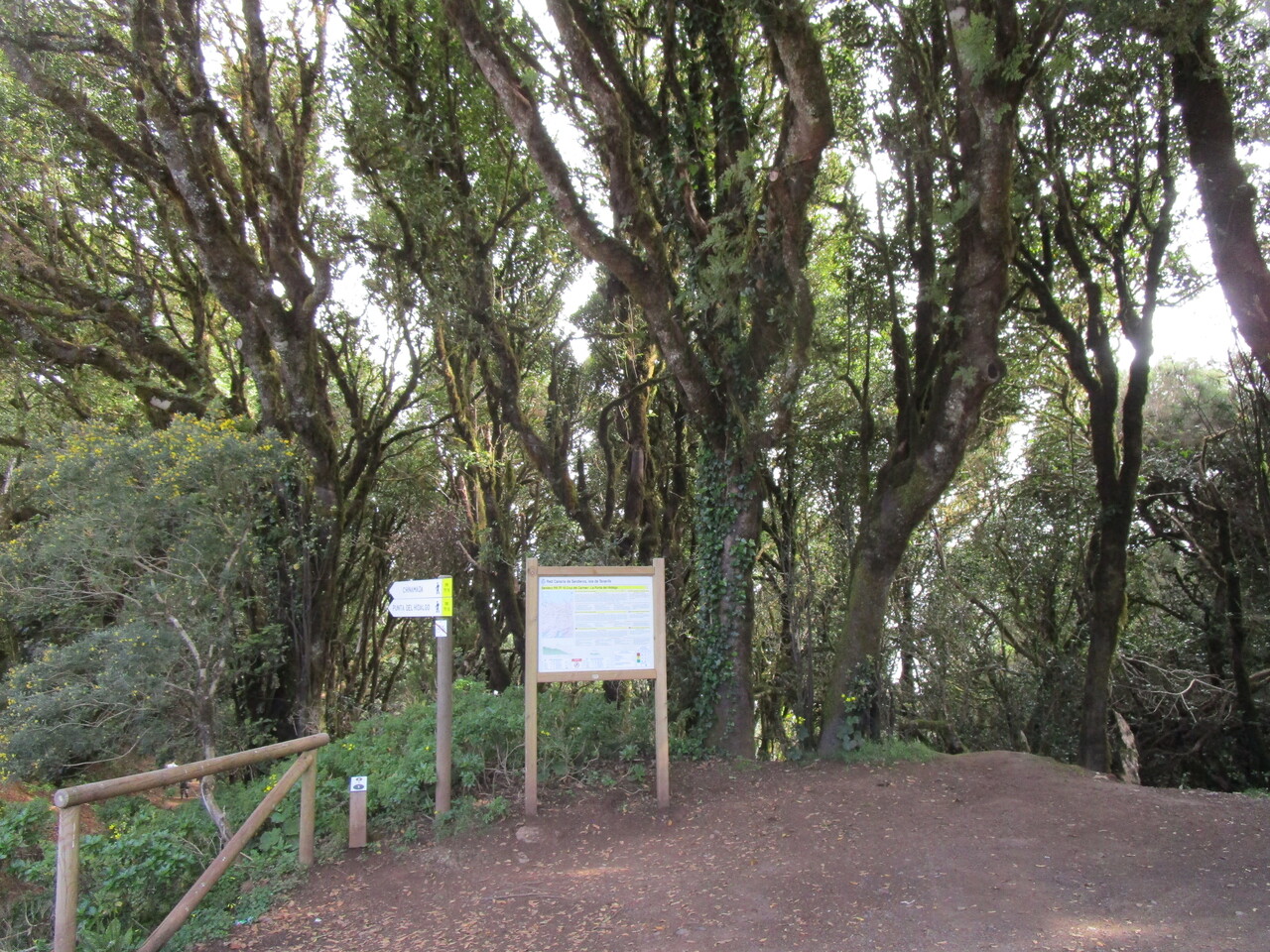 We came back down the mountain…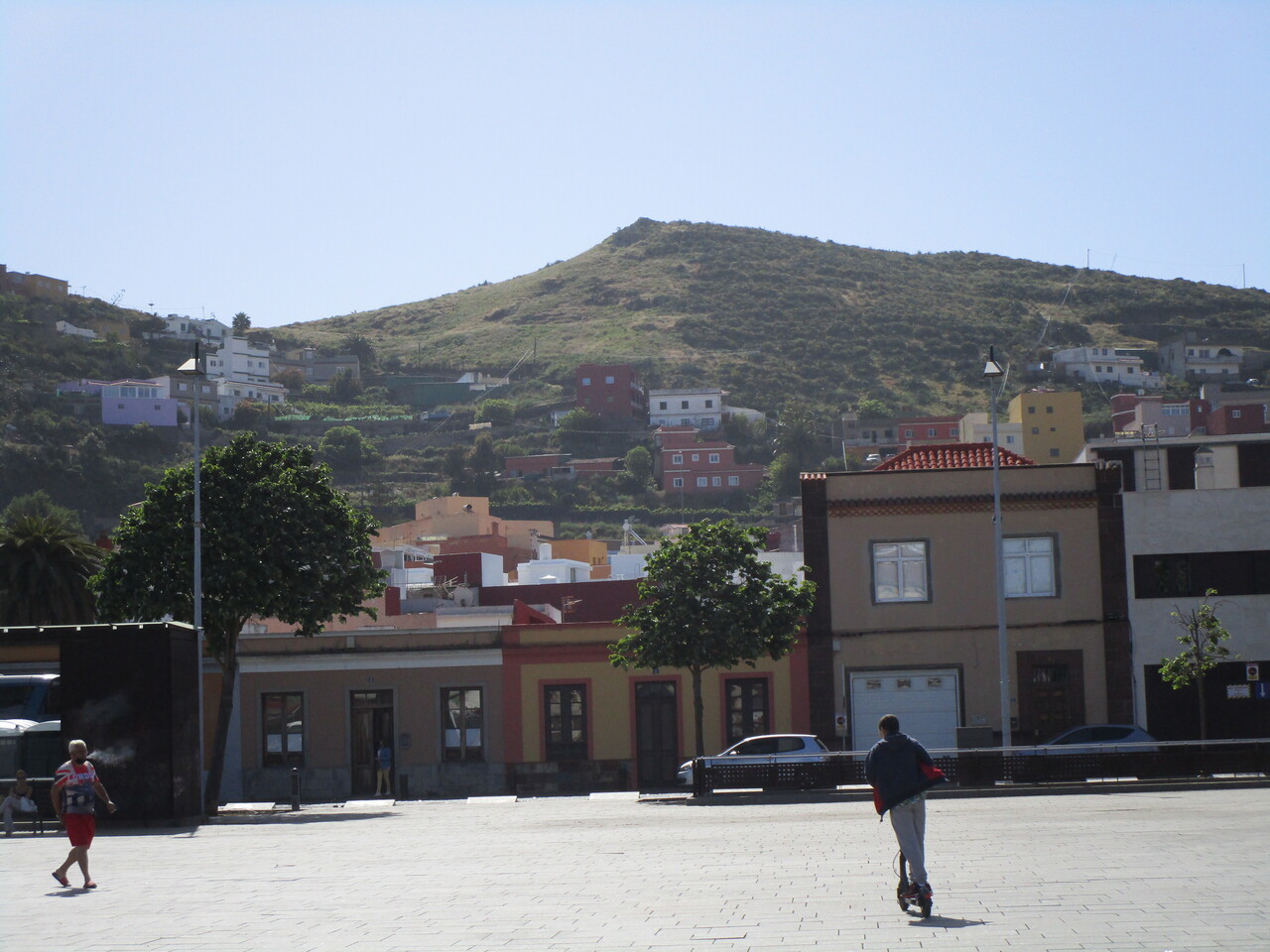 ... and stopped at San Cristóbal La Laguna Marketplace, which wasn't as crowded as usual since it was a Sunday.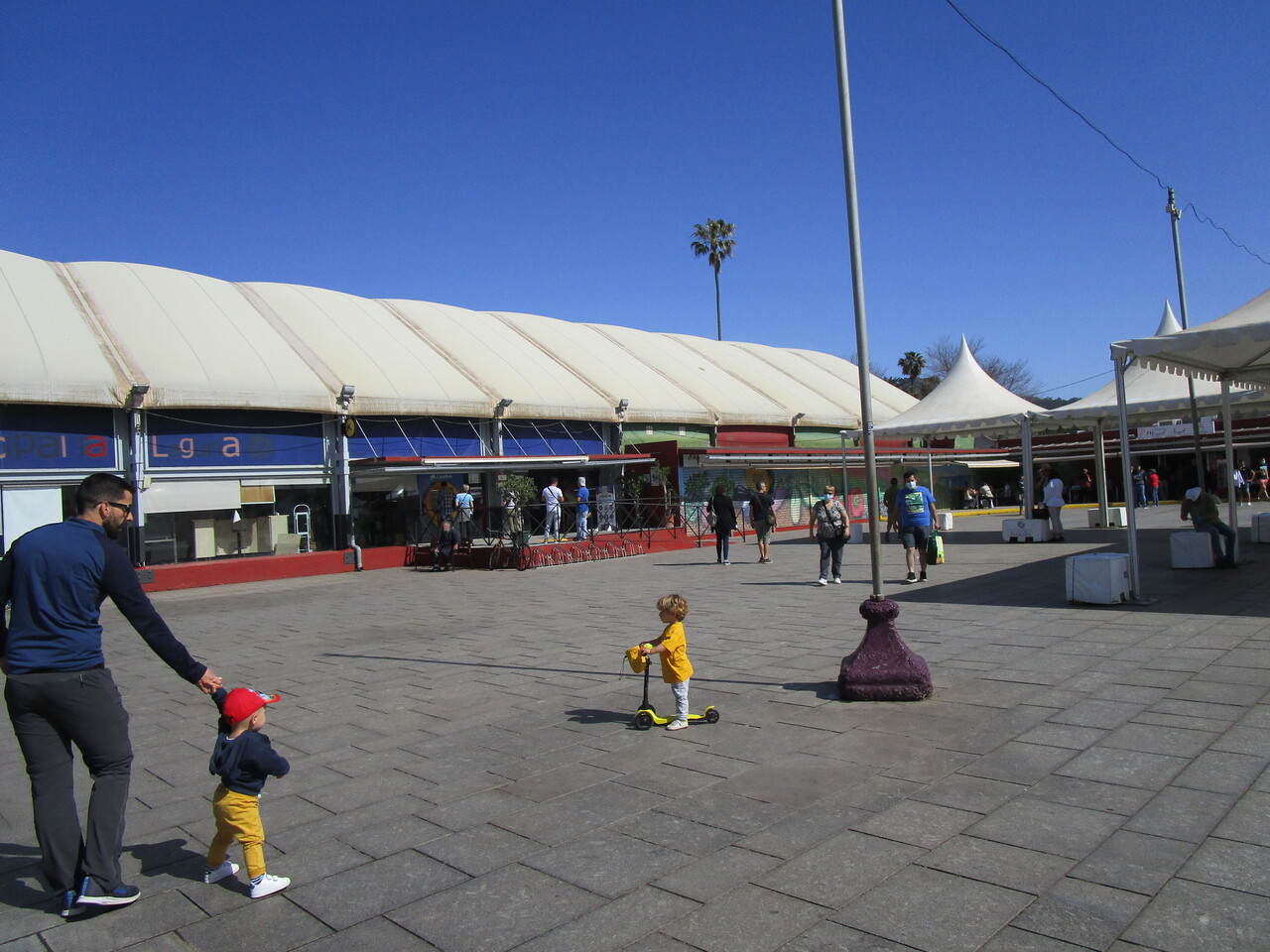 Then we went on a walking tour of the old town, eventually stopping at a park which had these amazing knotted old trees.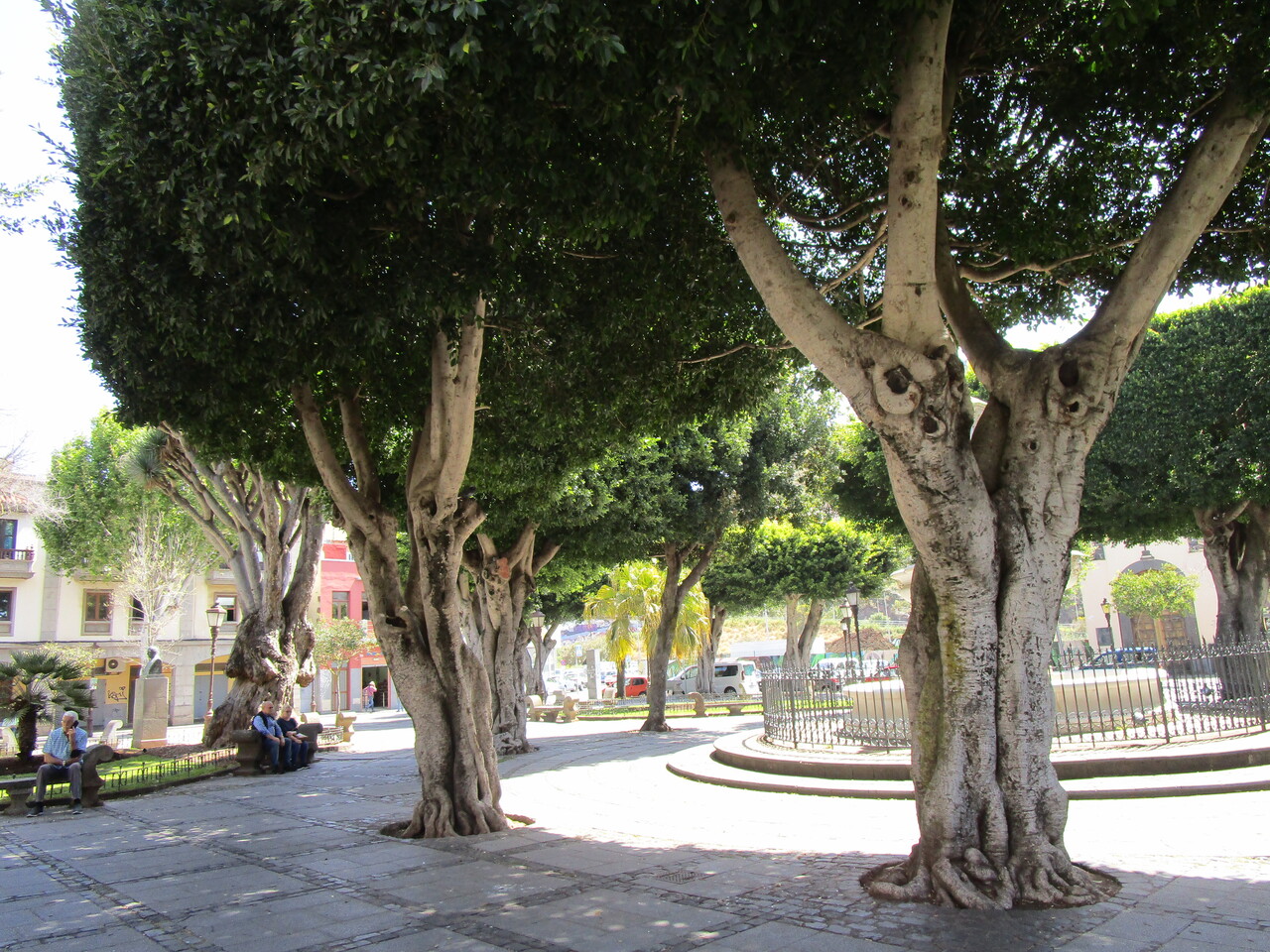 Last stop was at Las Variedades De Viñas De Tenerife bodega for a wine tasting.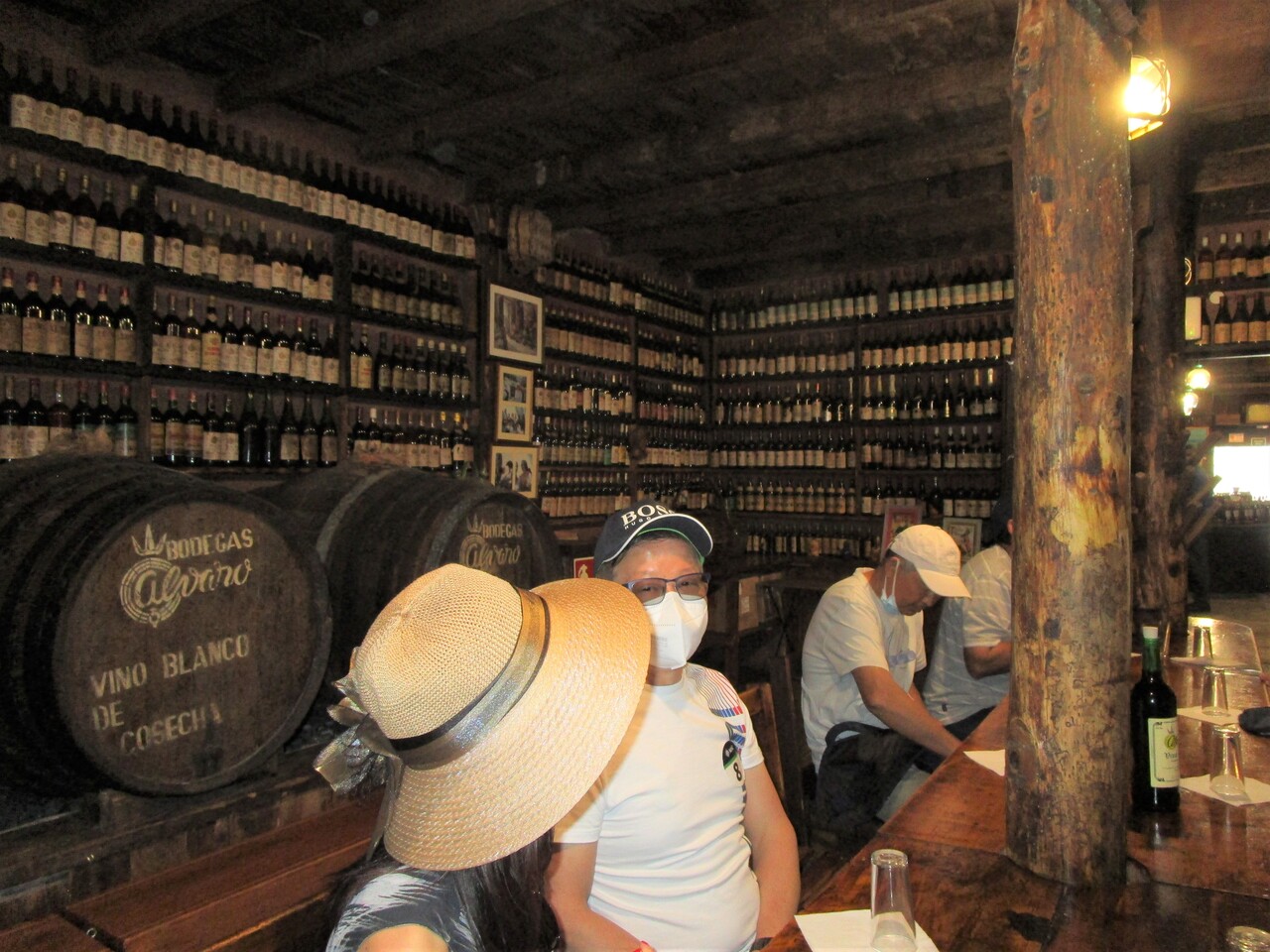 The third island we visited was Lanzarote, which is famous for it's other-worldly looking topography. We took an early morning bus to Timanfaya National Park, which is a UNSCO biosphere nature reserve. This volcanic island has lava flows fairly close to the surface. In fact, if you touch the red gravel outside of the park's Welcome Center, they feel warm. And when one of the park rangers poured some cold water down a tube in the ground, it caused a geyser to spout.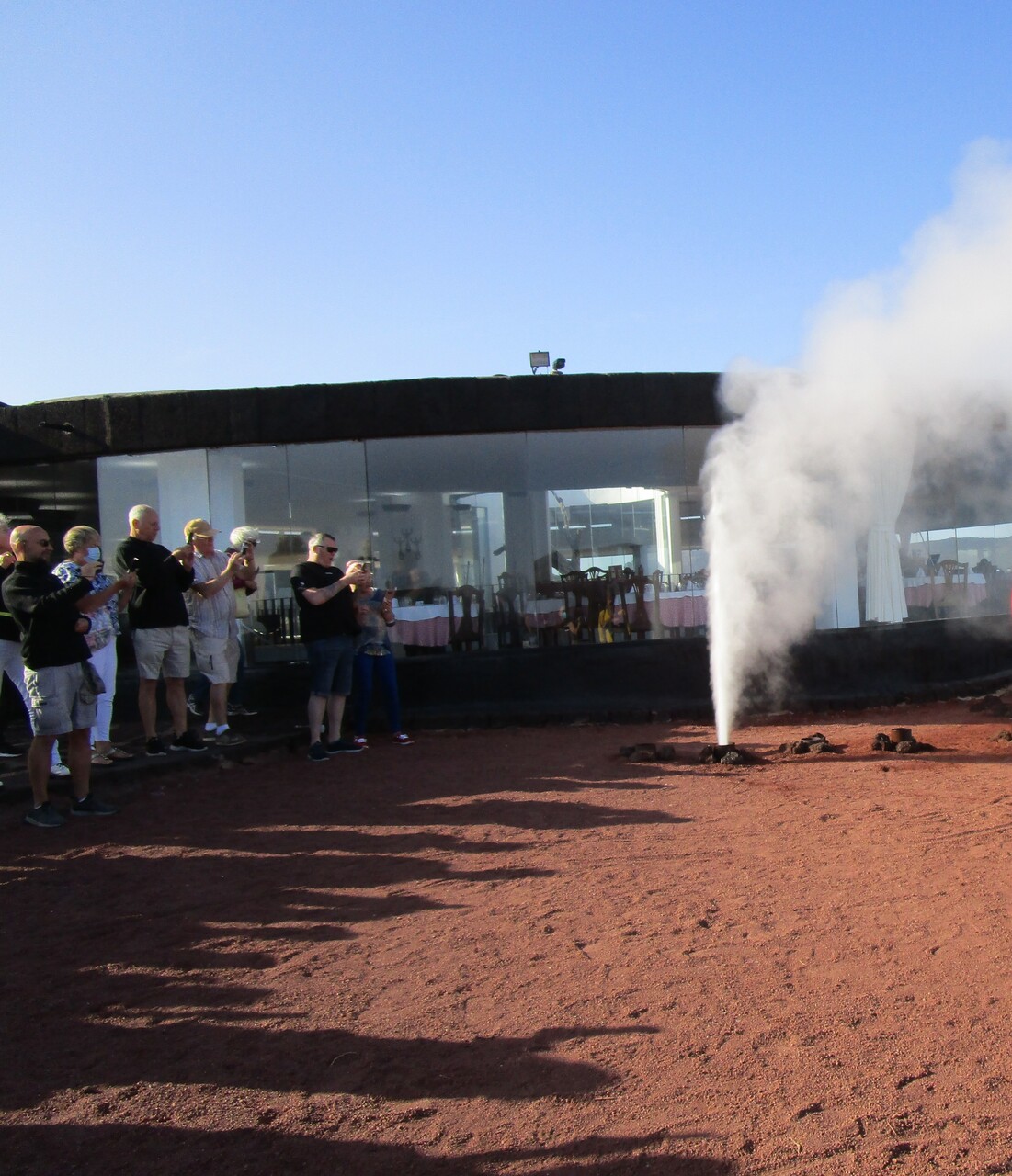 At another part of the National Park, we stopped to take a ride on a dromedary. They are similar to camels, except they have one hump instead of two. You can see the dramatic desert landscape in the background of this caravan.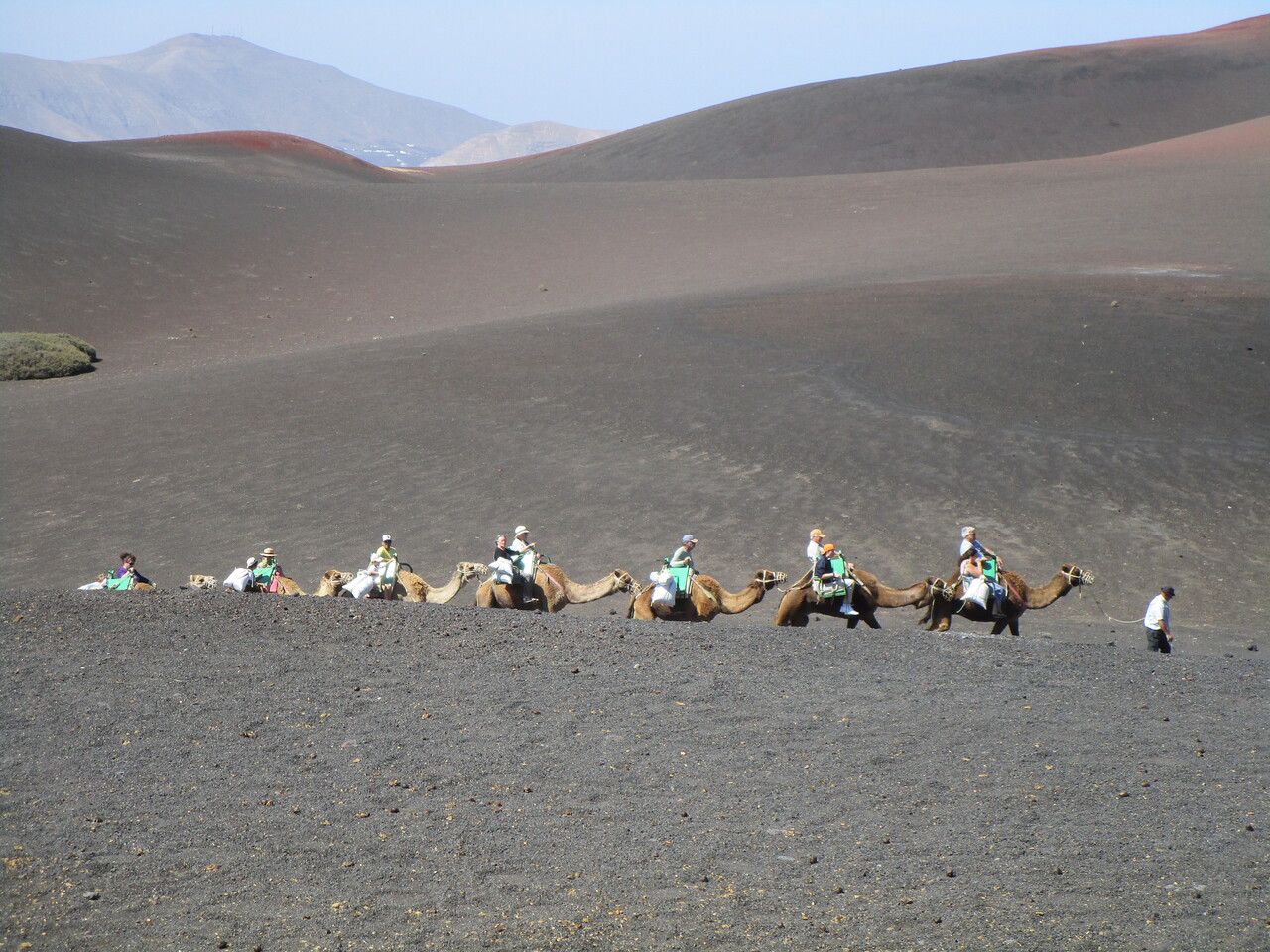 Of course, we had to go for a ride. Another bucket item crossed off our list!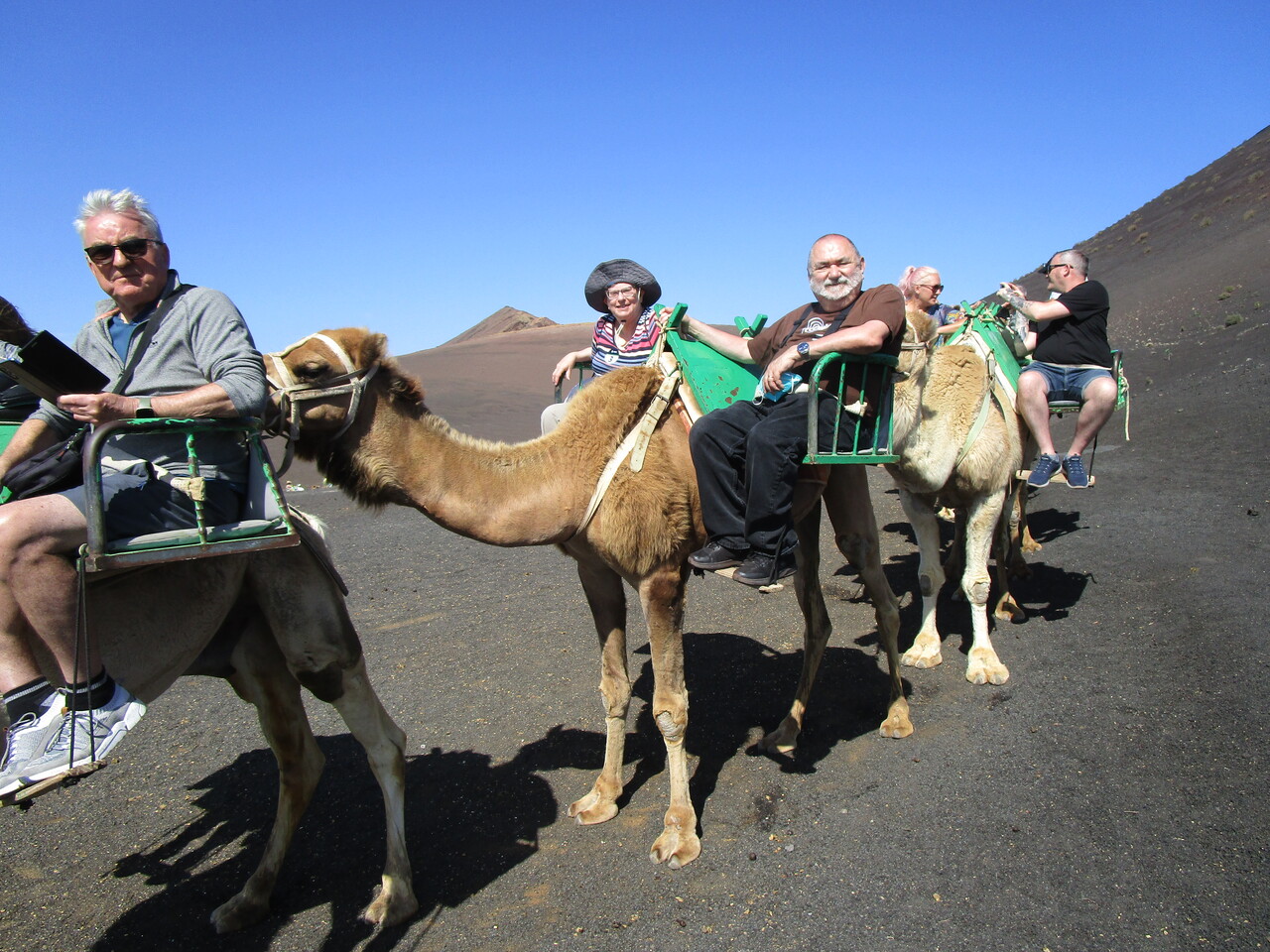 The bus took us though the winding roads of the park, past many hills and valleys. The guide explained that it rarely rains on Tenerife, yet wine grapes are grown there. As you can see in this photo, the plants have a partial stone wall, which keeps in the moisture from the morning dew. It's enough water to grow grapes in the desert soil.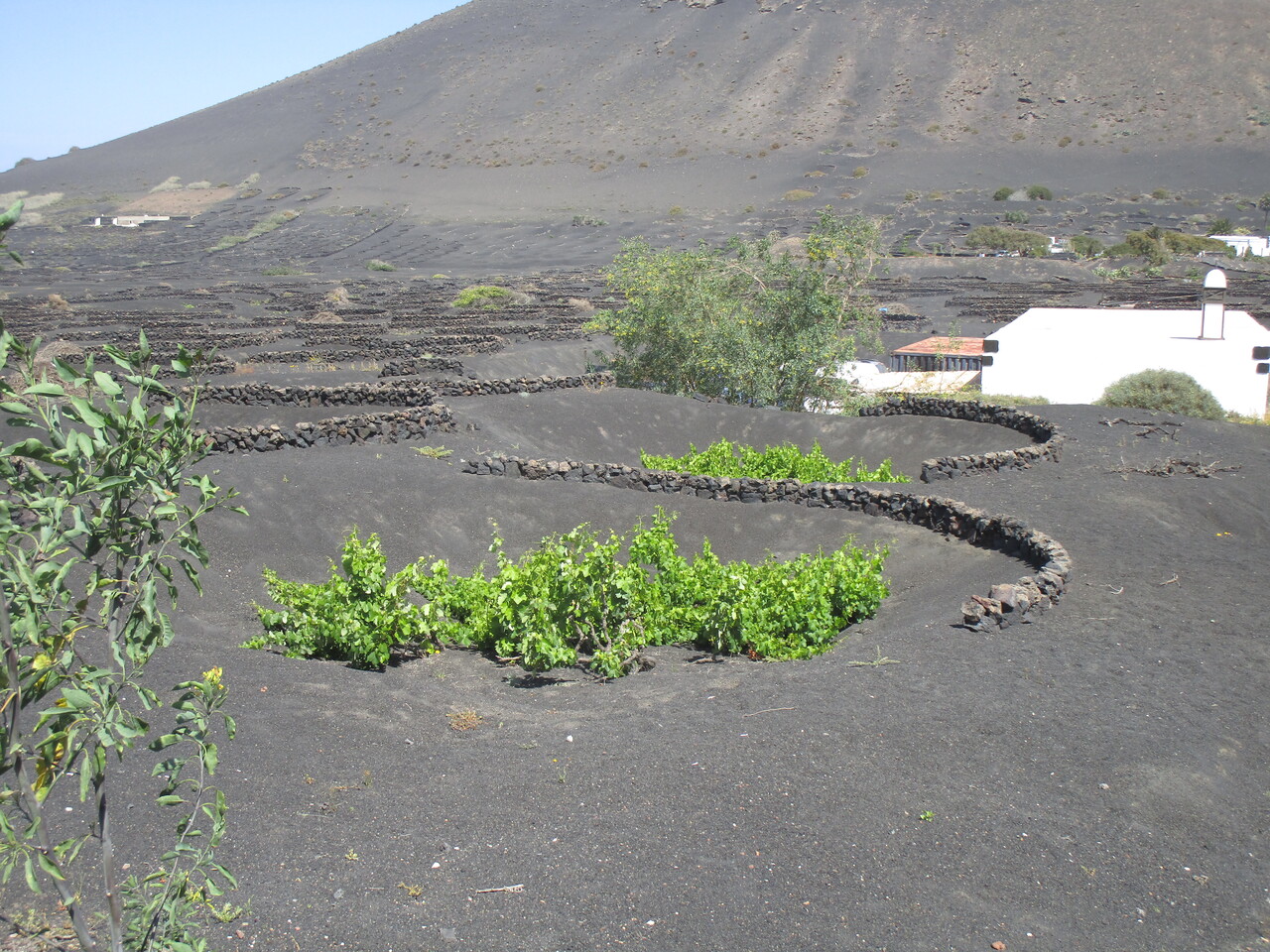 Each of the three islands we visited in the Islas Canarias was different, and beautiful in its own way. We were glad we had the chance to visit them.
For more information about the Canary Islands, click here:
Information about the Anaga Mountains
If you want to find some movies that were filmed in the Canary Islands, check out this link from the Internet Movie Database (IMDB.com):
Movies filled in the Canary Islands
~ STUFF TO AMUSE ~
For Hanukkah, here are instructions for making a Hanging Paper Plate Menorah: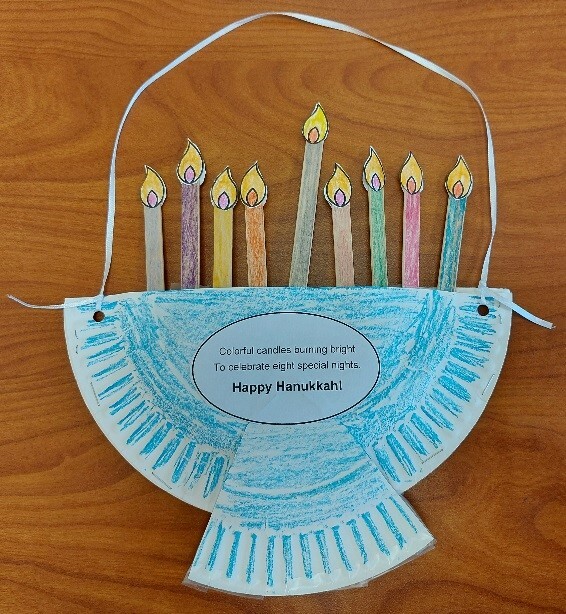 You will need:

Paper Plate pieces – 2 halves and 2 triangular pieces (see above picture)

2 Oval pieces for center (included below)

18 paper flames (9 front and 9 back – included below)

9 craft/popsicle sticks

24 inch ribbon

Magic markers or crayons

Scissors

Glue stick or liquid glue

Clear tape

Stapler and hole punch (optional)
What to Do:

Decorate the bottom sides of both paper plate halves and smaller pieces any way you like. You can make them a solid color or create your own design.

Color the craft sticks on both sides to look like candles. You can mix up the colors or make them all the same.

Color the 18 flames – orange inside yellow or red inside orange, as shown in the picture. Carefully cut them out. Glue the flames to the tips of the candles, front and back.

Color in the ovals that have the Hanukkah poems. Or if you want, leave them white. You can also use the blank backs of the ovals to write your own message.

Tape or staple the 2 paper plate halves together on the curved edges, so your design shows on the outside. Leave the flat top open so it forms a pocket.

Glue, tape, or staple the triangular paper plate pieces to the front and back of the plate halves to look like a menorah stand, as shown in the picture.

Cut out the oval pieces and glue them to the center of the paper plate halves, covering the points of the triangular pieces, as shown.

Place one candle inside the pocket. Tape it to one of the halves so it stands in the center of the paper plate menorah. This is the shamesh – the helper candle that is used to light the other 8 candles.

You can put all the candles on your menorah now, or add them one at a time to mark the 8 nights of Hanukkah. When you add these candles, place them so they are shorter than the shamesh candle. Note: If you add one candle each day, start with the first candle on the far right, and add each new candle to the left. (Yes, this is backwards to what you are used to doing! Hebrew is read from right to left, instead of from left the right, like English.)

Punch holes at the right and left top edge of the menorah as shown in the picture. Thread the ribbon through the holes and double knot them so the menorah can hang. Trim the extra ribbon, if you want.

Hang up your menorah on a door, window, or anywhere you like.
In 2022, Hanukkah begins on the evening of Sunday December 18. Happy Hanukkah!
NOTE TO NEWSLETTER SUBSCRIBERS: If the following content shows up as a bunch of gobbledygook instead of pictures to use for the craft, please go to the December 2022 Newsletter on my website to access them. I apologize for the technical difficulties!
That'll do it for this month.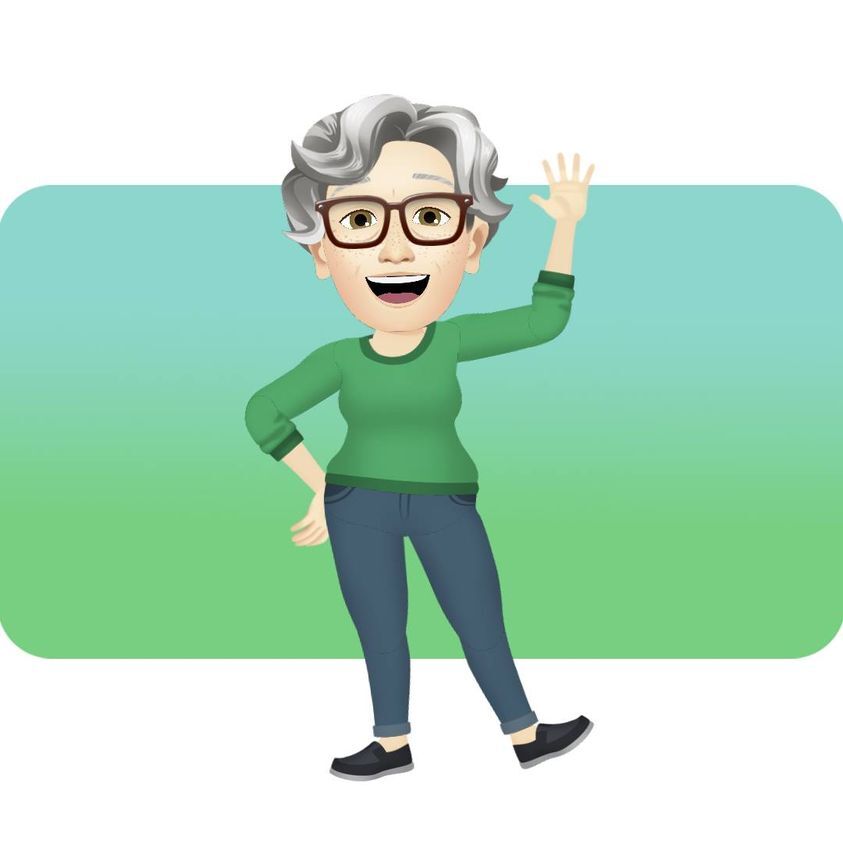 Until next time, remember to enthuse your muse!
~ Martha