October 1, 2023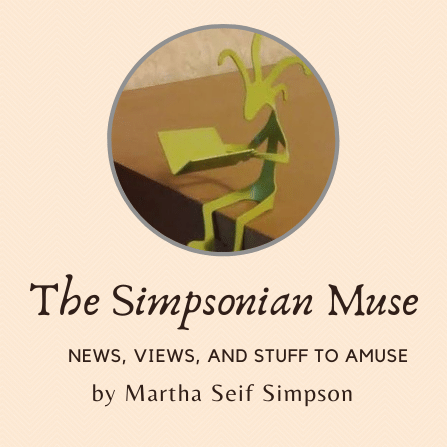 Happy October!
Welcome to issue #32 and the third-year anniversary of The Simpsonian Muse. I am your scribe, Martha Seif Simpson, Author and Children's Librarian. As the header says, this monthly newsletter will feature:
News – Mine as well as other interesting tidbits

Views – A few photos from my world travels

Stuff to Amuse – A mish-mash of activities, crafts, recipes, videos or whatever I am excited about sharing.
If you missed the previous newsletters, you can click the button on the left sidebar on my website to catch up or click here: https://www.martha-seif-simpson.com/newsletter.htm
Thanks for joining me on this adventure. I hope you will find something to inform and entertain you.
~ NEWS ~
Last month, I said I had donated five autographed books to the Friends for Levine Querido online auction. I am overjoyed to report that those books contributed $480! And the entire auction raised over $108,000! Thank you to all the writers, illustrators, editors, publishers, agents, and other industry professionals who donated items and services. And a huge thanks to everyone who bid on these donations. The people at Levine Querido are so appreciative for this support. Liza Wiemer and Deborah Lakritz did an amazing job organizing the online event, and they deserve lots of virtual hugs.
Also, last month I told you I had donated a copy of Esther's Gragger to the Books for Maui auction. Here are Izzy and Saul holding their prize book. Aren't they adorable? Thanks again to their mom for helping to raise funds for the Maui Food Bank.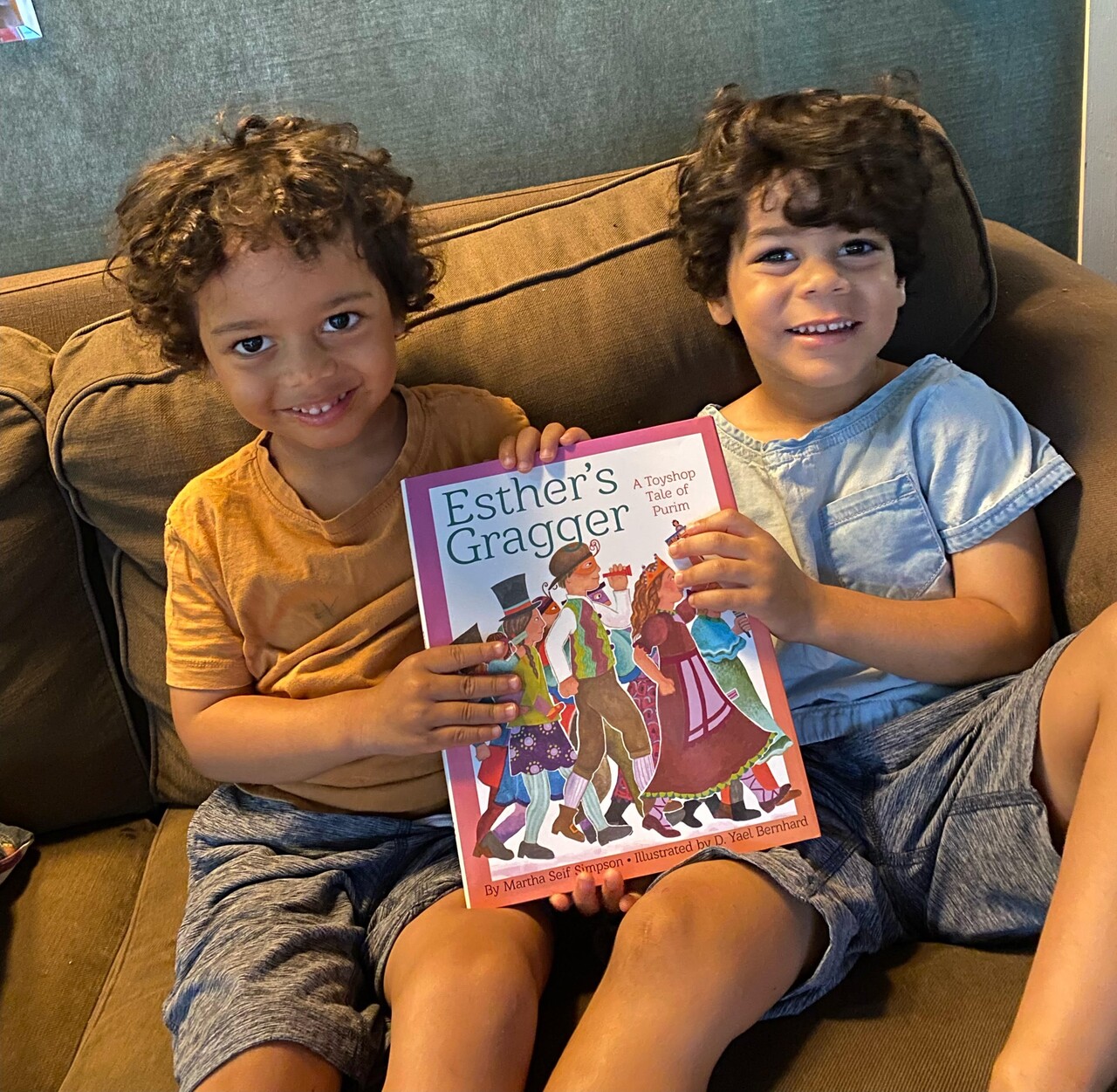 But wait, there's more!
If you didn't skip over the opening paragraph, you should have noticed that the word "retired" no longer appears before "Children's Librarian." That's because I am now volunteering at the Congregation Mishkan Israel library in Hamden, CT. This small library had occasionally been overseen by a volunteer and has been closed since the start of the Covid pandemic. Even before then, all of the collection areas were in dire need of an overhaul and updating. The call went out for volunteers, and eight people answered. While others work on weeding, cataloging, and organizing the adult collections, I am in charge of the children's and teen books.
I've been volunteering two days a week and so far managed to sort through the picture books. In addition to books that were already cataloged, there are many uncataloged books on the shelves, including 4 years' worth of PJ Library books and various donations. And I haven't even started with the middle grade or young adult books.
I'll be meeting with the director of the Hebrew school to decide how we want to organize everything. This project should keep my busy for a while!
BOOK SHARE
With the regular baseball season winding down and the Worlds Series soon to begin, I decided to share a few of my favorite baseball themed middle grade books.
The Magical Imperfect by Chris Baron
Set against the background of the 1989 World Series, this story in verse features a Jewish boy with selective mutism who befriends a reclusive girl suffering from a debilitating skin condition. History buffs will know that the series between the San Francisco Giants and the Oakland Athletics was an especially memorable one. Why? Read the book and find out!
Get a Grip, Vivy Cohen! by Sarah Kapit
Vivy, a girl on the autism spectrum who wants to pitch on a boys team, corresponds with her favorite Major League pitcher, VJ Capello. They share their passion for pitching knuckleballs and support each other through pitching slumps and other hard times.
The Puttermans are in the House by Jacqueta Nammar Feldman
When Hurricane Harvey destroys their Houston neighborhood in 2017, the baseball-obsessed Putterman family raise their spirits by cheering louder than ever for the Astros. Meanwhile, Sammy tries to mend the rift between her and her twin, Matty.
The Boy Who Saved Baseball by John H. Ritter
One game will determine the fate of the Dillontown Nine baseball team and their small California town. Just when Tom is about to give up hope, a mysterious boy named Cruz de la Cruz shows up, saying he has the secret to winning. Look for other baseball books by John H. Ritter, too.
A High Five for Glenn Burke by Phil Bildner
Former Major League Baseball player Glenn Burke invented the high five. He was also the first MLB player to come out as gay. Learning about Burke gives Silas Wade the courage to come out to his best friend and coach.
Batting Order by Mike Lupica
Even though he's small and shy, Matt Baker is the best all-rounder on his baseball team. Even so, it's a total shock when Big Ben Roberson asks Matt to help him work on his hitting. Check out Mike Lupica's other sports books, too.
CALENDAR TRIVIA
Did you know that October is Pizza Month?
According to the Every Day's a Holiday Calendar and The Spruce, other noteworthy foodie dates include:
October 1 – World Vegetarian Day

October 4 – Taco Day

October 6 – Noodle Day

October 8 – National Pierogi Day

October 12 – Pulled Pork Day

October 13 – Egg Day

October 14 – Desert Day

October 15 – Mushroom Day

October 16 – World Food Day

October 18 – Chocolate Chip Day

October 22 – National Nut Day

October 24 – Bologna Day

October 26 – Pumpkin Day

October 28 – Boston Cream Pie Day

October 29 – National Oatmeal Day

October 30 – Candy Corn Day

October 31 – Caramel Apple Day
Celebrate Appropriately!
~ VIEWS ~
Here is my seventh installment of photos from our Holland America cruise to New Zealand and Australia.
We docked in Melbourne, Australia early on March 9, 2023. It looked like we would have a sunny day, but unfortunately, the clouds rolled in.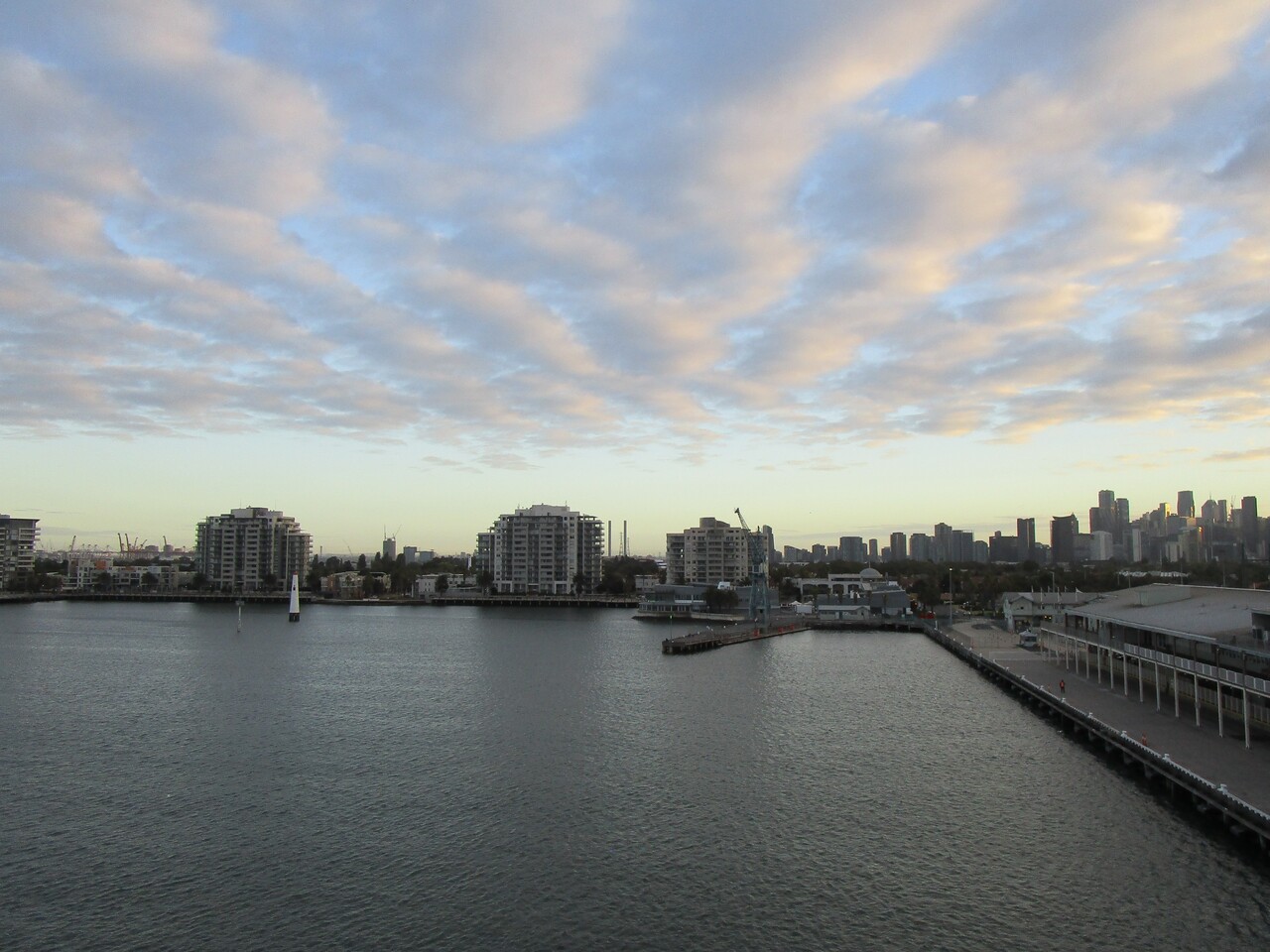 John and I had booked a bus excursion with the cruise line. The bus drove a long way up a mountain so we could get a scenic overlook of the city, but it was too cloudy to see anything.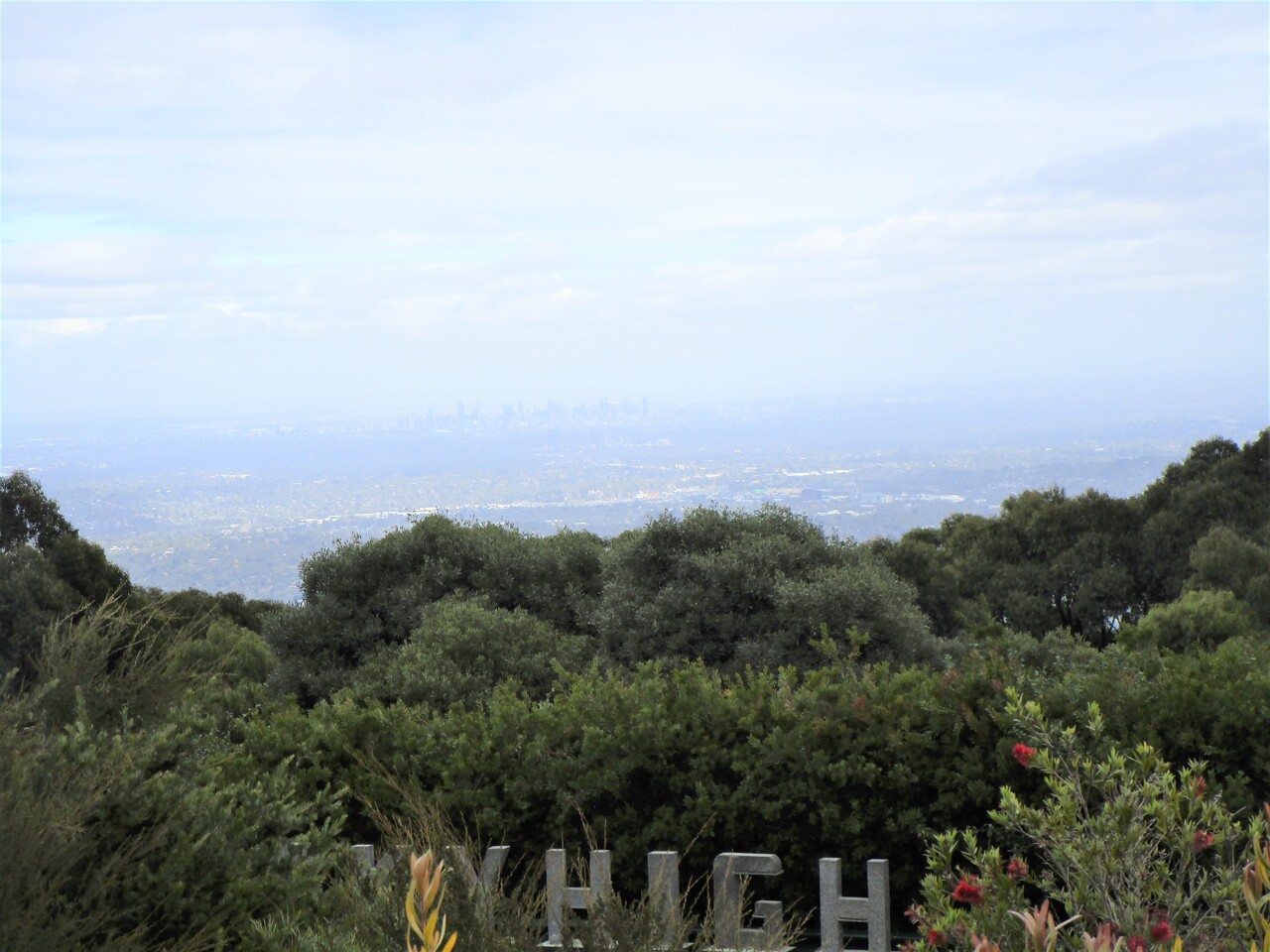 There was an English garden across from the overlook.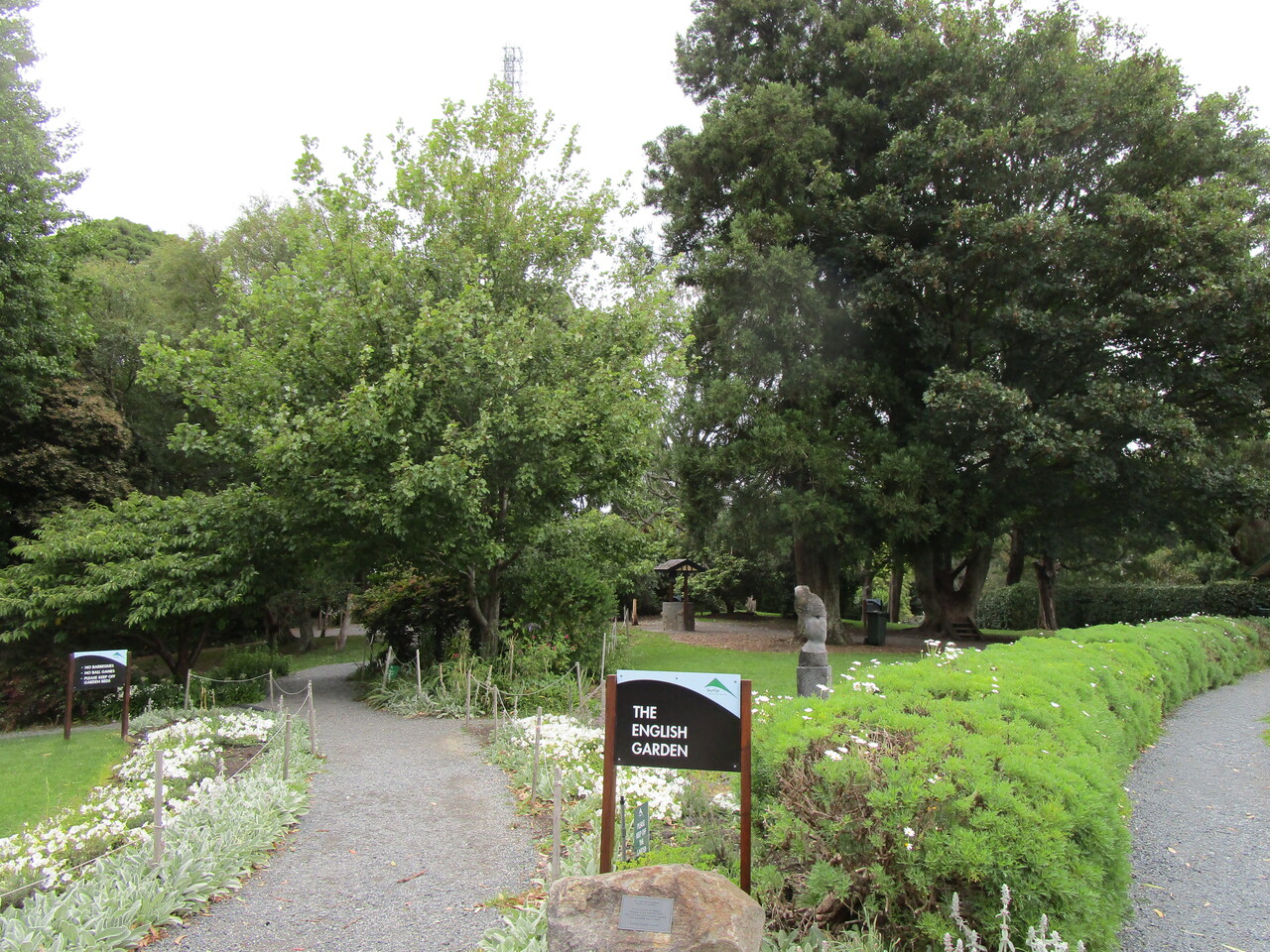 The bus stopped at an area that had several small shops.
This pie shop was apparently quite popular. I was looking forward to getting a nice slice of blueberry or apple pie, but pies in Australia are like those in England. This shop sold a variety of meat pies, not fruit pies! (Although I am told the meat pies were delicious.)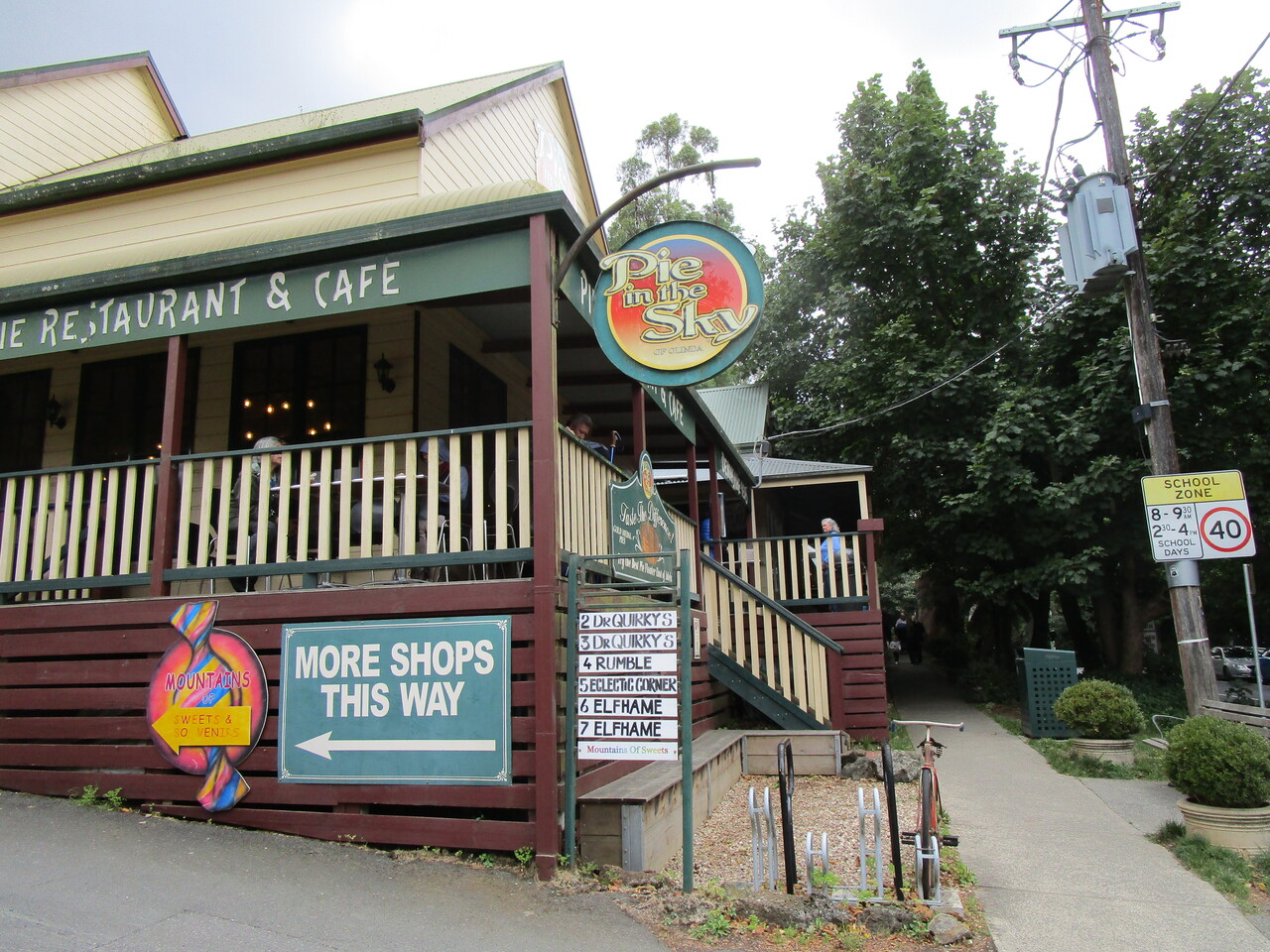 I couldn't resist taking this photo of a shop window that sold cosmetics. Apparently, Moo Goo is a thing in Australia.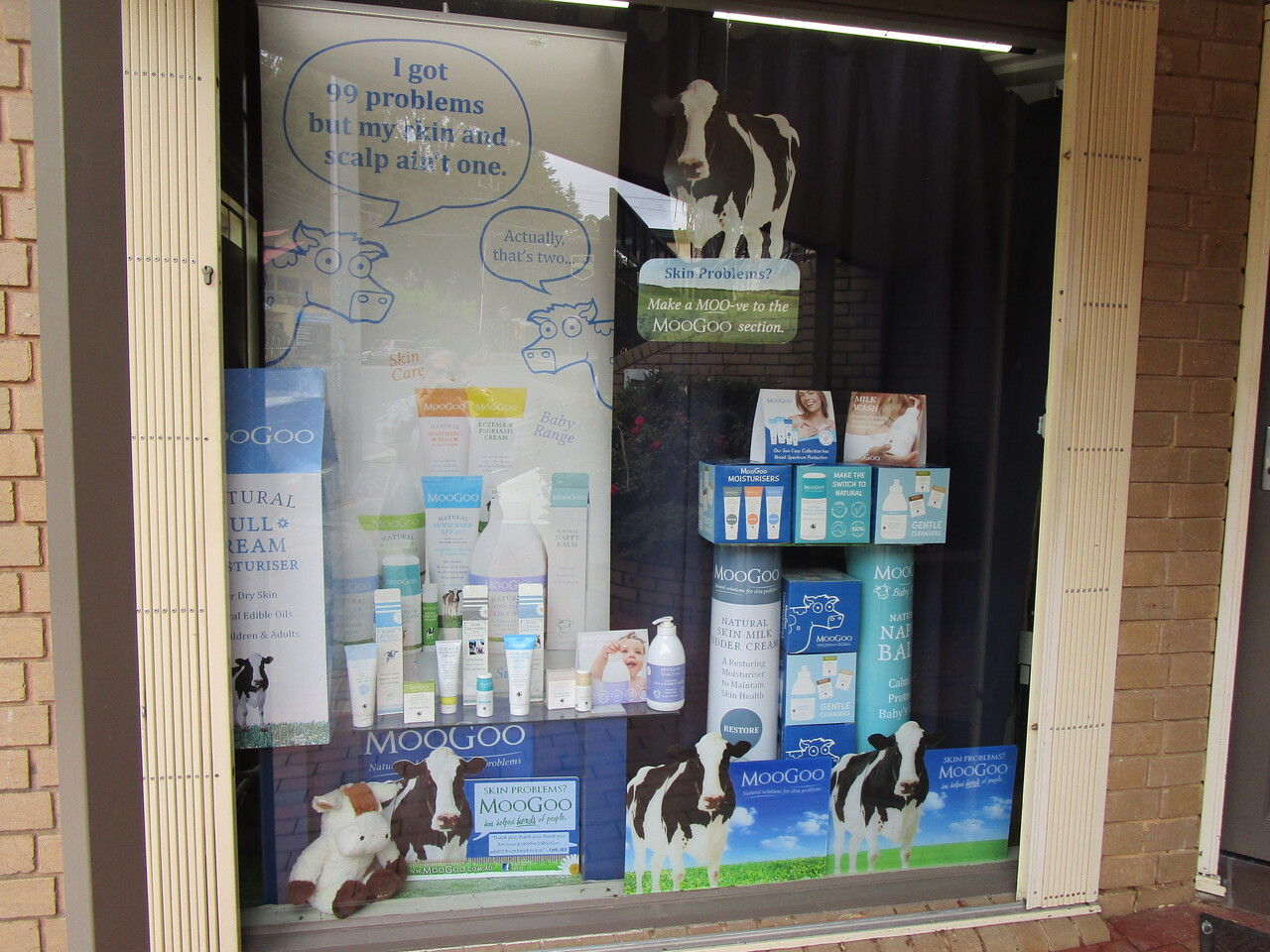 An old-fashioned mailbox at the shopping stop.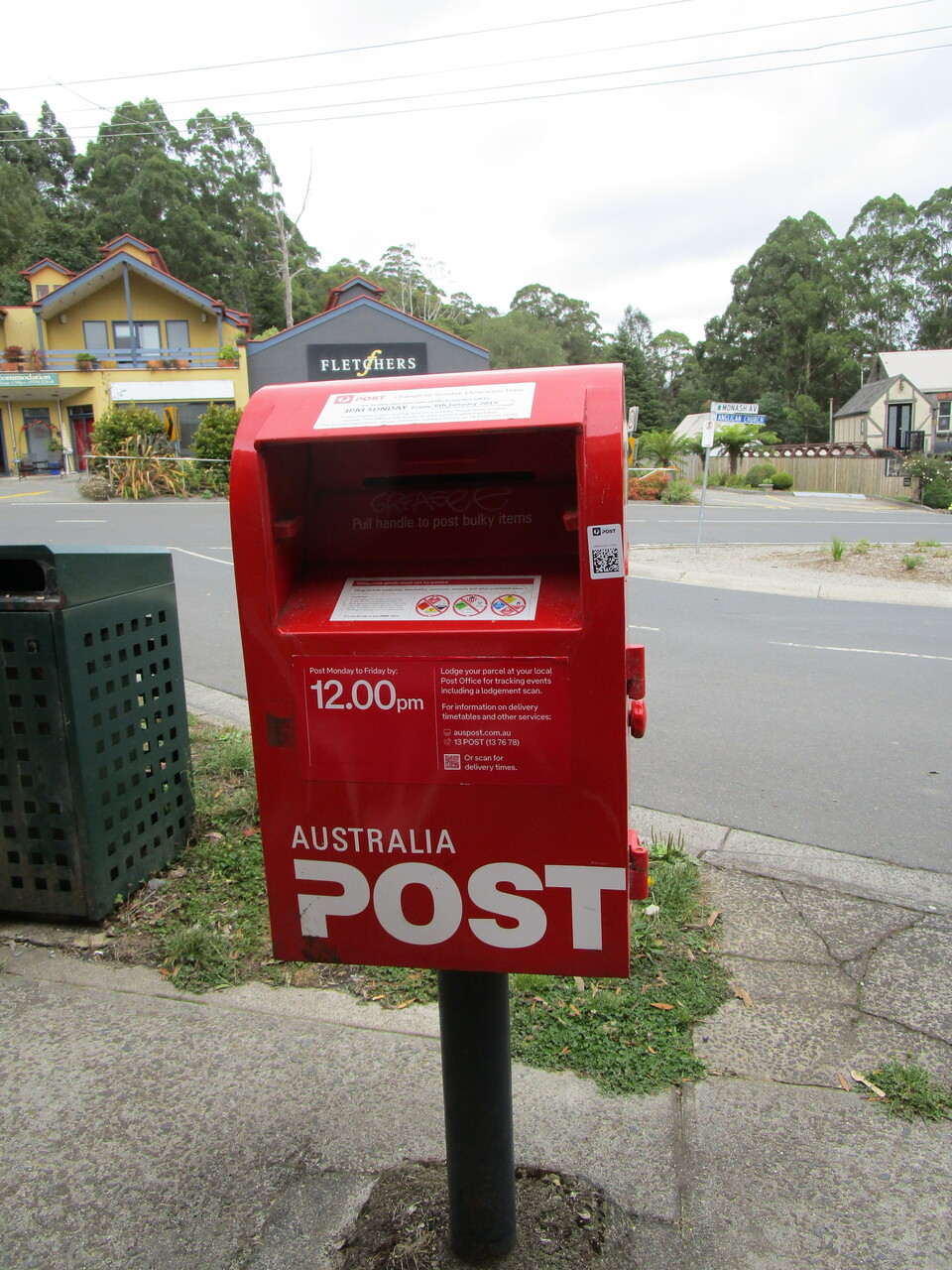 The bus dropped us off in the downtown area. There are many skyscrapers here. It's hard to see from my photos, but the local architects seem to have a contest about who can design the weirdest shaped buildings, with balconies that jut out and windows in strange arrangements.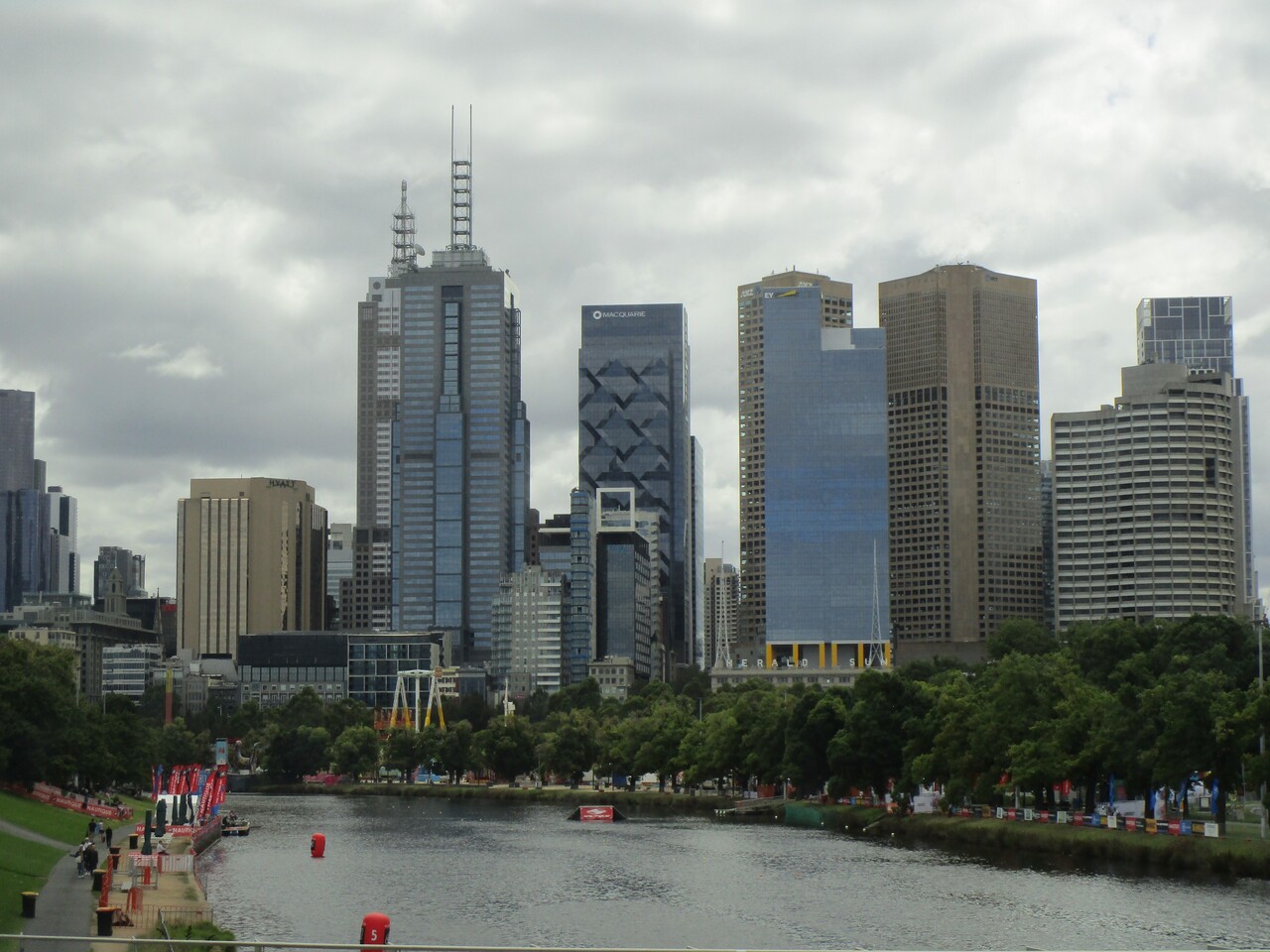 The Yarra River flows through the city. It's lined with shops, a casino, and high-priced restaurants on both sides. There are several walking bridges across it.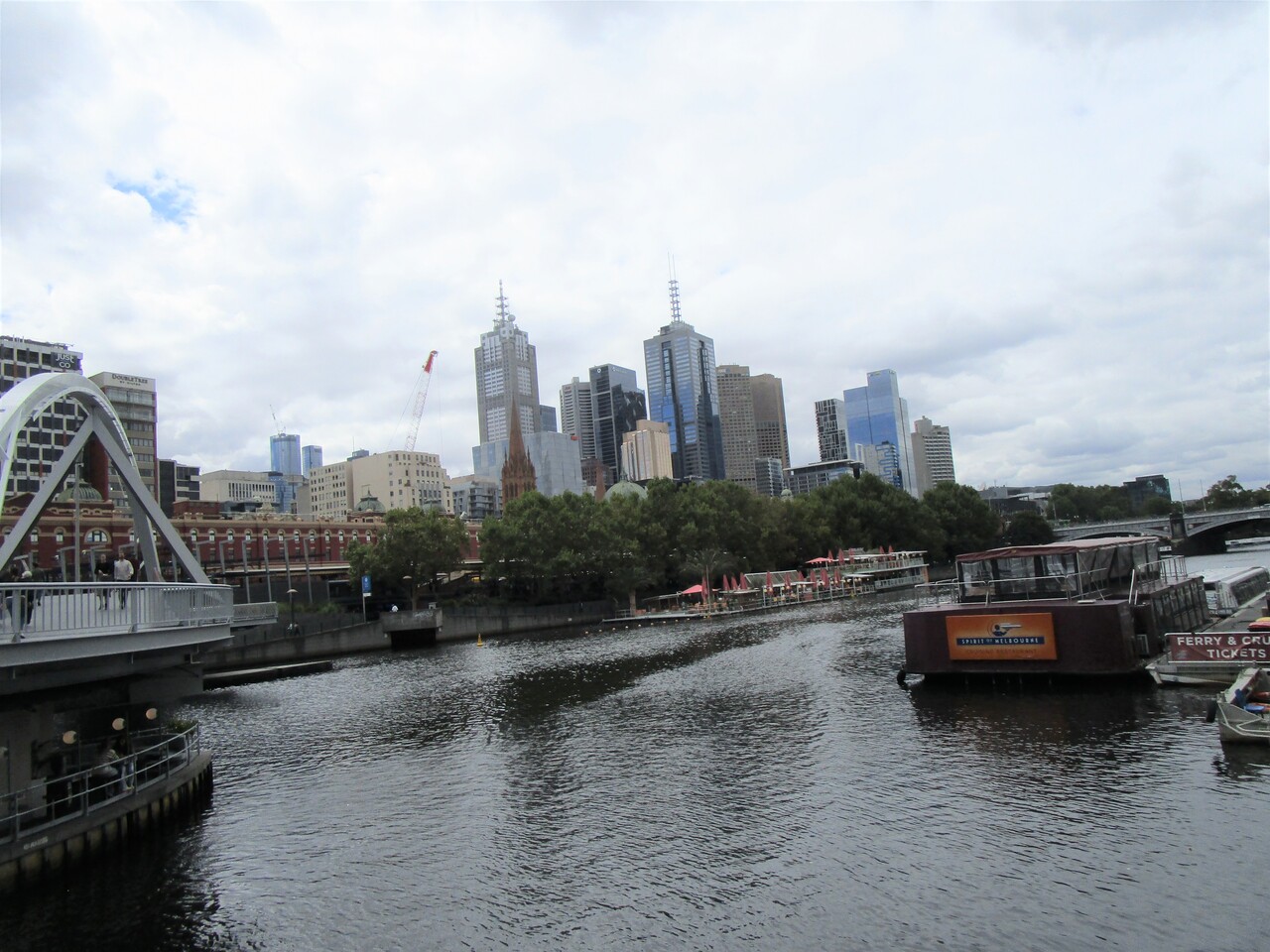 We crossed one bridge to get to the train station.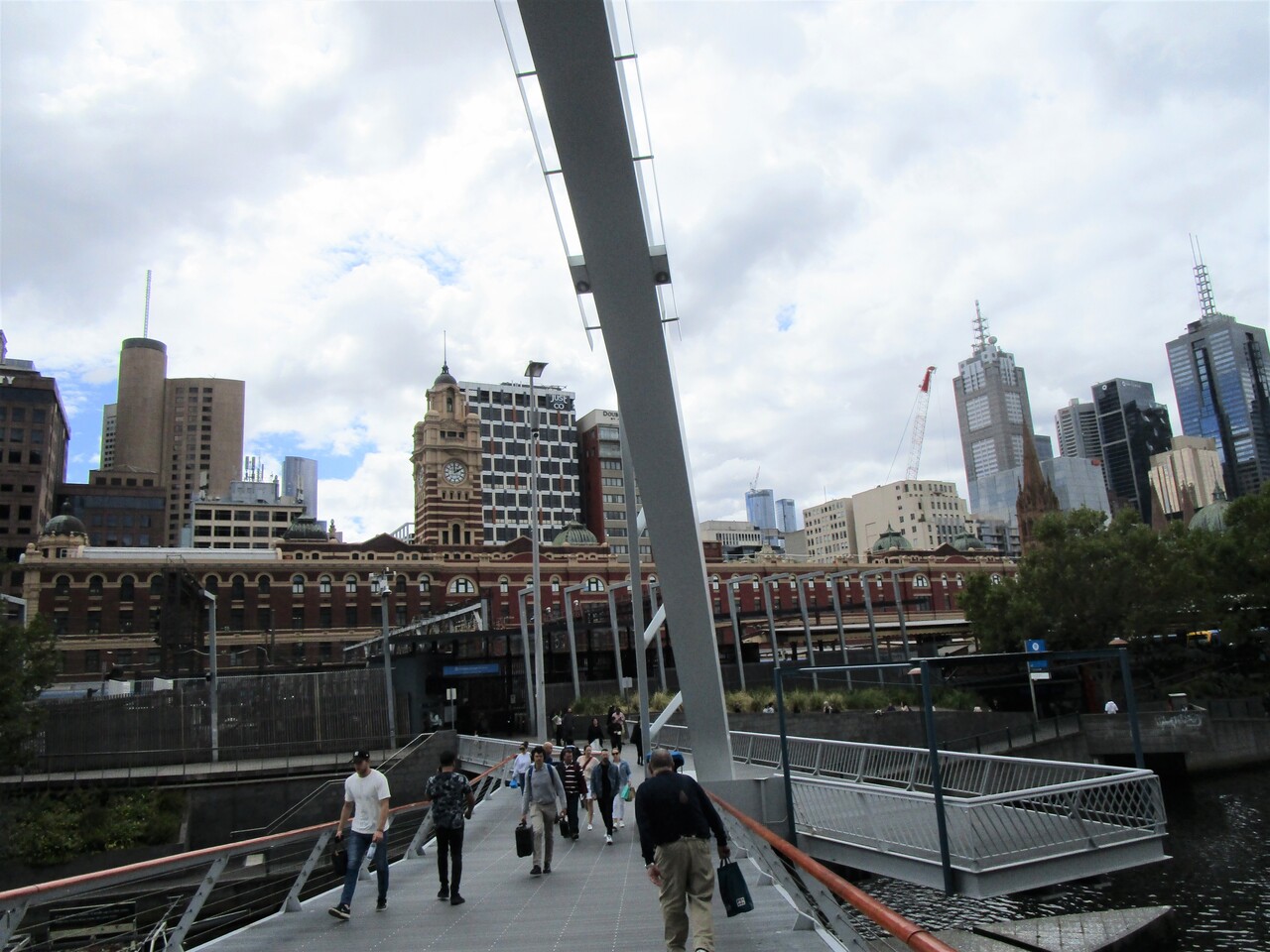 We took a train to the Victoria Marketplace. This is one entrance. There were several booths inside where grocers and butchers sold all types of food.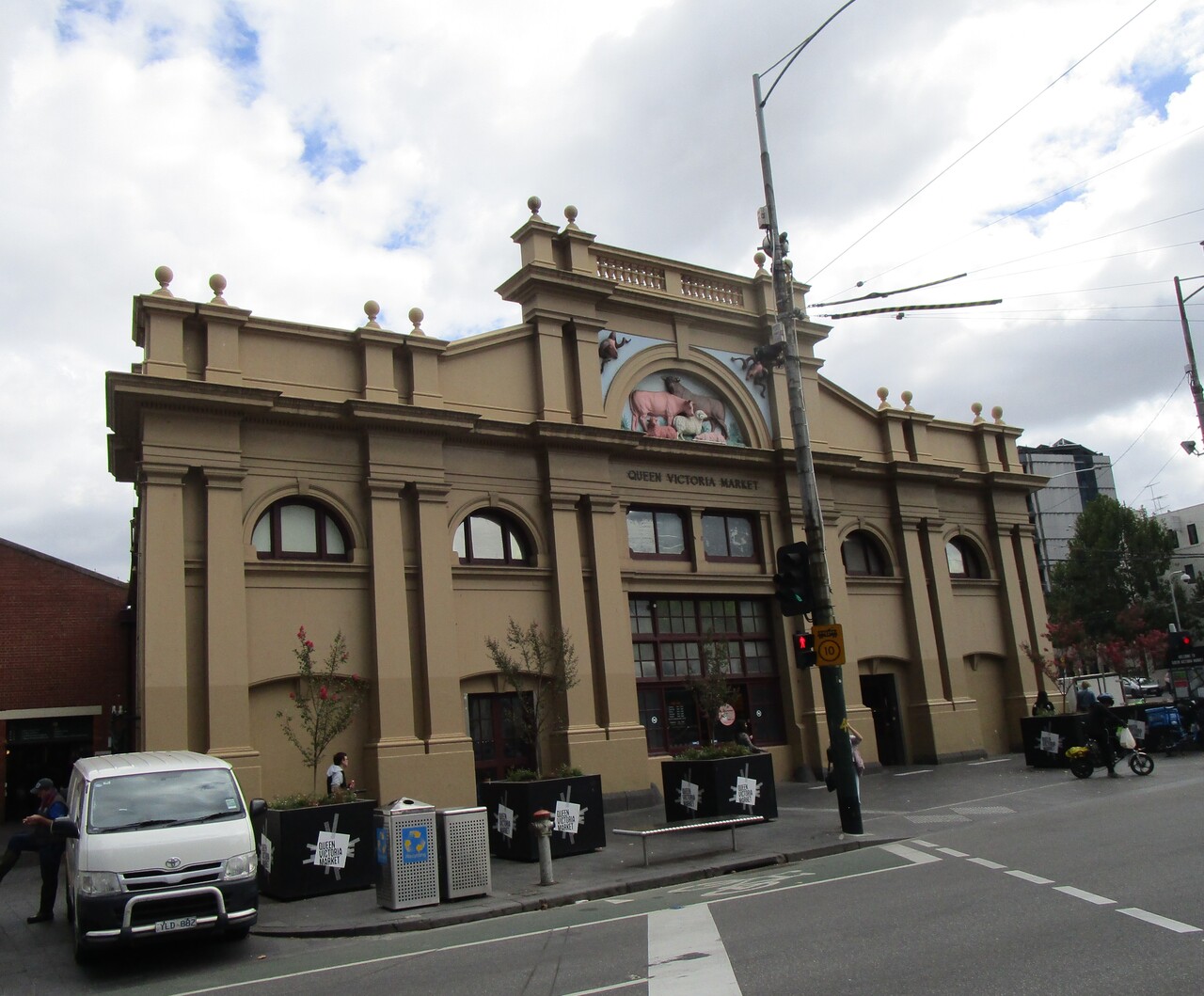 I'm not sure why Kangaroo and Rabbit are considered to be Poultry, but they were sold together at this shop.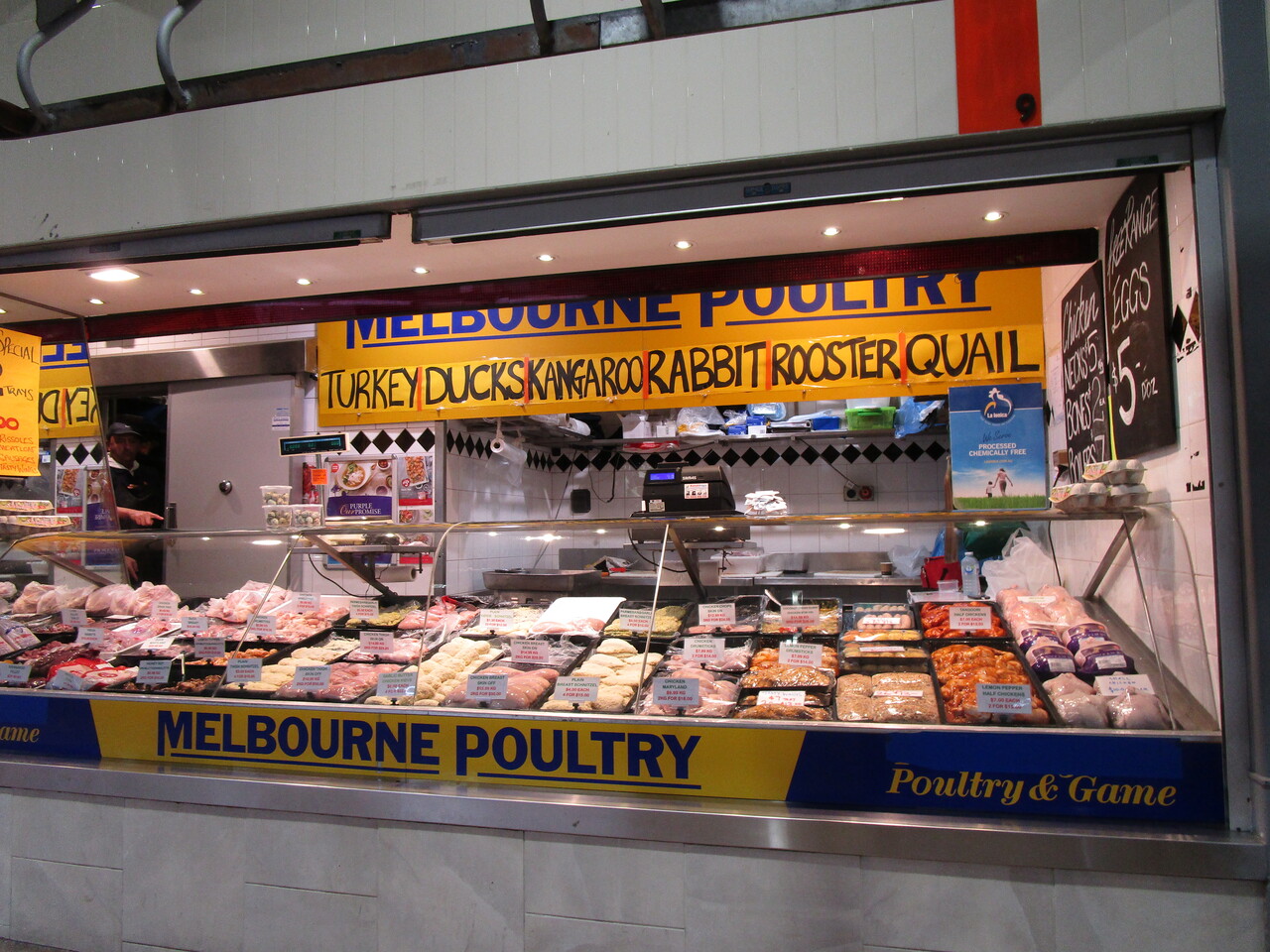 Across from that building was the entrance to an area of craft merchants. We got there late and the booths were starting to pack up. But we did manage to buy a few souvenirs.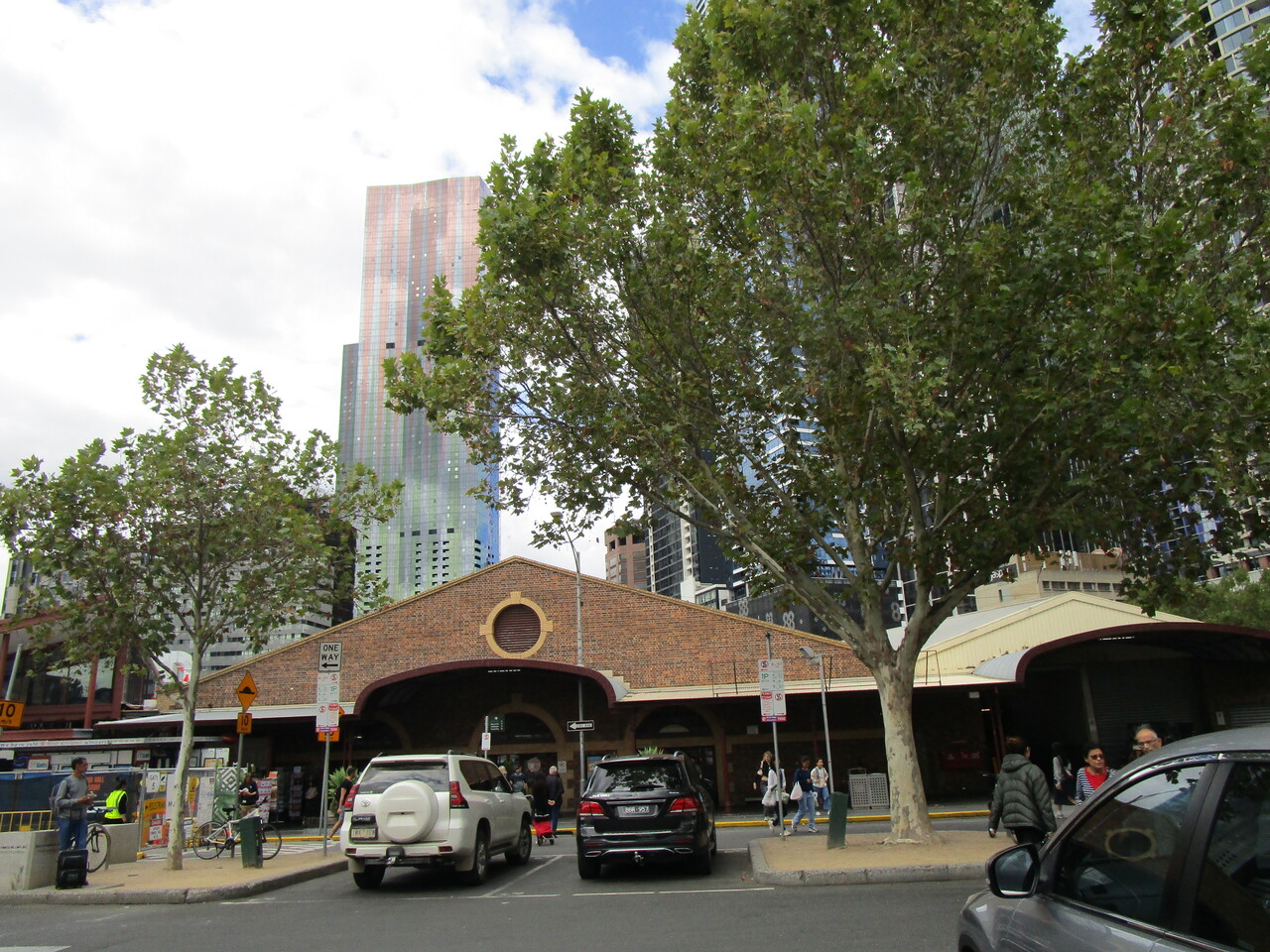 Here's another shot of the craft market, with skyscrapers in the background.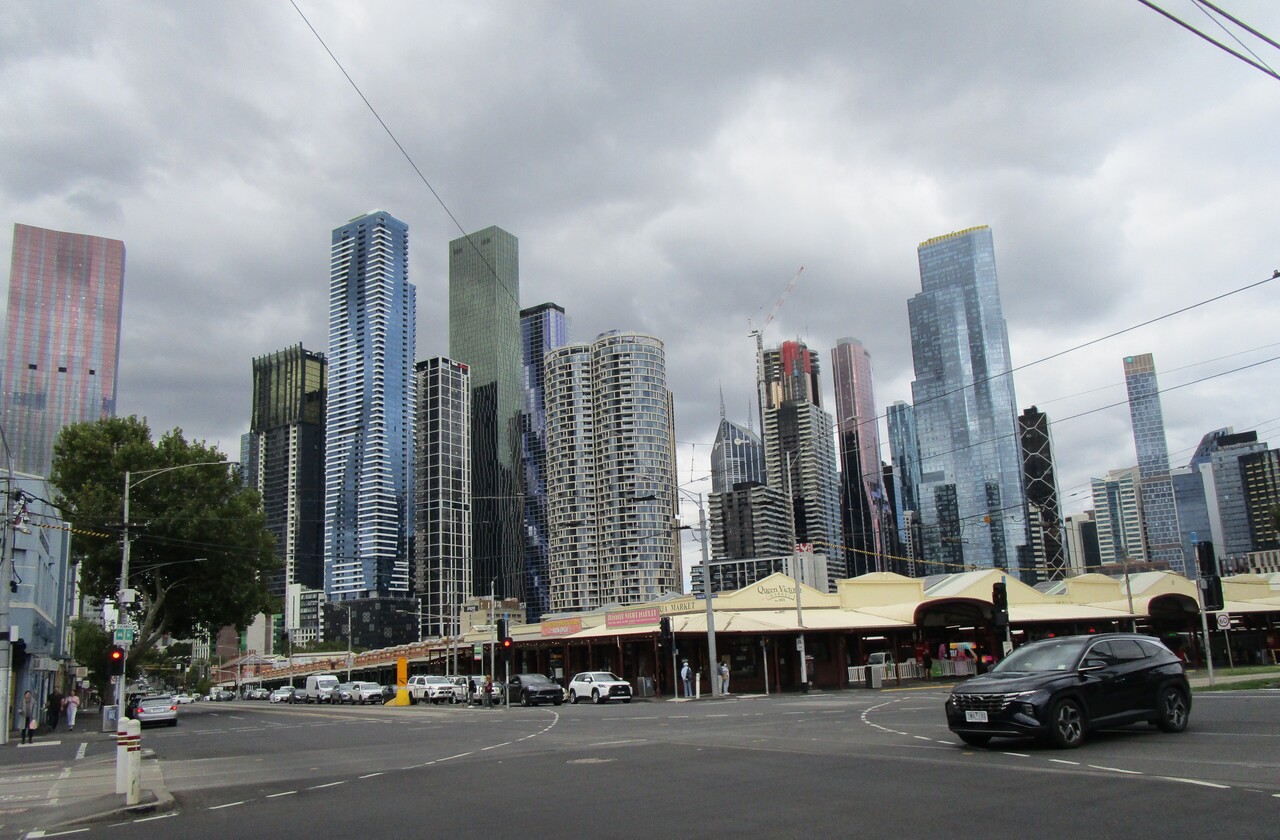 We saw this cool license plate on a car as we headed back to the ship. I like that Victoria takes pride in being "The Education State."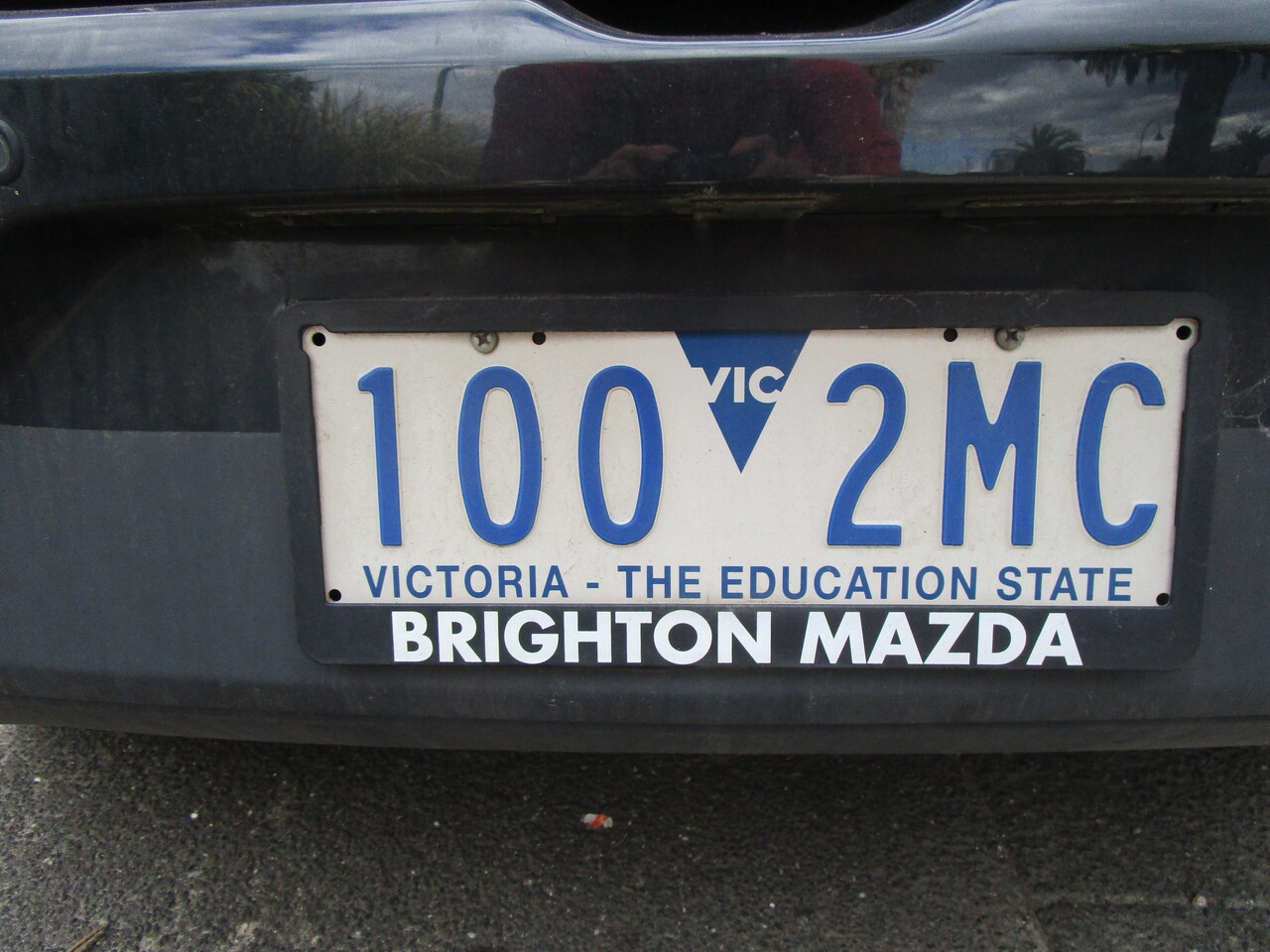 We had only one day in Melbourne, so we didn't have time to see much. But here is a website that has lots of places to see, and the pictures are all sunny!

Top-Rated Tourist Attractions in Melbourne
This site has links to many virtual tours, including the Melbourne Symphony Orchestra (with links to concerts), the Royal Botanical Garden, National Parks, and several museums. There are also links to livestreaming exhibits, including Penguin TV @ Phillip Island Nature Parks and various animals at the Melbourne Zoo. Visit Victoria
After Melbourne, we had one more stop in Australia. Can you guess where?
~ STUFF TO AMUSE ~
In Honor of October being Pizza Month, here are some links to pizza crafts, recipes, and other fun ideas.
Mrs. Merry has a Make-a-Pizza printable craft. Click on the pizza and various toppings and print them out on your computer. Then have fun assembling your pizza.

Fun Family Crafts by Amanda Formaro has links to several Pizza Crafts and Recipes including a watermelon fruit pizza.

Hungry for some real, edible pizza? Taste of Home by Lauren Cahn has 41 Easy Recipes That Are Even Faster Than Delivery.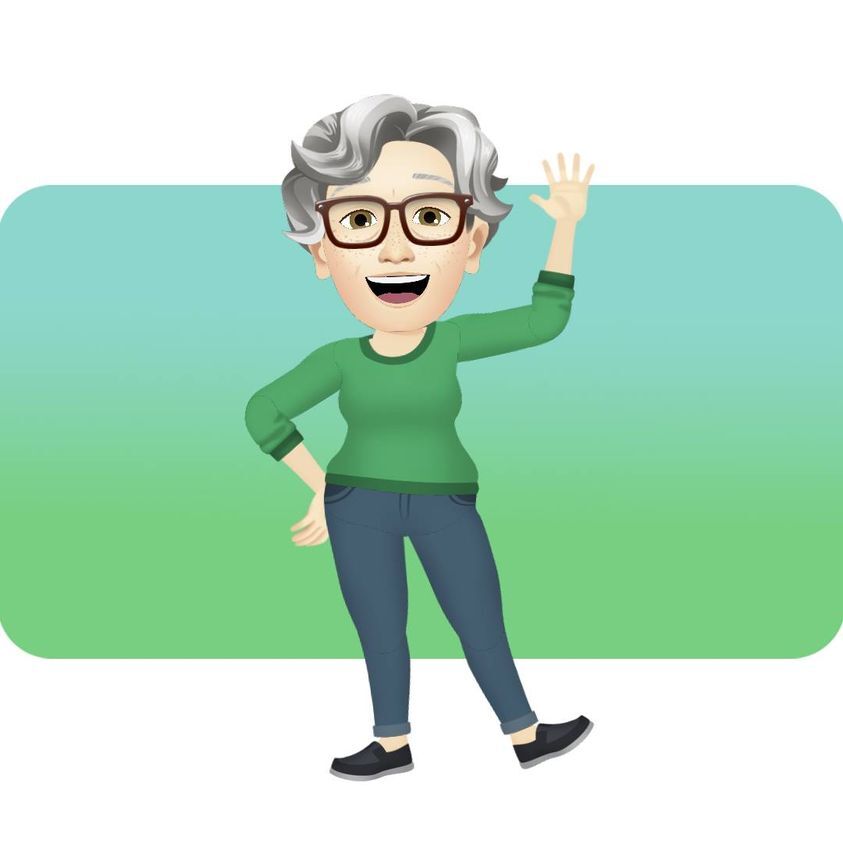 That'll do it for this month.
Until next time, remember to enthuse your muse!
~ Martha