July 2, 2023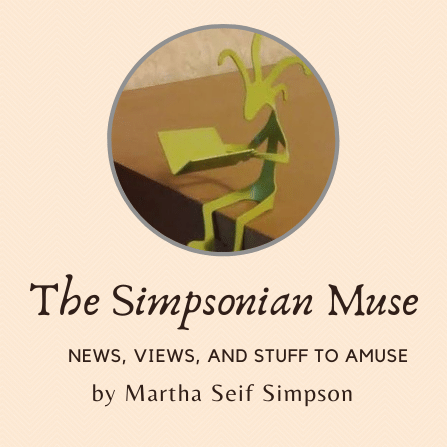 Happy July!
Welcome to issue #29 of The Simpsonian Muse. I am your scribe, Martha Seif Simpson, Author and retired Children's Librarian. As the header says, this monthly newsletter will feature:
News – Mine as well as other interesting tidbits

Views – A few photos from my world travels

Stuff to Amuse – A mish-mash of activities, crafts, recipes, videos or whatever I am excited about sharing.
If you missed the previous newsletters, you can click the button on the left sidebar on my website to catch up or click here: Simpsonian Muse

Thanks for joining me on this adventure. I hope you will find something to inform and entertain you.
~ NEWS ~
The Association of Jewish Libraries had their annual conference, A World of Possibilities: AJL Digital Conference in June. I moderated two sessions with the 2023 Sydney Taylor Book Award Winner and Honor authors and illustrators on Tuesday, June 20.
This screenshot is from the session Our Jewish Communities Connect Us: The Sydney Taylor Book Award Winners. From top to bottom: me, Chana Stiefel (author of picture book winner, The Tower of Life), Mari Lowe (middle grade winner Aviva vs. the Dybbuk), Susan Gal (illustrator, The Tower of Life), and Sacha Lamb (young adult winner, When the Angels Left the Old Country).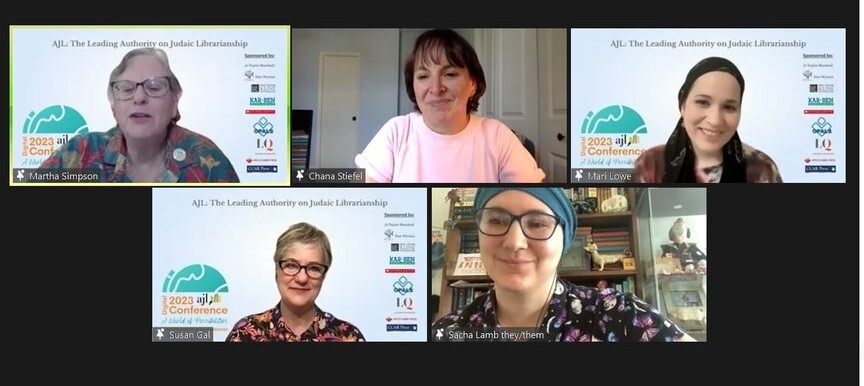 And here's a screenshot of Family, Friends, and the People We Meet Along the Way: The Sydney Taylor Honor Books. I am with picture book authors: Shoshana Nambi (The Very Best Sukkah: A Story from Uganda), Erin Silver (Sitting Shiva) and Paul Martin (husband of the late Paula Cohen, author/illustrator of Big Dreams, Small Fish); middle grade authors Meira Drazin (Honey and Me), and A. J. Sass (Ellen Outside the Lines); and young adult authors Jennieke Cohen (My Fine Fellow: A Delicious Entanglement), Sarah Darer Littman (Some Kind of Hate), and Hannah Reynolds (Eight Nights of Flirting).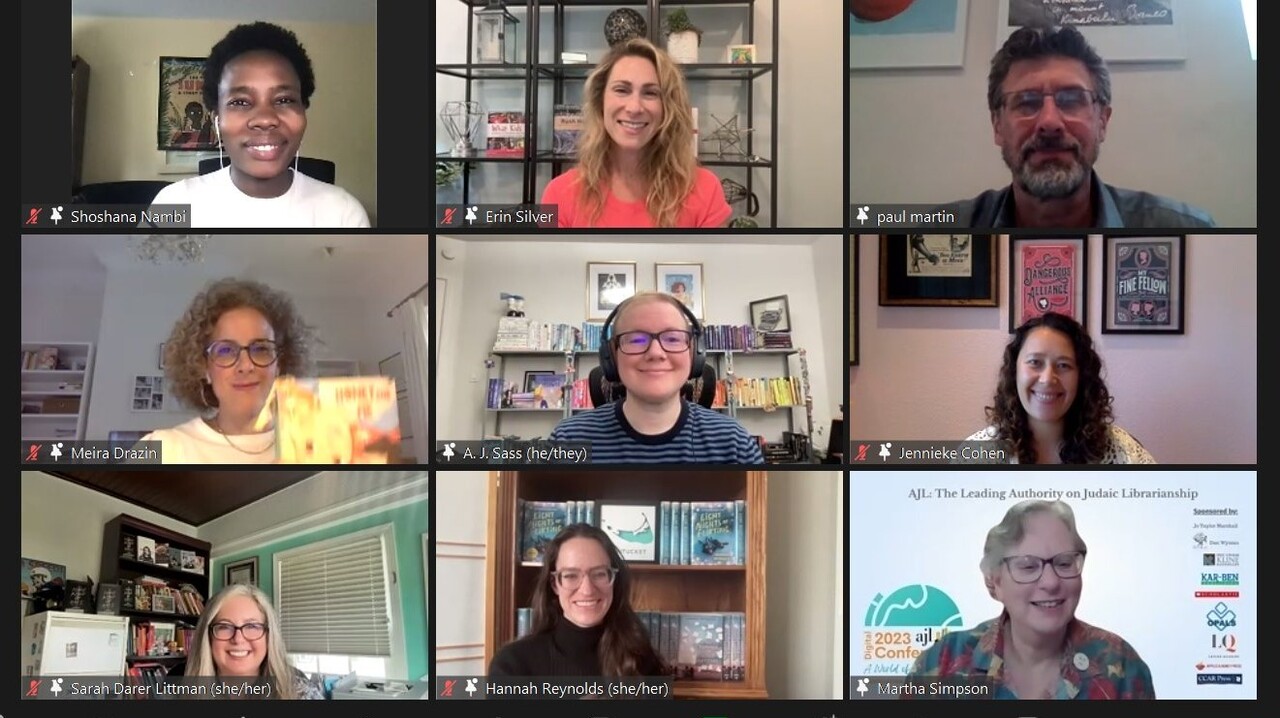 But wait, there's more!
There were many other great kidlit panels at the conference. This screenshot is from Children's Lit Publishers Round Table, with Moderator Jessica Fink and publishers Lili Rosenstreich (Kalaniot Books), Joni Sussman (Kar-Ben Publishing), Vicki Weber (Apples & Honey Press), and Michael Leventhal (Greenhill Books). It was interesting to hear about their recent books and what type of books they want to acquire.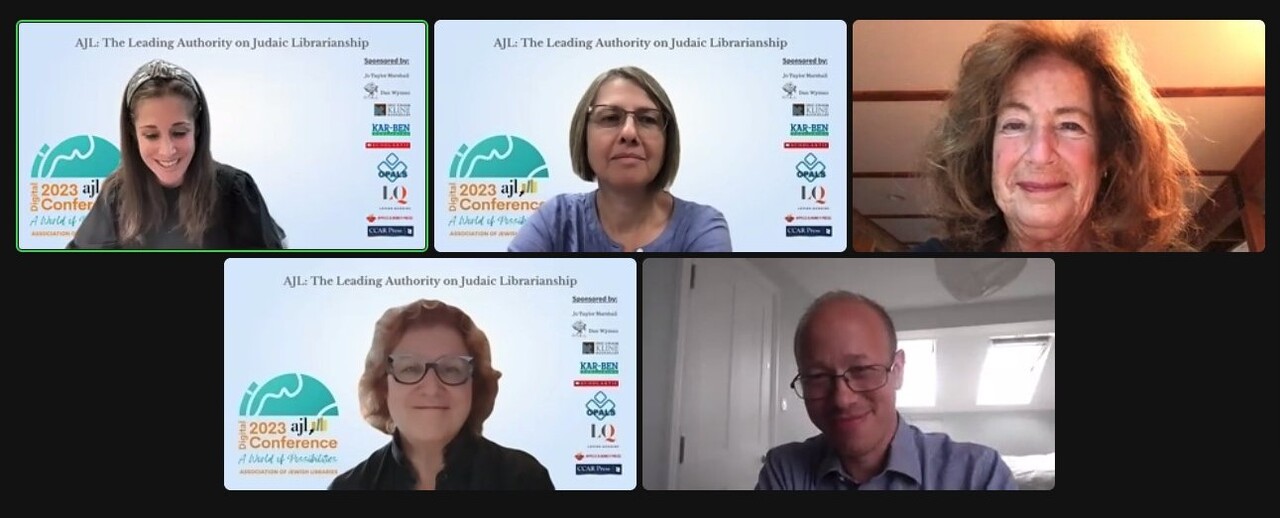 I also enjoyed watching Representing Jewish Life in the Everyday: Exploring Contemporary Middle Grade and Young Adult Fiction, moderated by Raquel M. Rein and featuring Leila S. Sales, Gayle Forman, Courtney Sheinmel, and Sarah Mlynowski. All the authors said that their books feature main or side characters that are Jewish. I certainly didn't know that - I will have to re-read their books! Even if religion is not a major plot point, it's good to have casual Jewish representation in books so that Jewish readers feel seen and non-Jewish readers learn to accept diverse characters.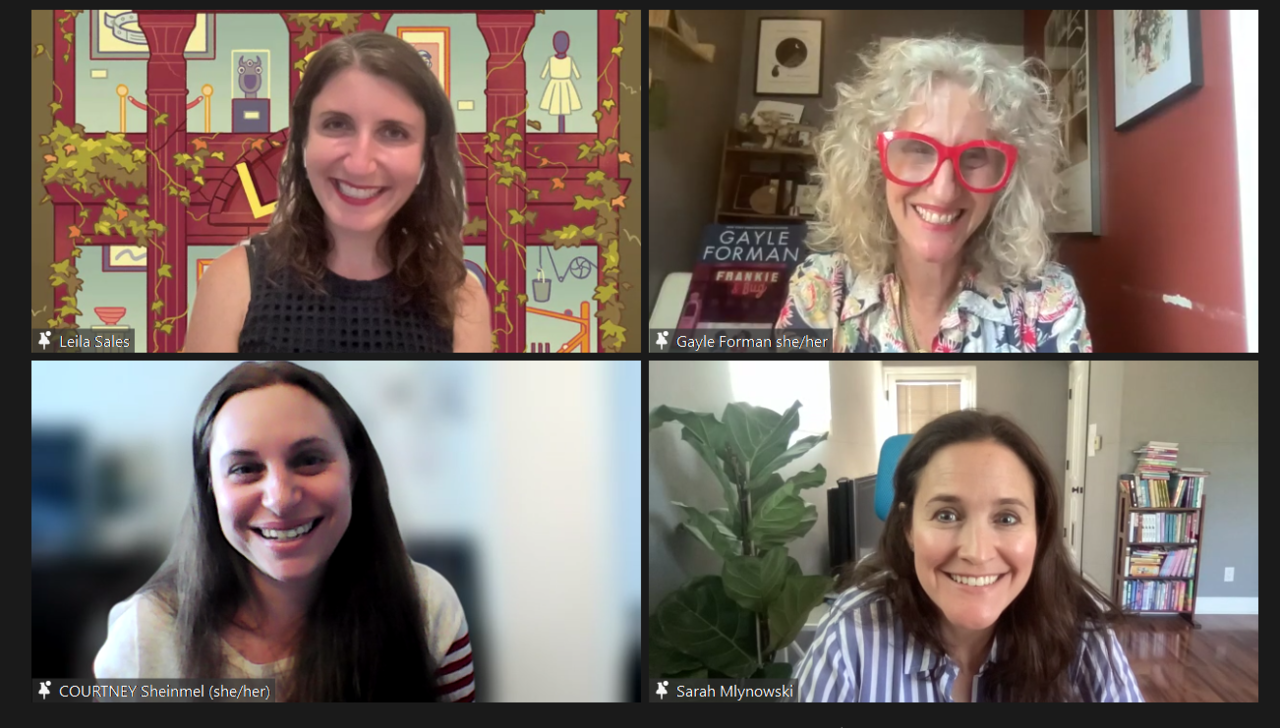 Thank you to Heidi Rabinowitz, who took the screenshots.
BOOK SHARE
Happy summer! Here are some great books that take place in summertime.
One Crazy Summer by Rita Williams-Garcia
In the summer of 1968, Delphine and her two younger sisters travel across the country to spend a month with their mother, a poet and free-thinker who they barely know. She sends them to a day camp run by the Black Panthers, which is not at all like the trip to Disneyland they expected!
Noah Green Saves the World by Laura Toffler-Corrie
Socially awkward Noah wants to go to film camp for the summer but his parents send him to Camp Challah instead. It's difficult enough trying to bond with his bunkmates. But then Noah's grandfather, who always insisted he had been a spy in World War II, starts sending Noah messages by carrier pigeon saying that he has to save the world. When Pops shows up at camp, things really get lively!
The Sun Will Come Out by Joanne Levy
Bea is upset about going to overnight Camp Shalom without her BFF, who is going to horse camp. Shyness and being harassed by bullies makes Bea break out in hives, so she goes to the infirmary, where she meets a 13 year-old bald boy. Harry is the son of the camp directors and is facing a disease much worse than hives. They become friends, and he helps Bea overcome her fears.
Summer of Stolen Secrets by Julie Sternberg
Cat is invited to spend the summer with her aunt, uncle, and cousin in Baton Rouge, and finally meets her estranged grandma who lives across the street. Gran is critical but asks the girls to work in her department store. Cat is curious about a locked room and uses a stolen key to open the room that holds evidence of Gran's secret Holocaust history. An engaging family mystery.
The Summer of Lost Letters by Hannah Reynolds
This YA title also involves a grandmother's secret Holocaust history. When Abby discovers love letters from the 1950s written to her recently deceased grandmother by a man she refused to marry, Abby gets a summer job in Nantucket hoping to interview the mystery man. Abby meets his grandson Noah, and a romance begins as they work to piece together clues that involve an heirloom necklace. A fun summer rom-com mystery.
CALENDAR TRIVIA
Did you know that July is National Horseradish Month?
According to the Every Day's a Holiday Calendar, other noteworthy foodie dates include:
July 4 – Barbeque Day

July 5 – Apple Turnover Day

July 6 – National Fried Chicken Day

July 9 – Kebab Day and Sugar Cookie Day

July 11 – Blueberry Muffin Day

July 12 – Pecan Pie Day

July 13 – French Fries Day

July 14 – Macaroni and Cheese Day

July 15 – Tapioca Pudding Day and Gummi Worm Day

July 17 – Peach Ice Cream Day

July 18 – Caviar Day

July 19 – Hot Dog Day

July 20 – Lollipop Day

July 21 – Junk Food Day

July 22 – Mango Day

July 25 – Wine and Cheese Day

July 26 – National Bagelfest Day

July 27 – Chili Dog Day

July 29 – Lasagna Day

July 30 – Cheesecake Day

July 31 – Cotton Candy Day and Raspberry Cake Day
Celebrate Appropriately!
~ VIEWS ~
Here is my fourth installment of photos from our Holland America cruise to New Zealand. These are from our March 3rd stop in Dunedin.
It was a clear, warm day when the Noordam docked in Port Chalmers. John and I took a bus to Dunedin, which dropped us off at the Toitu Otago Early Settlers Museum.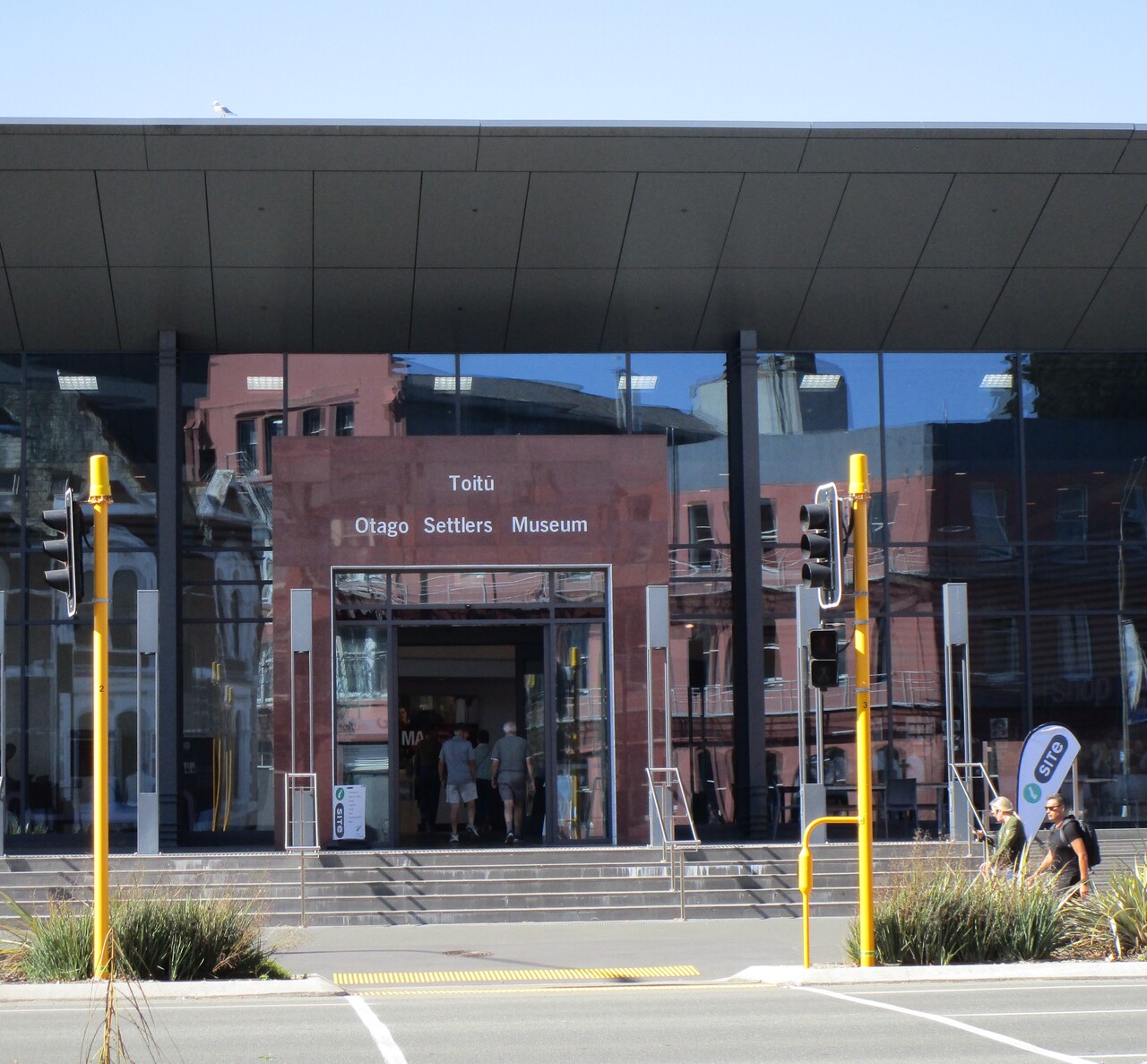 We spent some time in the museum, which had some fascinating exhibits.
Here is the museum website: Toitu Otago Early Settlers Museum

The museum was across the street from this grand-looking building, which was the old Dunedin Goal (Jail).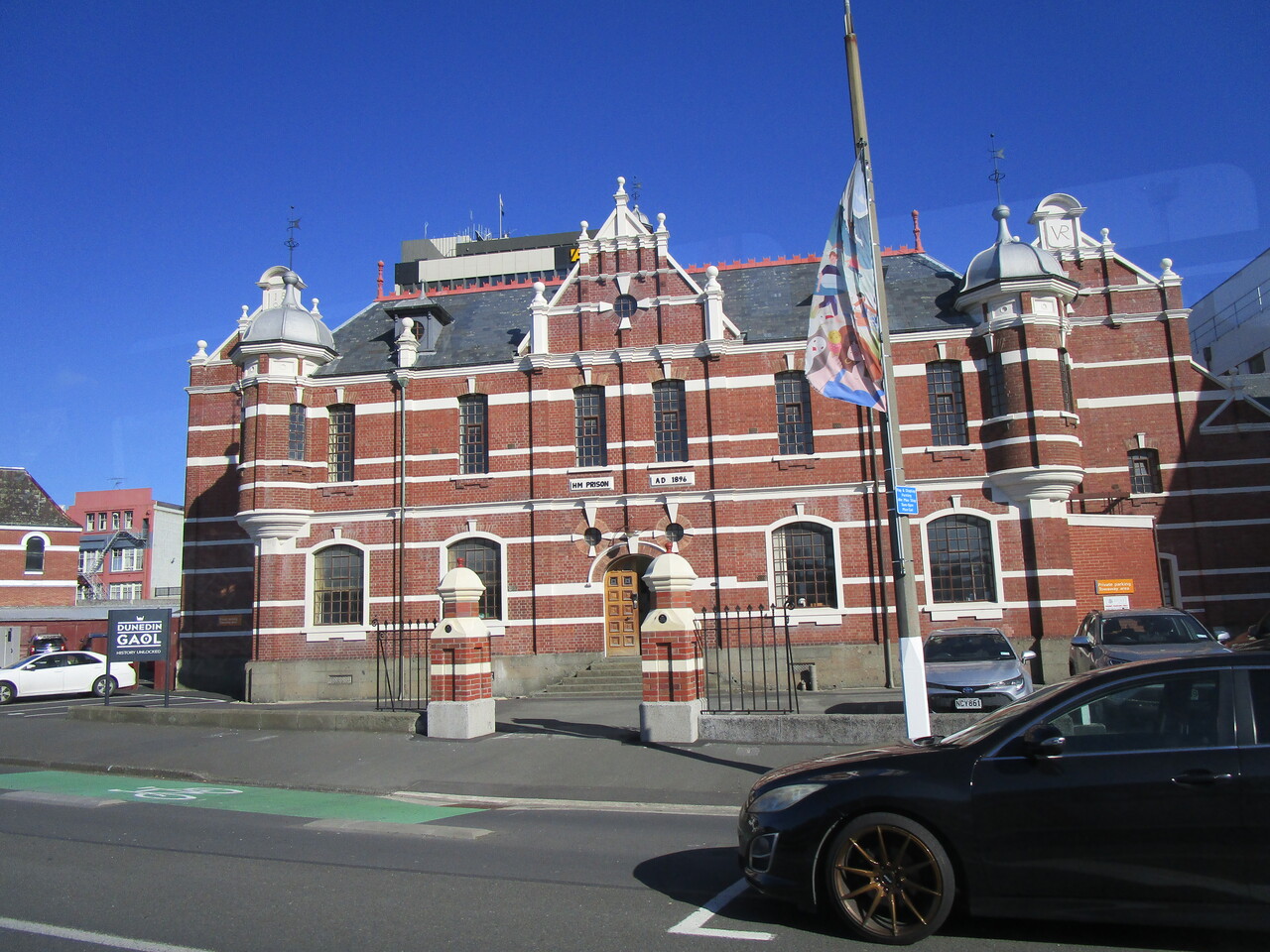 We took a quick look at the museum, then crossed the Octagon, which is the 8-sided town square, to the Regent Hotel. In the lower level, we found the transportation center.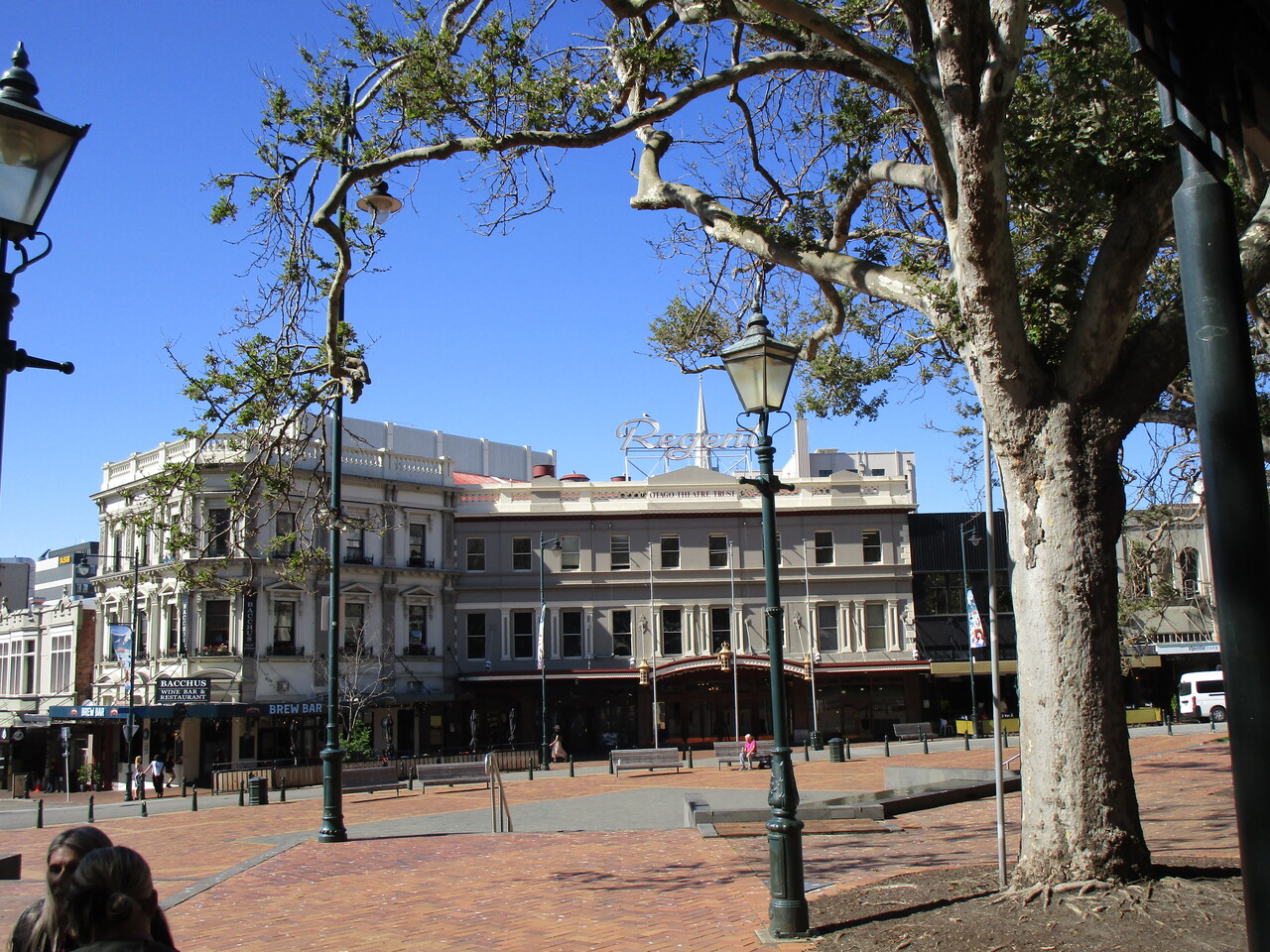 We got a ride to the Olveston Historic Home, which was built for businessman, collector, and philanthropist David Theomin. It was the family home from 1906 to 1966 and is now owned by the city of Dunedin.
Here are some outside views of the building and the exquisitely beautiful gardens surrounding it.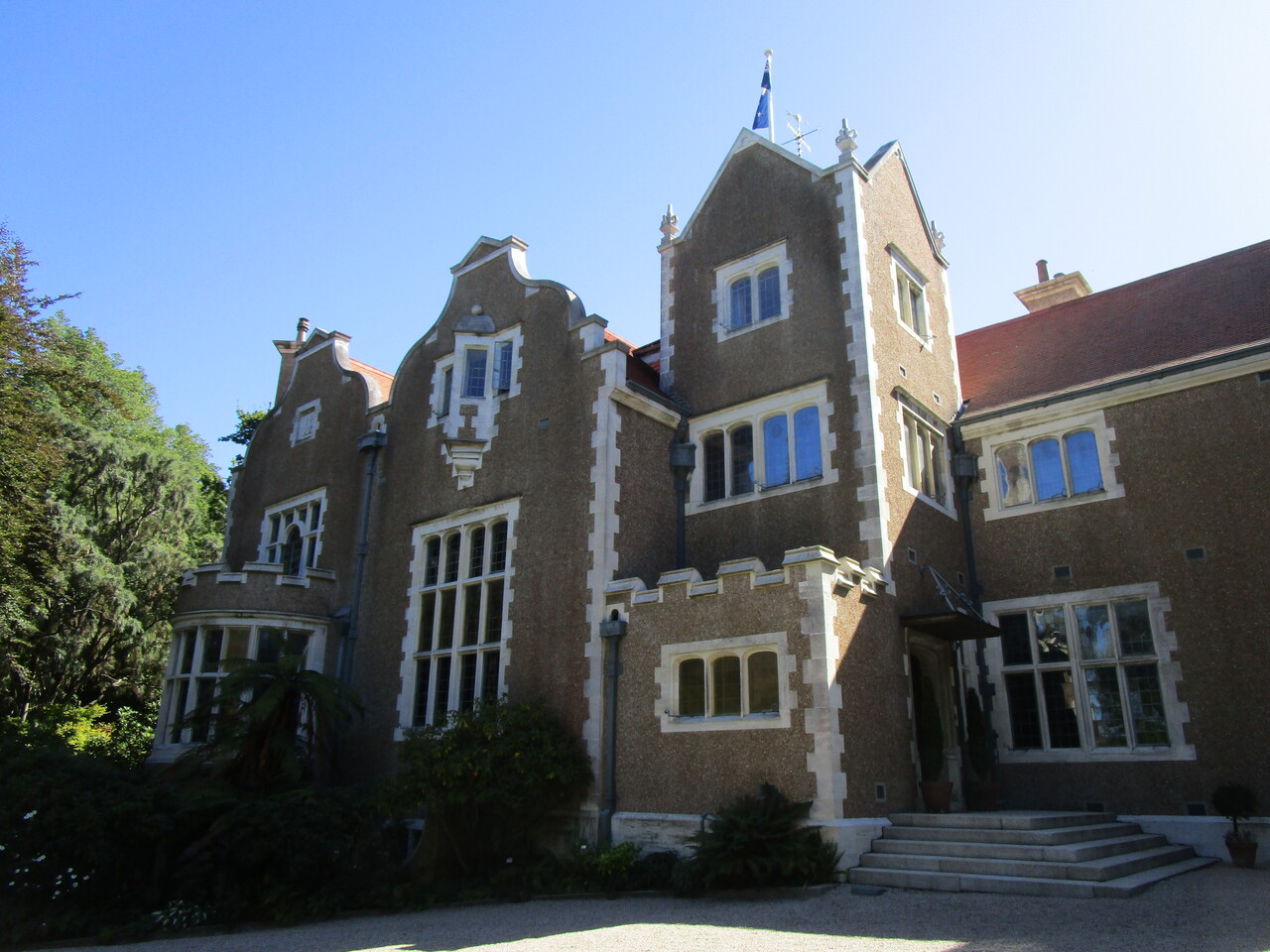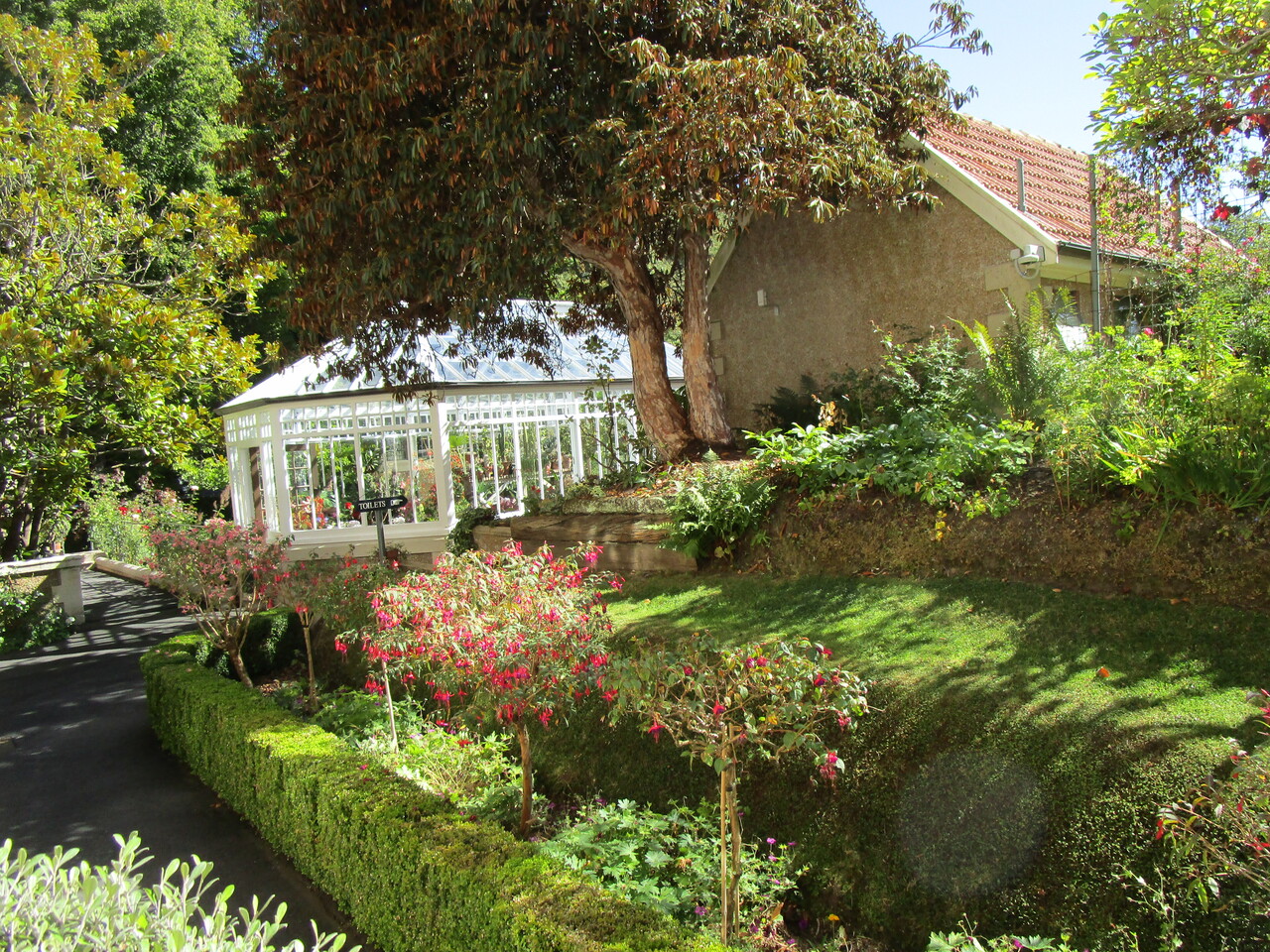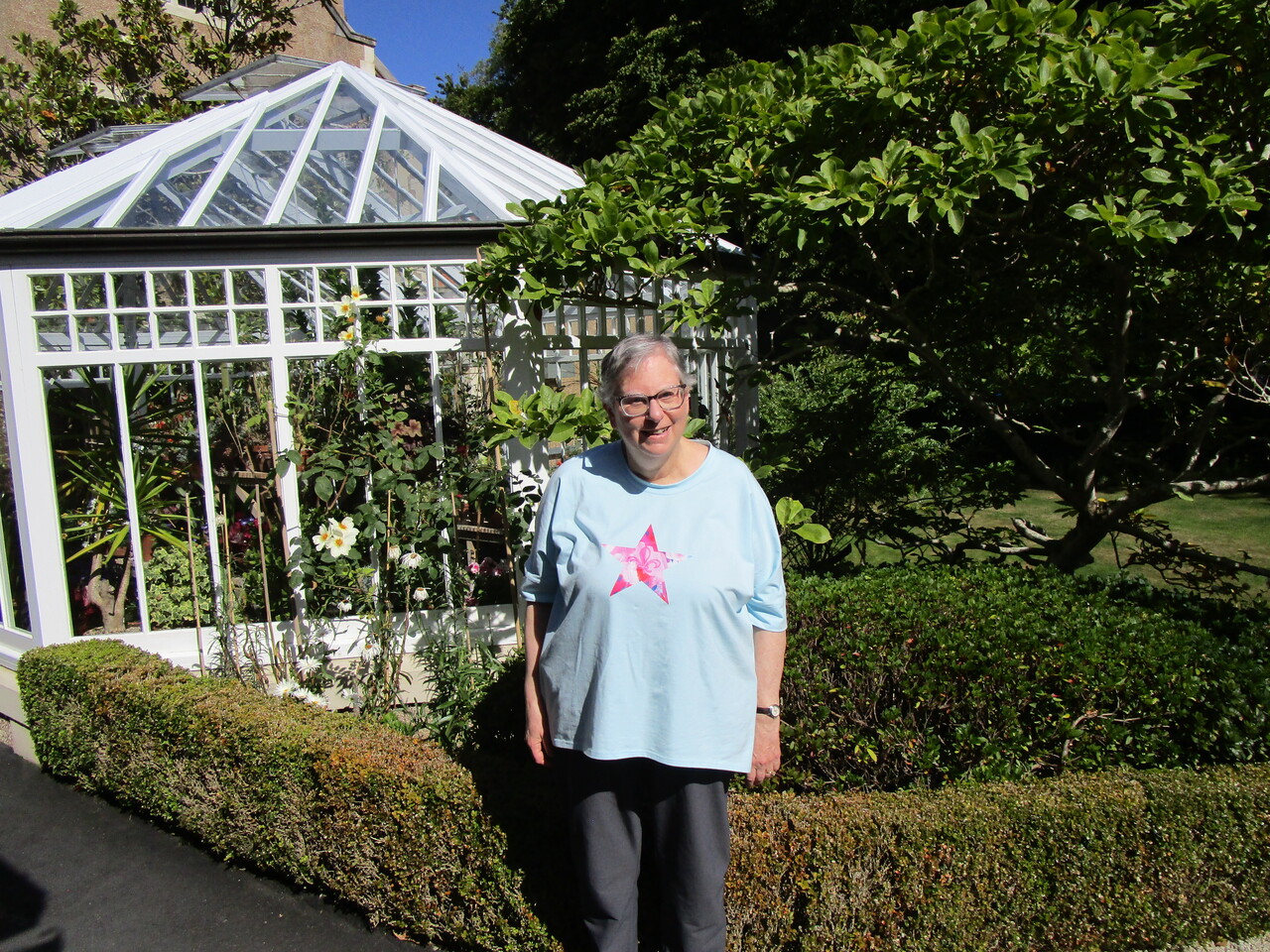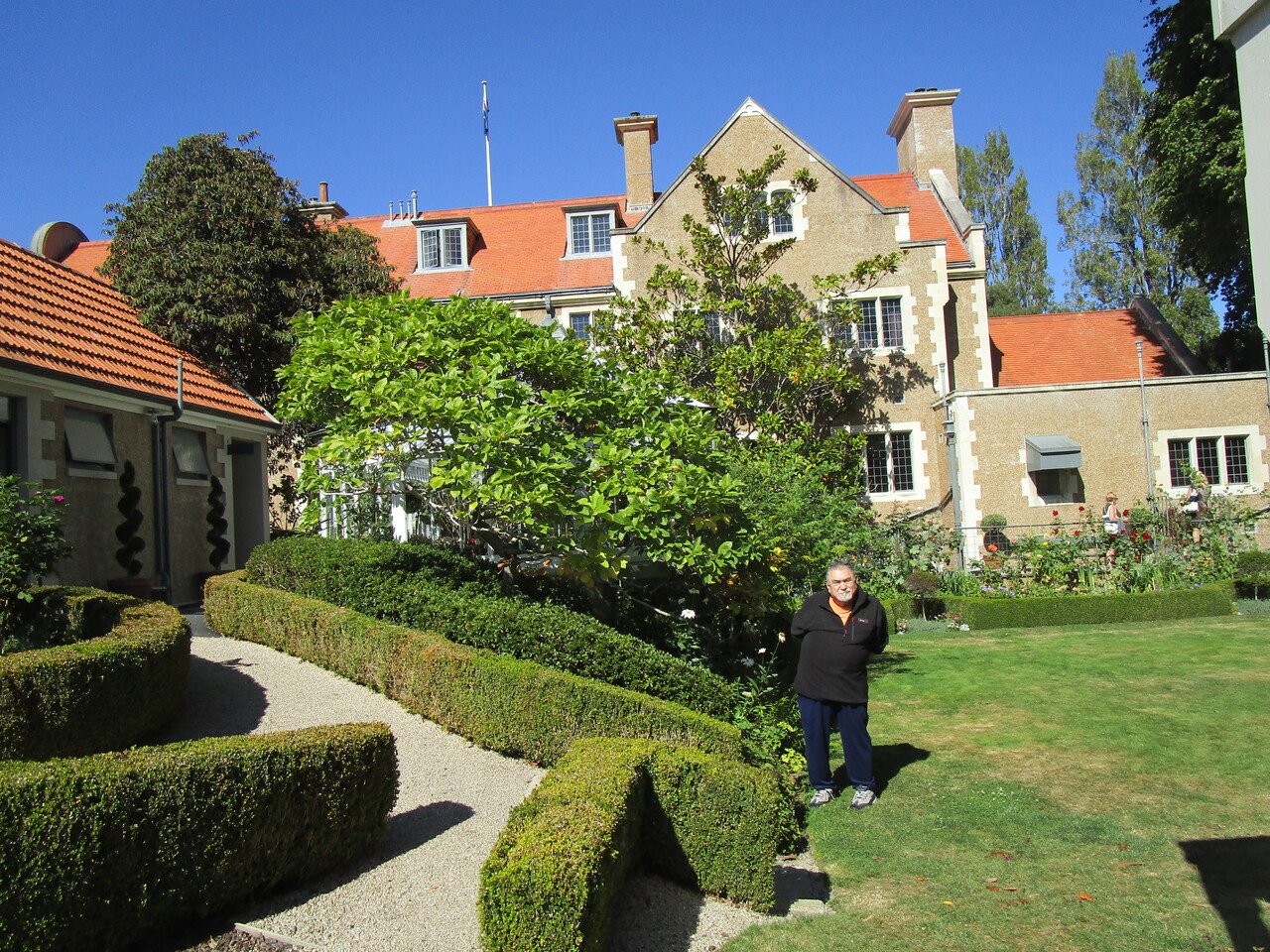 This building was separate from the main house and contained an antique car.
We took a guided tour of the house, starting in the kitchen. I was fascinated with the blue windmill pattern that appeared on the pottery, spice containers, canisters, china, utensil holders, and other cookware. As I found out later, there were even more decorative pieces in the house that bore this pattern.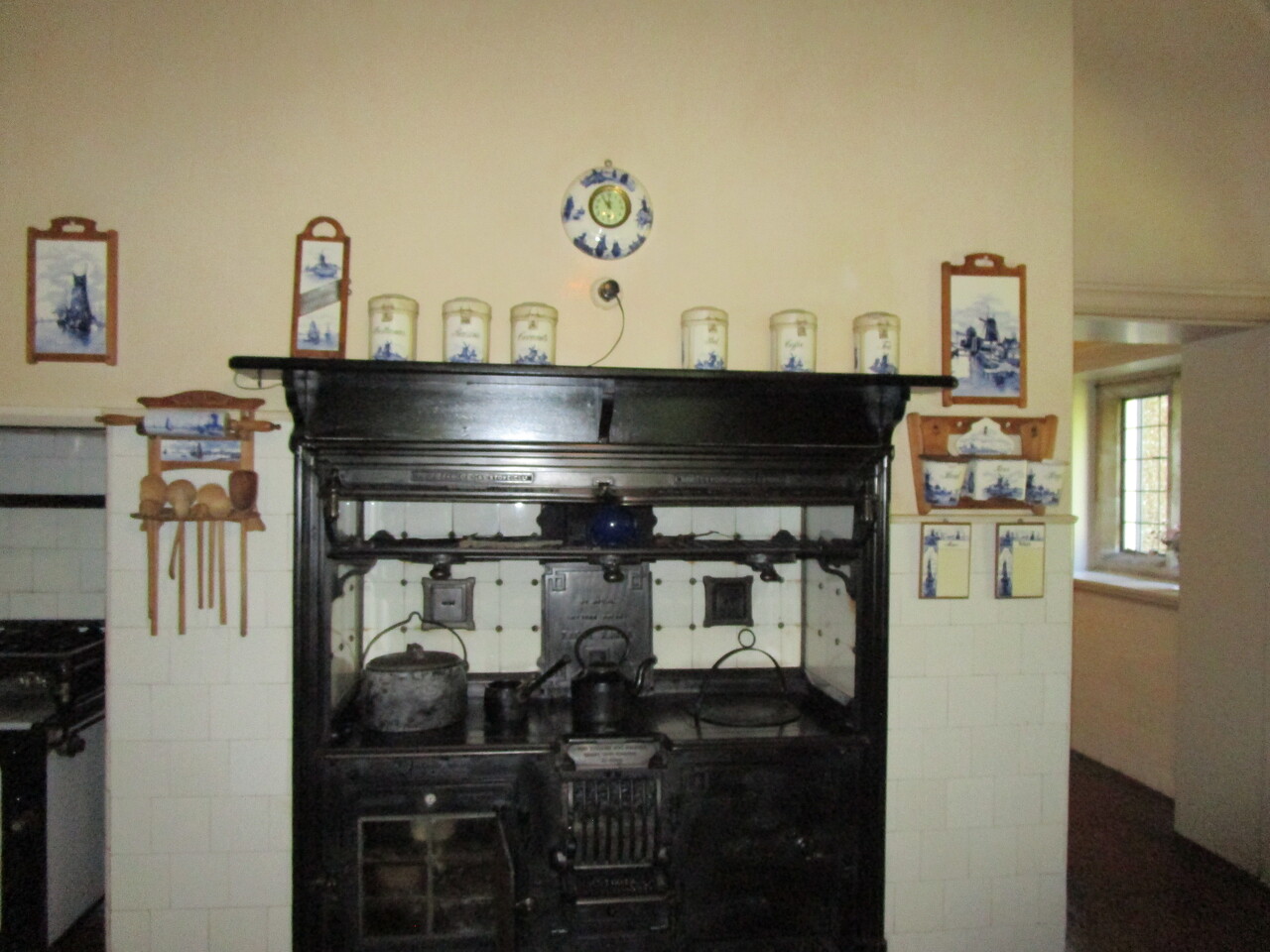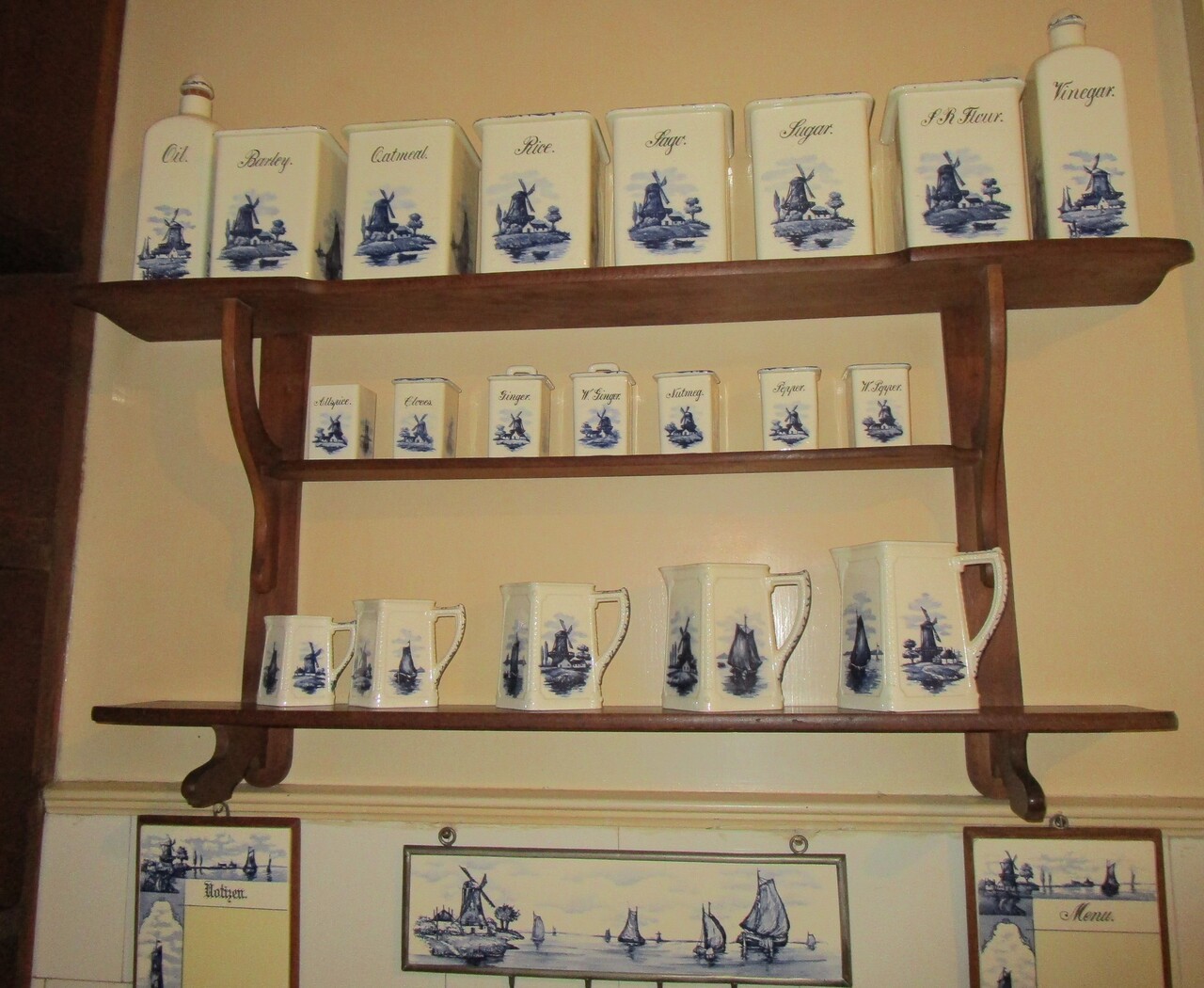 We also passed through another kitchen. The guide told us that the Theomin family was Jewish, so they had two complete kitchens with their own sets of cookware and china for meat and dairy.
But those were the everyday dishes. In the dining room, we saw some of the plates used for formal occasions. Note the glass dragon fish, that had no purpose except to decorate the table.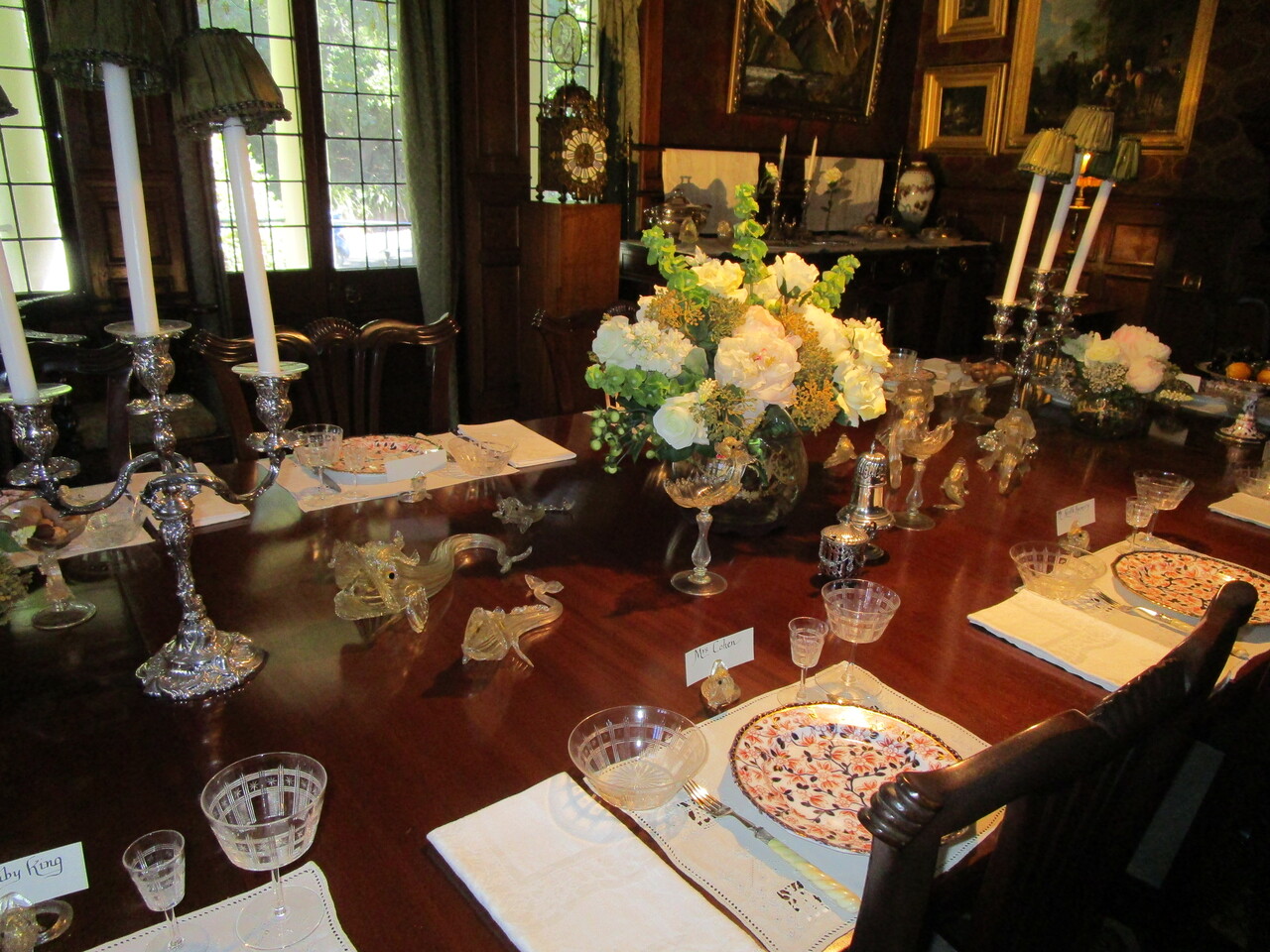 We took the stairs to the second level. (Note the dinner gong under the staircase.)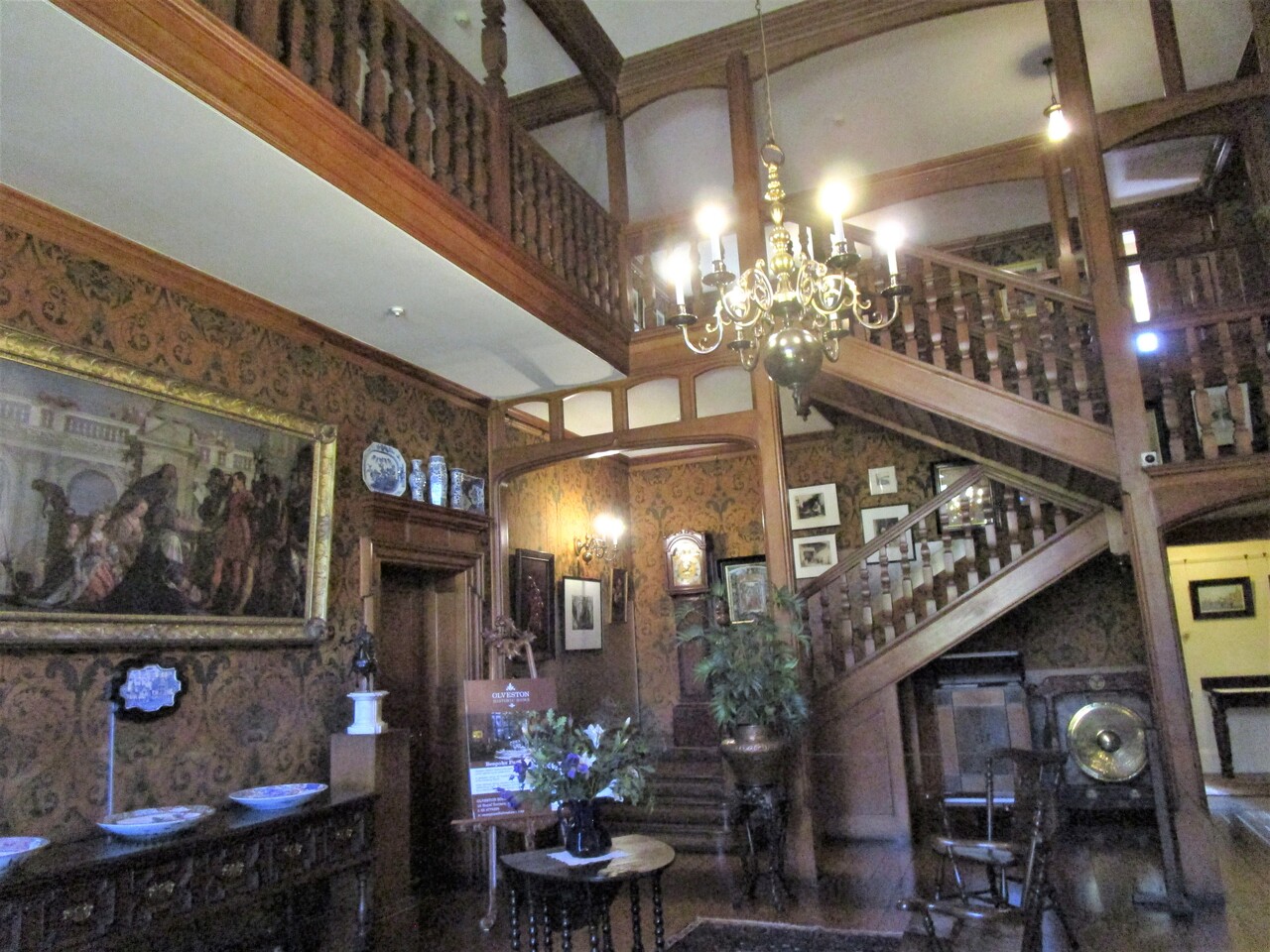 We passed through some bedrooms and this lovely sitting room.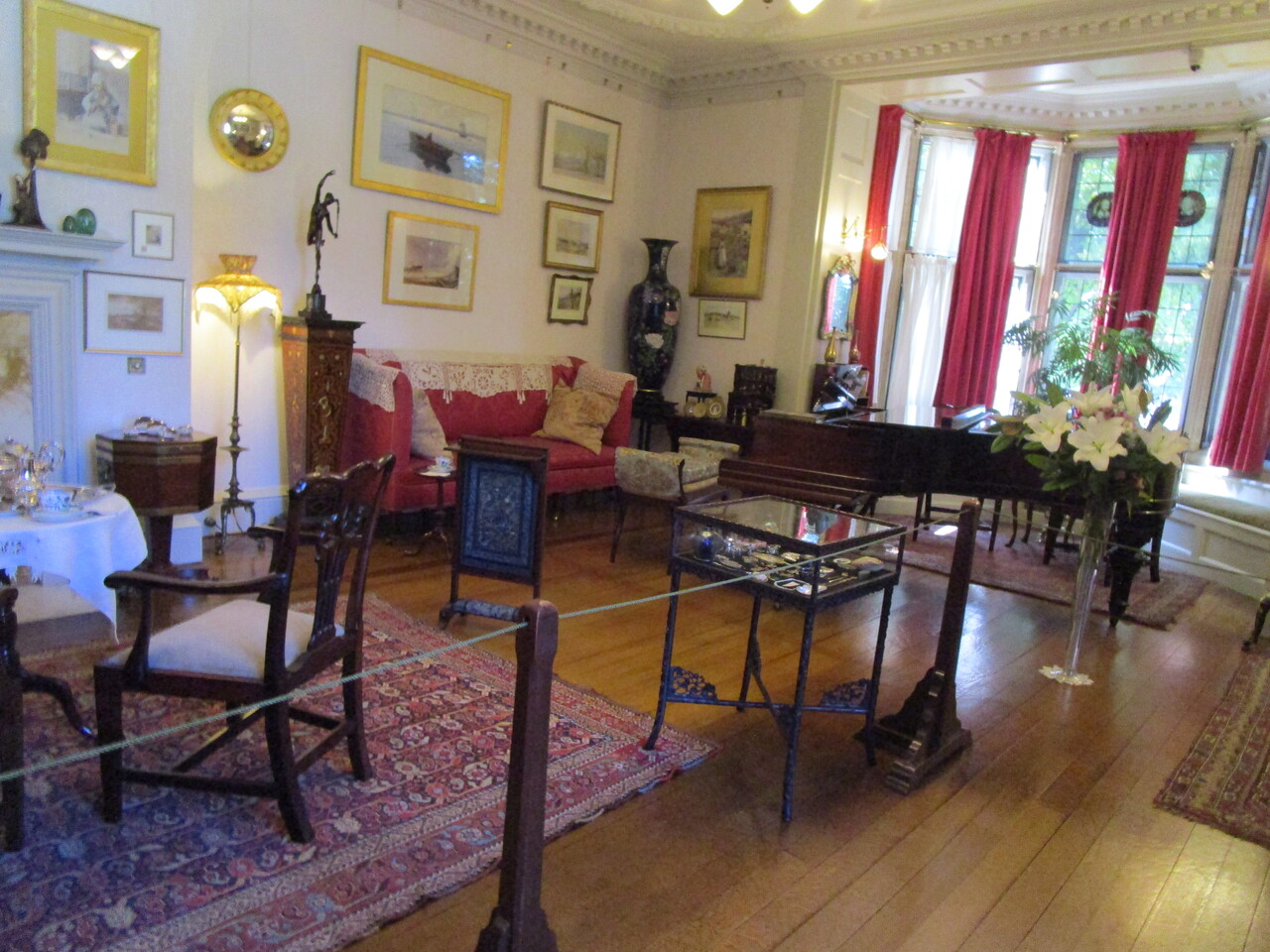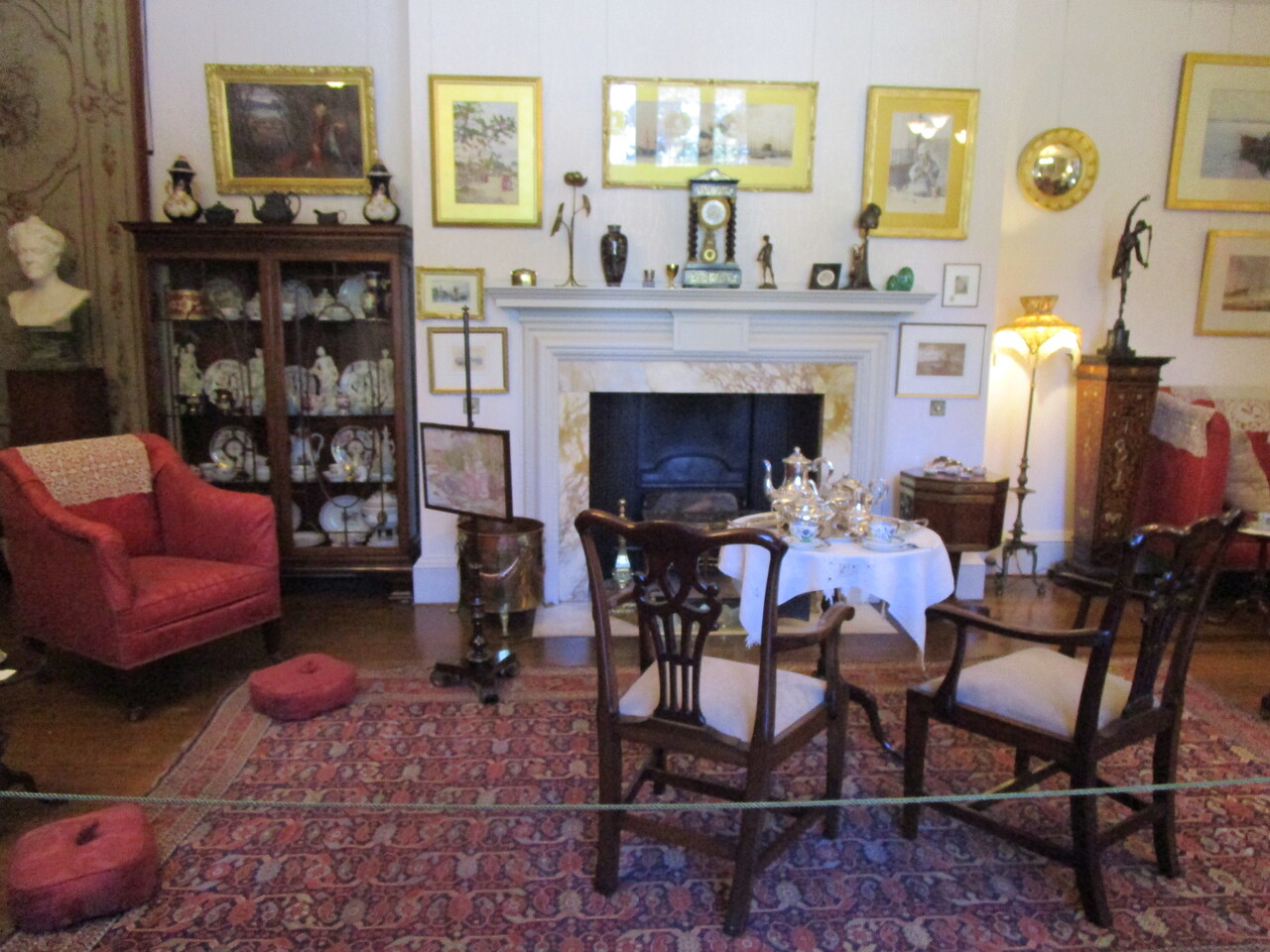 One room had a table with a lady's letter writing set.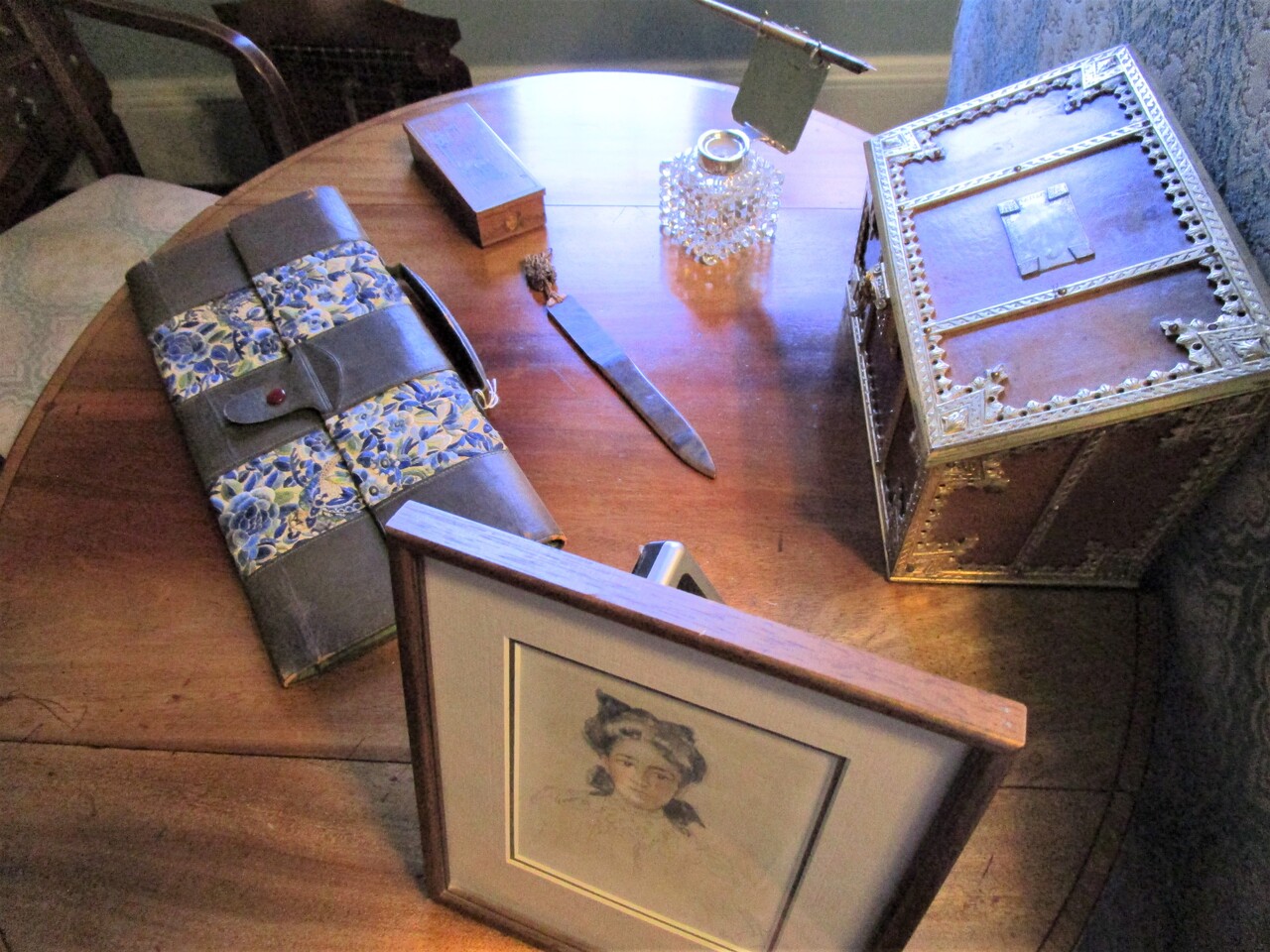 Another antique-filled room had a pool table and this ornate hutch to hold the pool cues and balls.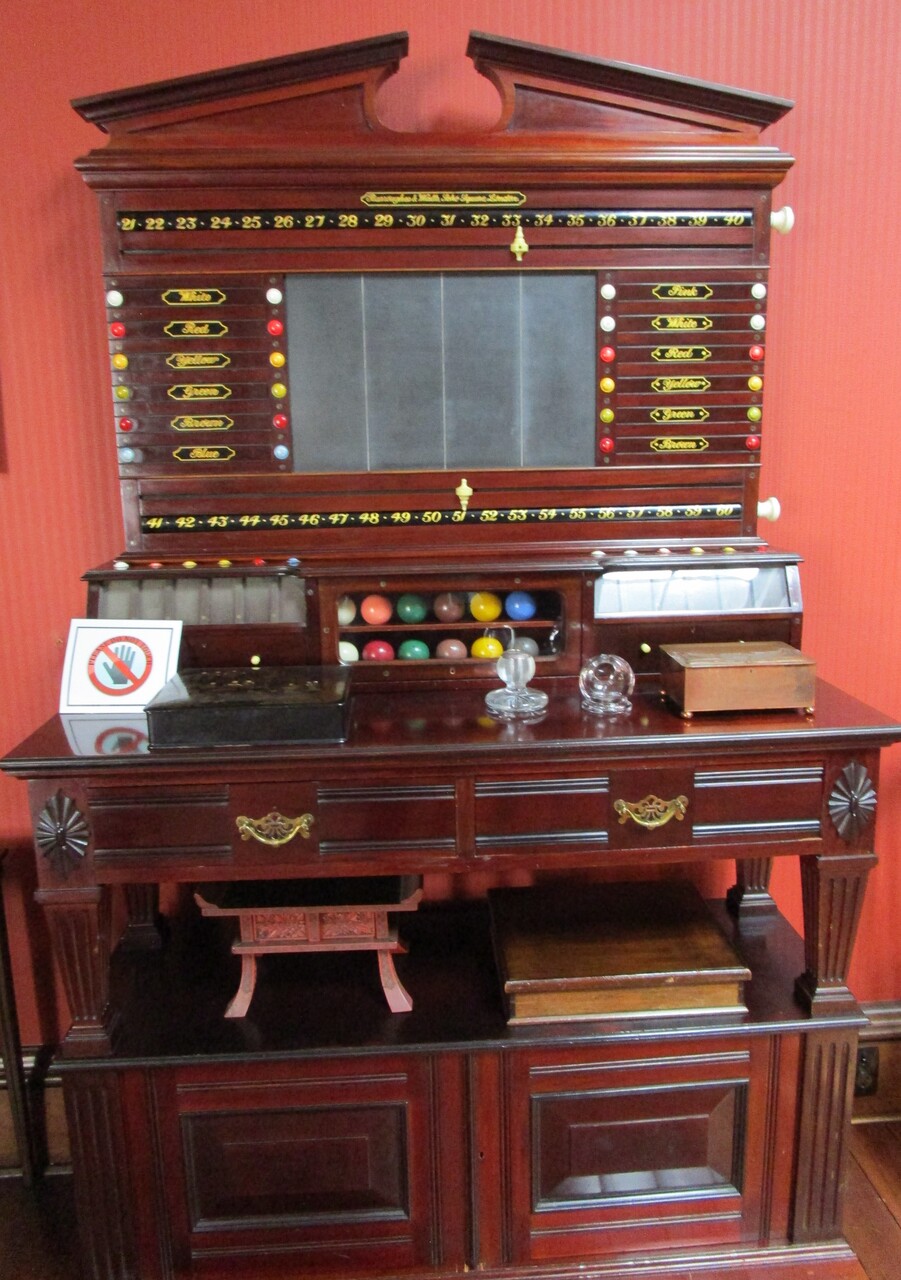 The pool table room also had lacquered chairs that were decorated in a Chinese style. And note the tall vase with the blue windmill pattern.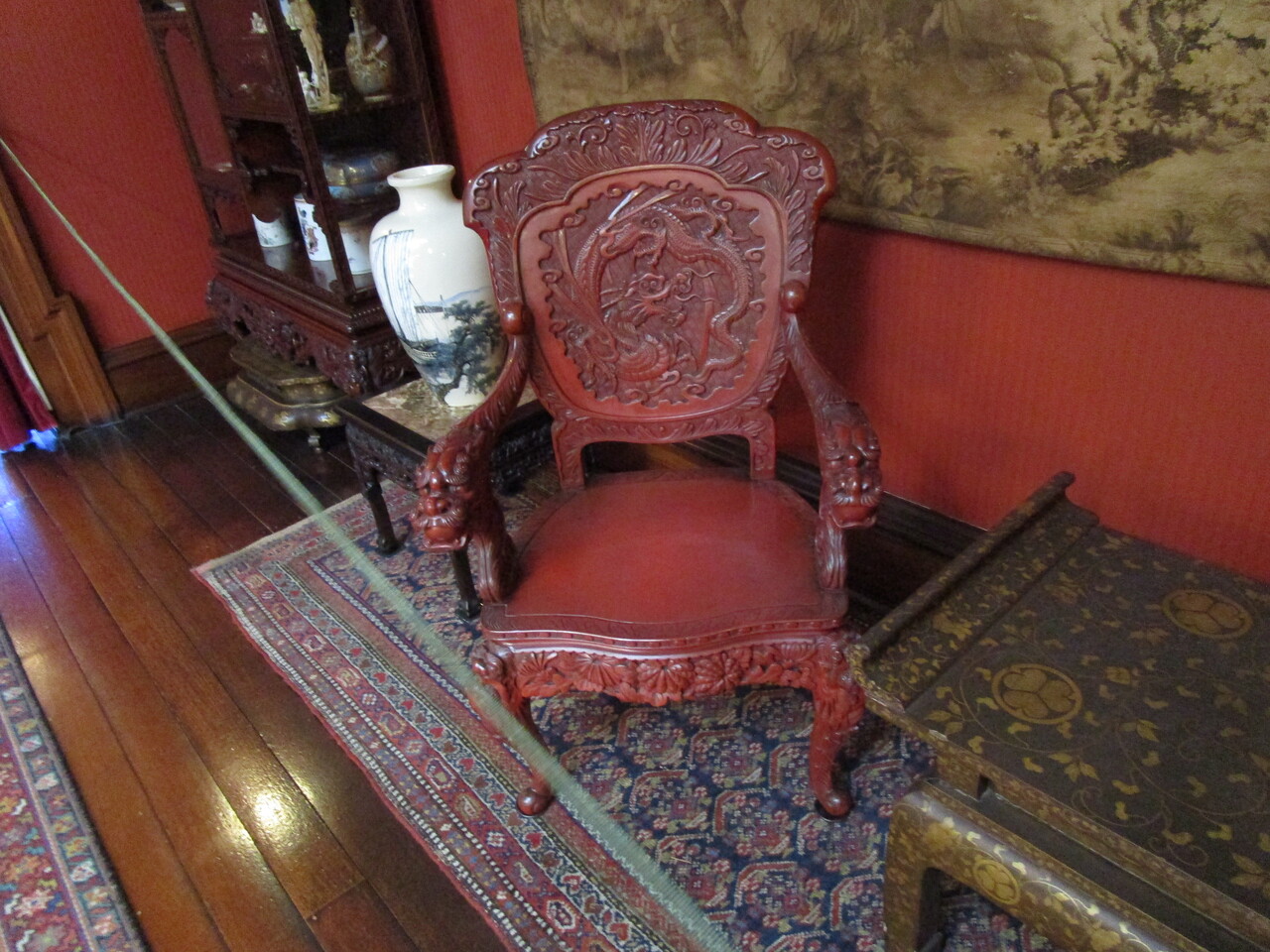 The Olveston Historic Home was definitely one of the highlights of our New Zealand vacation. For more information, see their website: Olveston Historic Home Website

The Olveston Historic Home Facebook page mentions some events that were held at there and includes many more photos. Olveston Historic Home FaceBook
After the tour, we returned to the Octagon and had lunch at Speight's Brewery before catching the bus back to the ship.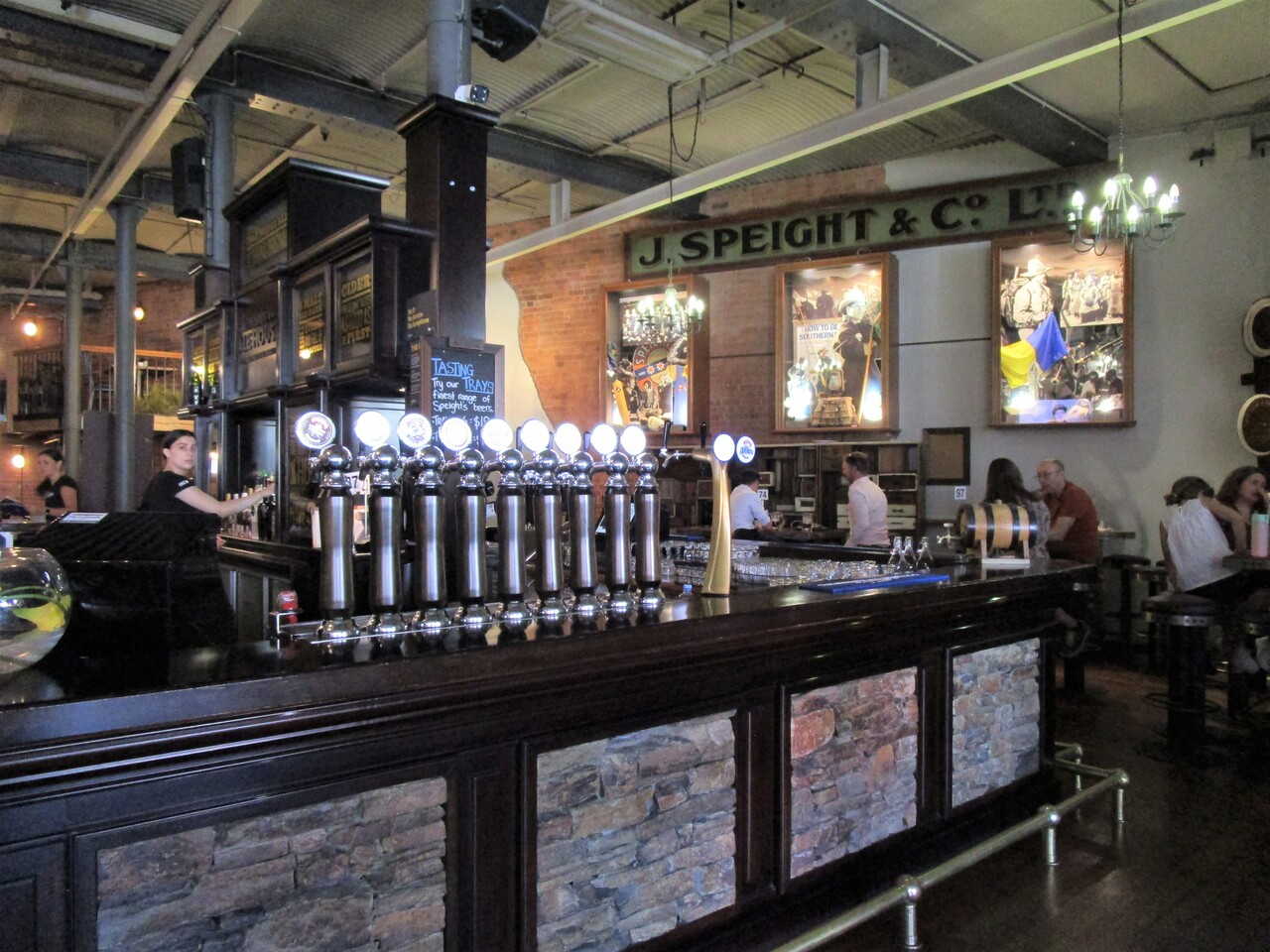 The cruise ship offered several excursions in Dunedin, but John and I were happy that we explored the city on our own.
Where did the Noordam take us next? Come back in August to find out!
~ STUFF TO AMUSE ~
Just for fun, I made a word search puzzle using the names of all 29 of the Sydney Taylor Book Award Winner, Honor, and Notable authors and illustrators. And yes – I made it myself, without the help of an online word search generator. Click on the link below and see if you can get them all! Check your answers with the second link.

2023 STBA Word Search Puzzle Answer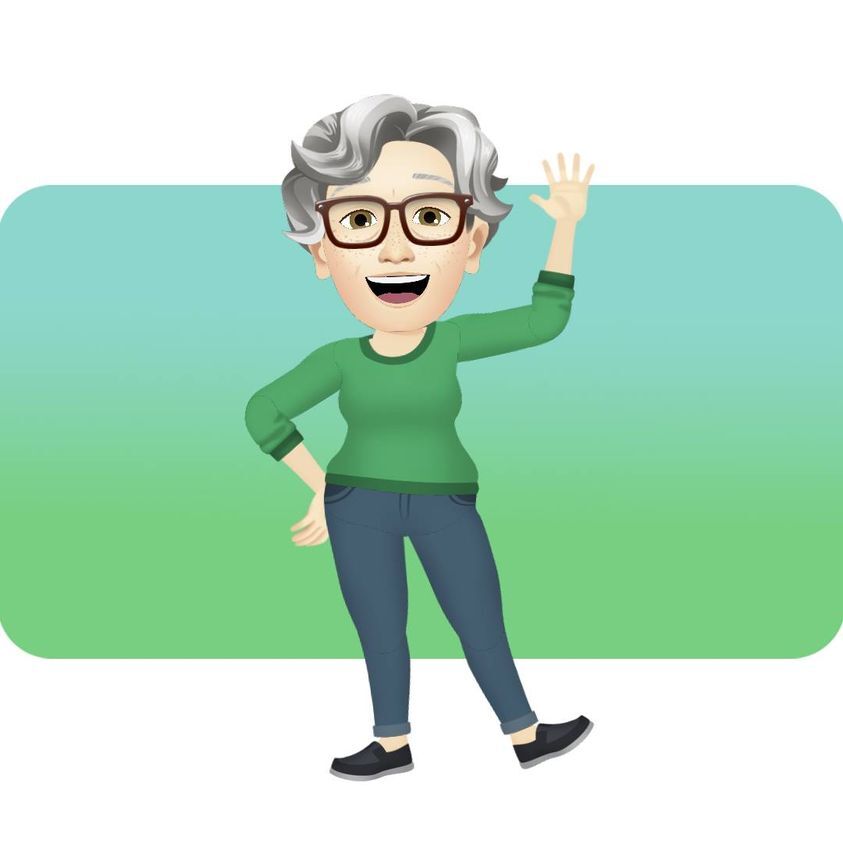 That'll do it for this month.
Until next time, remember to enthuse your muse!
~ Martha